Story
The artists behind our Environmental Awards trophies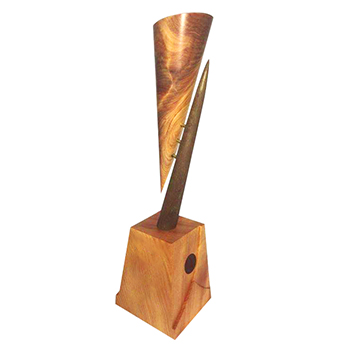 Artist - Justin Murfitt
Artist Justin Murfitt combines elements of traditional woodworking and sculpture to bring out the beauty of wood through minimal use of materials and simplicity of design.
His inaugural environmental award trophy is inspired by the whakatauki: Ka āwhinatia e tātou tētahi atu, nā ka kaha tahi tātou – we all help one another, so we stand strong together.
A heart kauri cone, connected by brass pins to a smaller cone made of puriri, is central to the design, symbolising strong connections and the importance of support – both from and for others.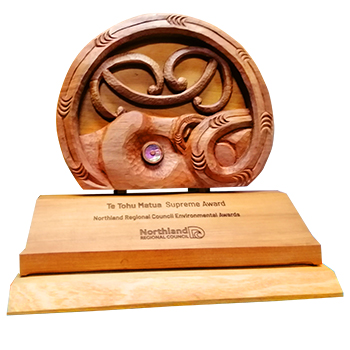 Artist – Korotangi Kapa Kingi
The Supreme Award – Te Tohu Matua – is carved by Korotangi Kapa Kingi to reflect the whakatauki: Toitū te whenua, toitū te moana, toitū te tangata – if the land is well, if the sea is well, the people will thrive.
Recycled timber is used in his creation, acknowledging that:
"we don't necessarily have to chop down new trees; we can re-purpose timbers from our environment."
The trophy incorporates timber from a totara fencepost in Kaipara, a storehouse at the cement works in Portland, and a kauri villa in the Bay of Islands.
The making of Te Tohu Matua