Story
Technology makes litter data gathering and sharing more accessible
With around 3,200 kms of coastline, much of it stunning and relatively unspoilt, our coastline is highly valued for recreation and relaxation as well as providing us with a bounty of fish and other kaimoana.
Many of us also feel a spiritual connection the sea, our rivers and our lakes.
Globally, our oceans and waterways are facing huge challenges caused by plastics and other man-made waste and even here in Northland, we cannot avoid litter.
The role of Northland Regional Council (NRC) includes looking after our natural environment, this means reducing litter along our waterways and coastlines. There is no way we can do this alone and we rely on the dedication of our many coastcare and community groups, schools, mana-whenua and individuals like you - to first of all not litter, and secondly to clean up after those who do.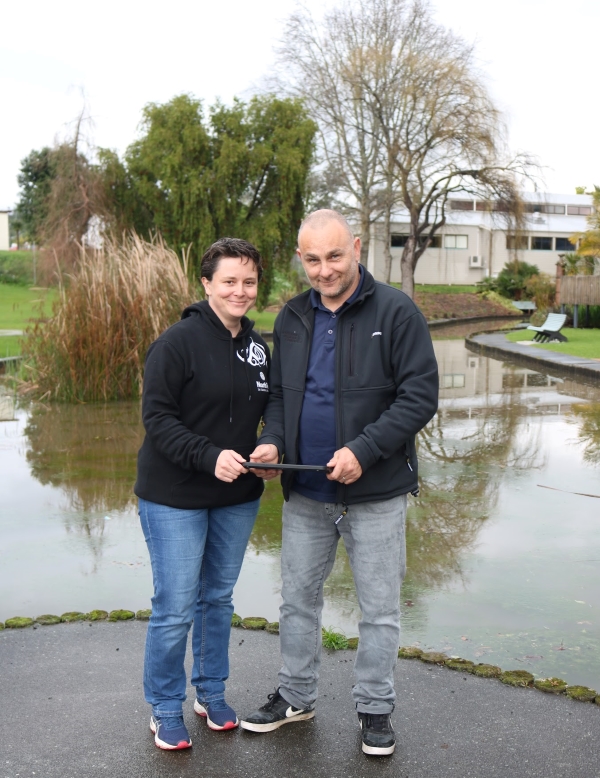 NorthTec's Dr Manue Martinez (left), and NRC's Nick Bamford check out the Marine Debris Tracker app.So, why don't we hear more about all the great work that's happening out there? Well, now we can. The regional council is working with some really smart technology providers who are making it easy to track, audit and measure the efforts of people who are actively involved in cleaning up Northland. The first is a Marine Debris Tracker (MDT) app.
The MDT app, which was developed by the University of Georgia USA and includes projects from all around the world, was adopted by Nick Bamford, NRC's Coastal Environmental Monitoring Officer and Dr Manue Martinez, Environmental Management tutor at NorthTec to provide access to their tailor-made survey for the Te Tai Tokerau Marine Monitoring Project.
Dr Martinez says she has been passionate about the ocean from an early age which led to a career as a Marine Biologist. While working on various projects in the Pacific she witnessed first-hand the devastating effects of marine litter, particularly plastics which are ingested by marine-life, causing sickness and/or death. "Being a scientist, I felt it was important to gather data while we were out on the water conducting marine mammal surveys so we could get some concrete evidence of the amount and type of litter in the ocean. When you have hard data it's easier to define specific problems and find solutions that can make a real difference."
Dr Manue says when she returned to Northland, as a tutor at NorthTec, she continued to focus on litter as part of a GIS course she was taking at NorthTec and this led to the joint project.
"I'm part of the 'Love Whangārei Monthly Clean-up Group' which is where I got talking to Nick from the regional council, who is also passionate about monitoring and reducing litter."
"We were both really keen to capture more litter data so we joined forces. After working with the MDT app developers from the University of Georgia, we were able to add our Te Tai Tokerau Marine Monitoring Project to their global app and its now available for everyone to download and use to record data on litter right across Northland."
"We really encourage everyone to use the MDT app, it's surprising what the results can show us. For instance, we are finding a lot of parking tickets from the CBD area along the harbor in particular – if we can get some really good evidence, we will be able to approach the district council to see if they are able to find ways to better address this particular problem."
Nick says it's great to be able to work with Manue. He says apps like the MDT are very engaging, are easy to use and provide instant results for the user. They also help individuals feel more connected to others who are passionate about the same things they are.
"It's great to get out and join a group, you get a real sense of community and motivate each other, but that's not realistic for everyone. By using technology, individuals can still connect with other like-minded people and create their own virtual communities without having to be physically in the same space."
He says it's easy to get involved, just download the MDT app on your phone, choose the Te Tai Tokerau Debris Monitoring Project (green map of Northland on black background) and start entering your data. There is also a facebook group that you can join, or follow at www.facebook.com/tttdmp or on the NRC website (below).
The other smart tool being used by NRC is a Litter Intelligence project that has been developed by Sustainable Coastlines as a national litter intelligence database. This tool requires a bit of training, which is free for community groups, schools and iwi/hapu groups. It's really easy to use and has excellent visuals that provide powerful insights and motivation for users and anyone who has an interest in helping make Aotearoa litter free.
Nick says, "Northland are the first regional council in the country to adopt this tool as our litter monitoring and tracking platform. We are using the database to upload the results of our litter surveys, which are held four times a year along the Hateā awa. We are really pleased to be a part of this initiative as over time this will allow us to track the long term results of our surveys which will provide insights into the amount and type of litter that is being collected at certain times of the year."
For more information on these tools and other news on litter, check out our website: www.nrc.govt.nz/coastallitter