Story
Clawing back the land
Battling highly-invasive Manchurian wild rice to bring good, arable land back into kumara production has become a key focus for Kaipara farmer Kerry Perreau.
The giant grass, which grows to more than four metres tall, is a rampant invader which quickly spreads across land that is not being actively farmed. Native to Asia, it arrived unintentionally in ship's ballast water near Dargaville more than 100 years ago.
Kerry farms on the eastern river flats of the Wairoa River, in the heart of what is now a Manchurian wild rice 'progressive containment' zone. Within (and around) this legally-designated zone, Northland Regional Council – backed by Ministry for Primary Industries – has been working with local landowners over the last decade to contain and reduce ricegrass populations.
The council helps landowners control it with herbicide provision, advice and information on best practice techniques and (via contractors) does ground-based and aerial control work on 'outlier' sites to limit further spread.

Like several of his neighbours, many of Kerry's paddocks had been totally consumed by wild rice cover.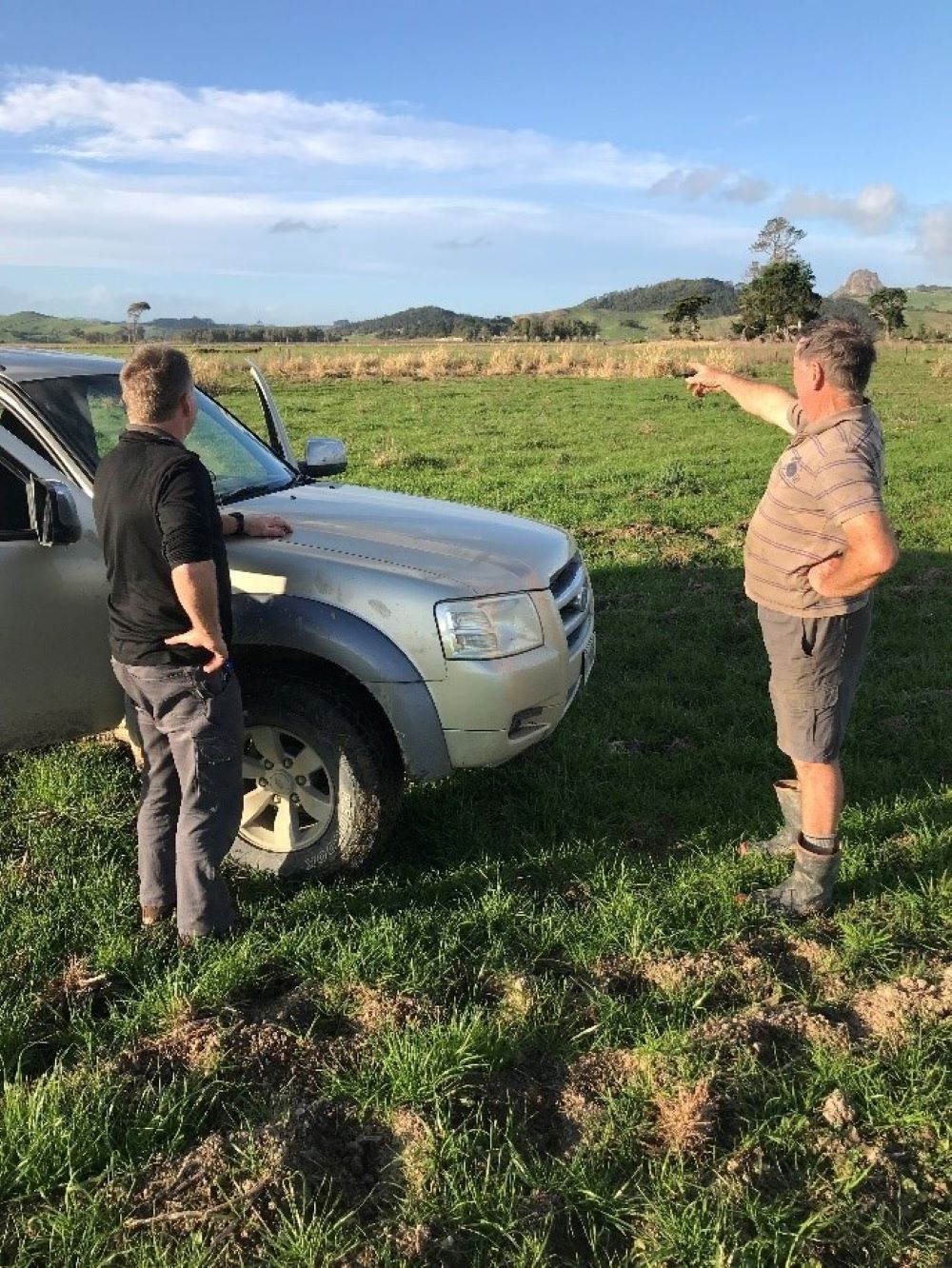 Kerry Perreau (right) points to a persistent patch of ricegrass in an otherwise clean paddock. Northland Regional Council Biosecurity Officer Trevor Bullock (left) looks on.
"Being an avid aviator, I'd seen from above the weed's rampant growth and alarming spread," says Kerry.
"That got me thinking about ways trying out new ways to curb the spread of wild rice."
Through trial and error, Kerry knew the plant's rhizomes didn't tolerate dryness and sunlight, so he needed a way bringing them to the surface and leaving them exposed.
While a rotary hoe brought rhizomes to the surface, clumps were left covered in dirt and simply kept on growing. Mulching the grass was satisfying at the time, but again didn't suppress growth at all. Similarly, spraying and burning did work, but only to a degree.
In a bid to find a better approach, Kerry turned to a soil tilling machine called a spader. The plough-like tool is towed behind a tractor, plunging spades into the soil which rips roots apart and flicks them out behind, leaving the rhizomes to dry out in the sun.
He used a two-phase approach, carrying out a second spader run in summer which made a big difference as sprouting had occurred again since the previous spring. Paddocks were re-sown in ryegrass.
While Kerry has done much of the work himself, he says Northland Regional Council has always been supportive.
"Council staff have been always really encouraging, providing support when needed and supplying herbicide at no charge, and its Biosecurity Team is working hard to keep a lid on the wild rice devil in our region."
Kerry says while obviously the battle against Manchurian wild rice is far from over, he's heartened by the visible progress to date.

"Regrowth is still a major issue for us, but it is manageable and a far cry from the complete wild rice cover on this block before.
"To others, I'd say be patient – there is no quick fix but it's well worth persisting with efforts to keep wild rice at bay."
Information about wild rice – and a variety of plant and animal pests – is available online via the council's Pest Control Hub.