Story
Millington Road pest busters
Having set themselves the goal of seeing kiwi return and thrive in their back yards, locals from the Millington Road Kiwi Project have made great strides in their first year of trapping.
This community group formed in late 2018 after resident Haemish Reid became aware that the area's backyards were getting a significant number of possums at night.
With Millington Road backing on to the Pukenui Forest near Whangārei, the group was keen to help the bush and birds thrive.
"Our initial trapping turning up a staggering number of pests," says Haemish.
"Since then the project has just kept growing with neighbours all keen to join in the trapping."
Northland Regional Council and Kiwi Coast got behind the project, providing advice and funding for traps.
To the surprise of the group, more than 560 pests have been trapped to date within the local area including three ferrets – ferocious predators that can devastate bird life.
"We're glad these predators no longer reside in our bush," says Haemish.
All this work coincided with kiwi translocated into the Pukenui forest by the Pukenui Forest Trust. With the work and efforts to date, kiwi that move into the local area in the coming years will have a good chance to thrive.

Along with making the bird life flourish, local residents are also finding that removing 320-plus possums has meant that citrus and other fruit is able to ripen which had not been happening before.
Long term, the Millington Road community group's goal is to see collective action in neighbouring communities result in a thriving bush environment.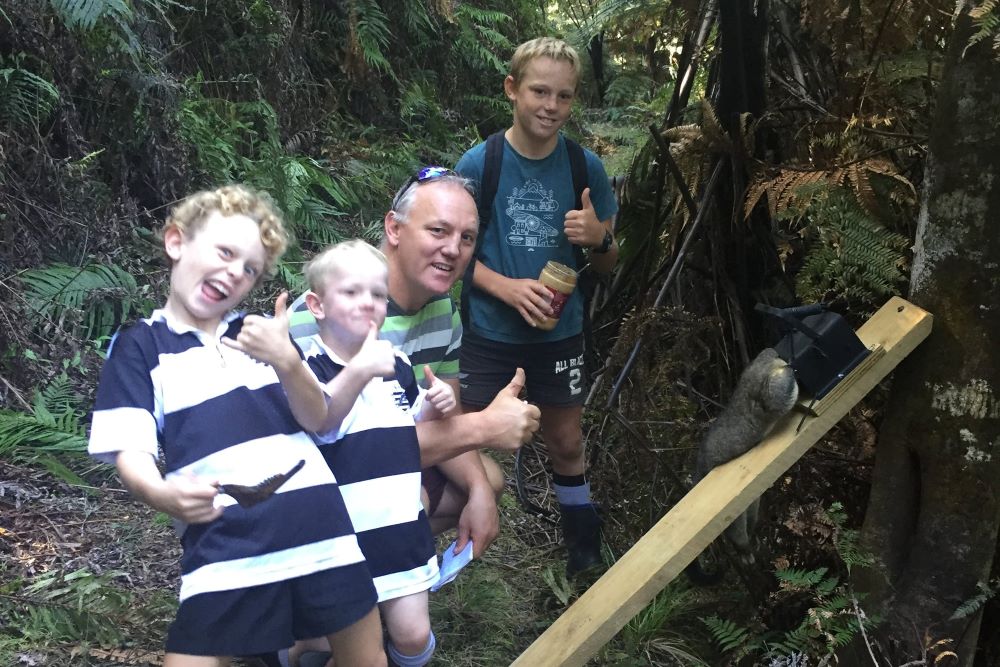 Haemish Reid and his children checking traps behind Millington Road.