Story
Controlling our pests with compassion
People engaged in the war against pests face something of an ethical dilemma every day.
They know they're doing work essential to the protection of New Zealand's native animals, birds, plants and trees – but they're also actively killing animals that are in our country through no fault of their own.
Some of our pests, like ferrets, stoats and weasels (known as mustelids), were introduced to our land to control rabbit plagues on our farms. Unfortunately, when they reached our lush shores, they headed straight for the bush where they began feasting on our native birds and their eggs.
In order to control the rabbits, cats were brought here and they, too, headed for the bush. The combined efforts of mustelids and cats wiped-out entire populations of native birds
Possums were brought here from Australia in the 1830s to form the basis of a fur industry. They spread rapidly, and we now have millions of them chomping away at our forests.
Controlling them is the focus of this story because it's an inspiring tale involving communities across the land, schoolchildren on the Enviroschools programme, hardworking trappers who understand the ethical side of their work, and a burgeoning industry based on fur.
Finally, the possum is no longer just a pest, it is the basis of an industry first envisaged when it was introduced to New Zealand almost 200 years ago.
Now that we've established it's not the poor possum's fault it's on our "most wanted pests" list, we need to make sure we treat them with respect in our efforts to get rid them.
They're just creatures doing what they naturally do, when all's said and done. Their only "crime" is that they're in the wrong place, at the wrong time and for the wrong purpose.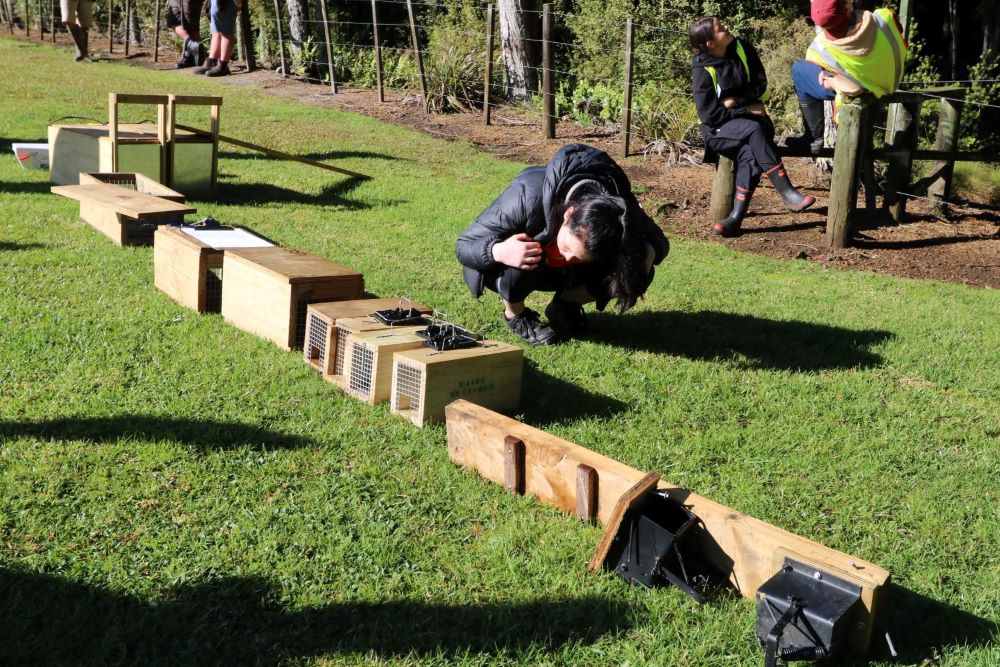 There's more than one way to trap a pest, as this line-up of devices shows.
Enviroschools Project Pest Control Programme
The national Enviroschools Project Pest Control Programme is a huge success, opening-up real opportunities for students including educational qualifications (NCEA credits), career pathways and the potential to make a living from possum fur.
Northland Regional Council (NRC) and Can Train tutors run the theory and in-field based programmes, teaching students to respect possums and showing them how to trap and kill them humanely, skin them or pluck their fur.
As part of the best practice learning during the two-day course, tutors start with the life of the possum, establishing the creature as a living, breathing animal deserving of our respect and humane treatment.
From the Tutors
Pete Graham, NRC Biosecurity Specialist
Possum trapping isn't fun, it's not a game and it's not something you do because you get a buzz out of killing things. Even money is a secondary consideration for long time possum trapper Pete Graham, who continues to tutor but no longer works in the industry.
"People don't do this work because they don't like possums. They do it because they like other things more – like native birds and animals, our native trees, and all the life our native bush sustains.
Pete's top possum trapping tips are:
Use leg-hold traps on overnight trap lines for possums. Set the traps so if they catch an animal, it is kept as comfortable as possible – not in the sun, not in the rain, not left hanging.
Raise the traps to avoid catching kiwis, set the trap so that the chain allows the trapped possum to rest on the ground, and limit the time the animal is in the trap before you dispatch it. Legally, trap lines must be walked within 12 hours of sunrise.
Dispatch the animal using approved humane efforts as quickly as possible.
Mike Knight, NRC Kaitāia Area Officer, Biosecurity
Mike became a seasoned possum trapper's "shadow" as a young man and it's a career that's sustained him, either as a trapper or a tutor, most of his adult life.
He has some sympathy for the possums – "they didn't ask to come here and it's not their fault they've adapted so well, they've become pests".
"They're in the wrong place and we have to lower their numbers to get the benefits of why we live here," he says. "Left alone, they'd play a huge part in ruining out native bush, plants and animals – all the things we love most about New Zealand."
From the Students
Project Pest Control students are enthusiastic about the programme and have appreciated learning learn new skills that help our environment, contribute to their education through NCEA credits, and open-up career opportunities.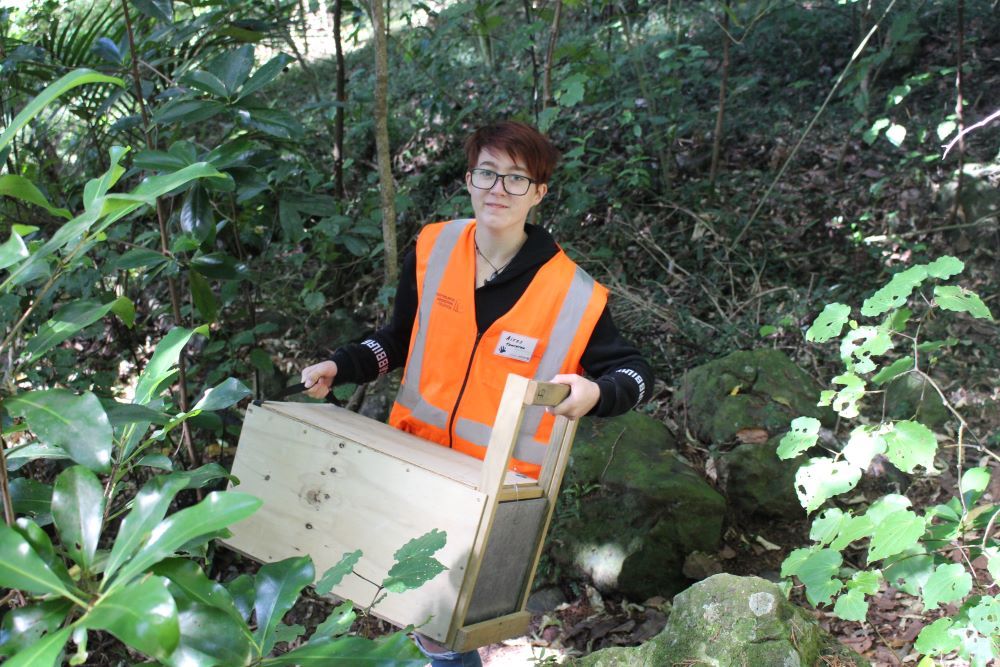 Aires form Tauraroa Area School gets ready to place her live capture trap
A snapshot of the comments reported back in feedback forms is below.
"It's good to know how to protect our native environment and I can use these skills back at home on my farm. I can trap pests around the house, but I'd better not catch Auntie's cat!
"It's good to know how to set and operate the traps humanely and correctly so the animals don't suffer. I liked learning how to put them up at hip level, so they don't catch kiwis."
Possum skinning and plucking was a less positive experience for some, although some students really enjoyed the chance to do stuff they'd either never done or hadn't done for a long time.
"I used to do it with my Dad, but I was a bit rusty, so it was good to refresh my skills."
"Taking off the fur was interesting, and I got to see bald possums!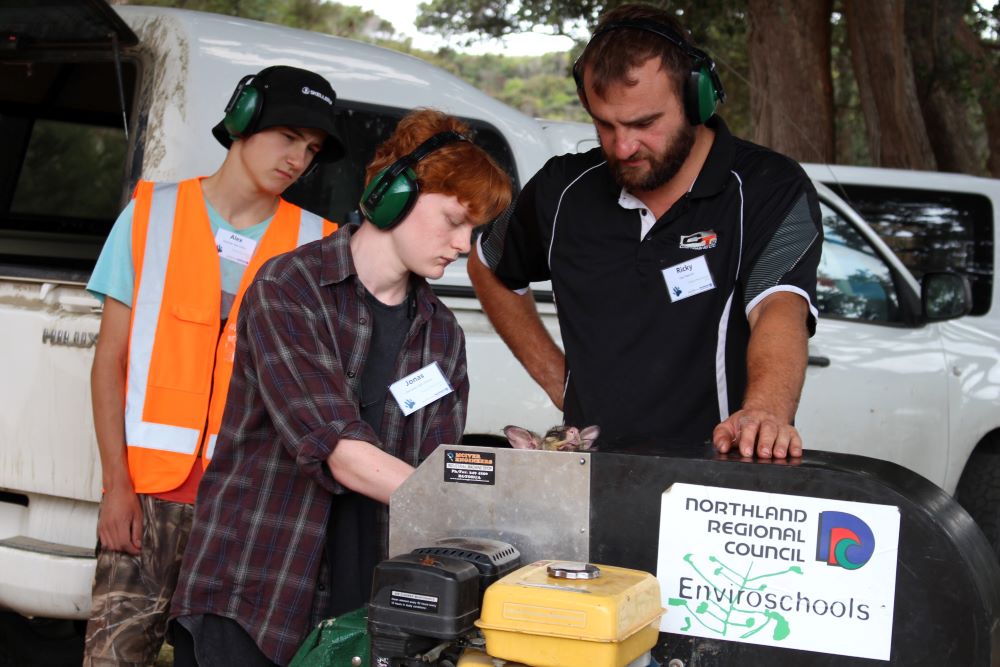 Ricky Schraag Can Train NZ supervises Alex and Jonas machine plucking.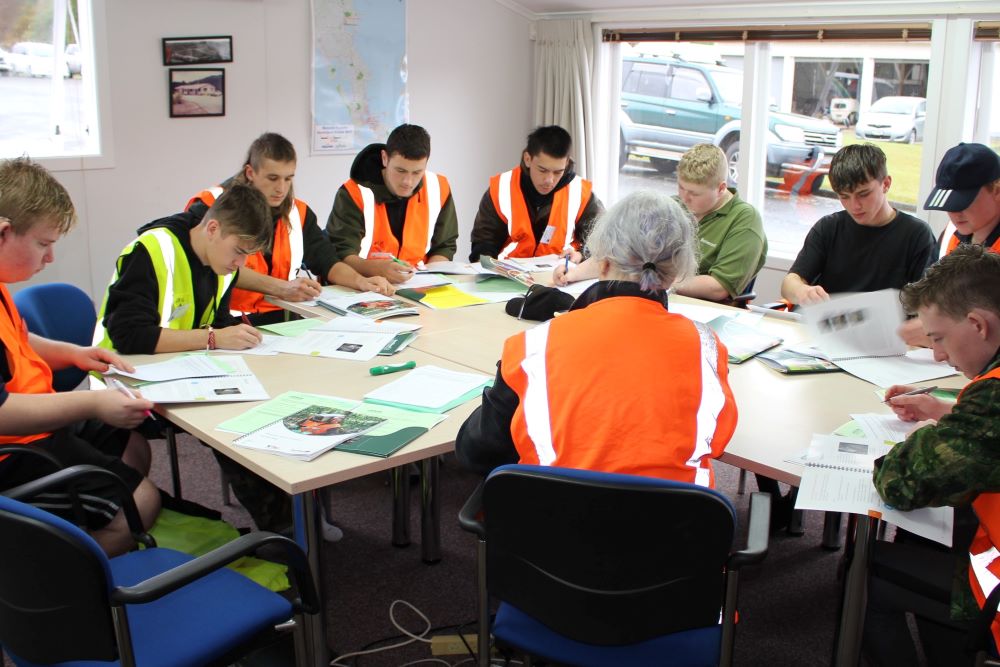 WBHS gets stuck into the theory mahi - animal pest biology and environmental impacts.