Dry summer makes for good progress on Awanui flood works
5 Feb 2019, 8:21 AM
Dry summer weather has meant for a 'dream start' to roughly $500,000 of works which effectively mark the beginning of a wider $15-million, several-year upgrade of the Awanui River flood scheme.
The Northland Regional Council formally awarded two contracts to local firm Kaitaia Contracting Limited in early December and says the company has been making great progress due to a much drier-than-usual summer.
The council's Te Hiku constituency representative Mike Finlayson says one contract (for $213,000 exl-GST) involves repairs to a roughly 500-metre stretch of undermined stopbank behind Kaitaia's Te Ahu centre. The second ($280,000 excl-GST) contract is for construction of a new emergency spillway opposite the slow-moving Bell's Hill slip site.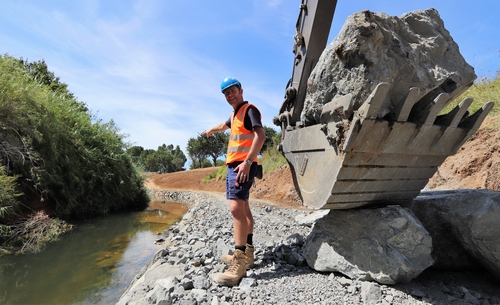 Regional council River Management Engineer Barney Brotherhood checks progress on a section of repaired and upgraded stopbanking behind Kaitaia's A&P showgrounds just upstream of the Te Ahu centre.
Councillor Finlayson says work on both contracts was being done concurrently and were originally expected to run until the end of March, however, it was looking increasingly likely they would now be completed ahead of schedule.
"This scheme's quite a few decades old and while we've been working our way through the most urgent repairs it has needed over the past few years, this new works will deliver some much-needed improvements, as well as effectively future-proofing it for many years."
He says the NRC has been monitoring and managing the Bell's Hill slip site for many years worried it could potentially slip into – and block – the nearby Awanui River.
"To see the new spillway taking shape there is a great relief in both my role as local councillor but also a Far North resident as the wider upgrade is designed to significantly boost flood protection in and around Kaitaia.
Designed to protect urban Kaitaia in a 'once in a century' type flood and a 1:20 year event in surrounding rural areas, the work is one of several key projects at the heart of the NRC's Long Term Plan (LTP) 2018-2028.
The new emergency Bell's Hill spillway is being built on the 14,600 square metre former Firth concrete plant site purchased and cleared by the NRC last year.
"Once completed, the spillway will probably only carry floodwaters once or twice a year, but crucially, should the Bell's Hill slip ever collapse unexpectedly and block the Awanui River's existing flow path, it'll be big enough to carry the river's entire flow.
The scale and cost of the Awanui upgrade overall means the work – much of it weather-dependent – will be carried out in stages over several construction seasons between now and 2027.
Councillor Finlayson says future flood risks will be mitigated largely through extensive modifications and improvements to stabilise existing stopbanks, which will allow the river to carry up to 15 percent more floodwaters.
"It's very important work; without the added protection this upgrade will offer, a 1:100-year flood in urban Kaitaia could cause tens of millions in damage and put lives at risk."
Seventy percent of the work will be funded by ratepayers Northland-wide via a new regional flood infrastructure rate with the balance funded locally through the targeted Awanui River Management Rate.