Divers continue Opua fanworm eradication bid
12 Apr 2019, 10:01 AM
Cooler sea temperatures and associated improvements in underwater visibility has seen specialist divers return to the waters in and around the Opua Marina in a bid to eradicate unwanted Mediterranean fanworm (Sabella spallanzanii). 
Contractors discovered a single specimen of the marine pest while working in the Opua area last winter and divers were immediately called in to investigate, discovering and removing more than 100 fanworm from the marina and surrounding area over the next several weeks.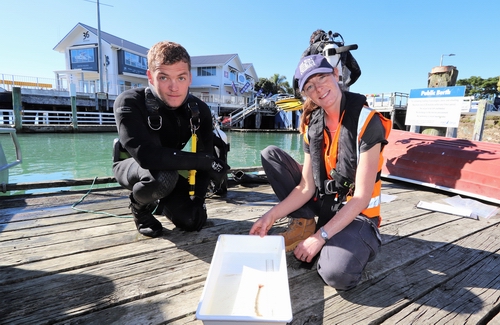 Bay of Islands commercial diver Lars Foelsche and regional council Marine Biosecurity Specialist Suzannah Rosandich with a mature Mediterranean fanworm recovered at Opua on Wednesday, 10 April.
The divers were then stood down as biosecurity experts analysed the findings and considered the best management approach, with the maturity, numbers of fanworm and their spread indicating they may have been in the area (probably having hitchhiked in on a visiting vessel with a dirty hull) for several years. 
Members of the Northland Regional Council (NRC) had then committed $60,000 and Biosecurity New Zealand $40,000 towards a second, roughly month-long, weather-dependent effort which began in late-November to try to eradicate the pest. 
Bruce Howse, the NRC's Group Manager – Environmental Services says unfortunately the divers were forced to stand down only after a few days due to poor visibility, which in places was virtually non-existent and down to just a few centimetres. 
Summer's drought had meant less freshwater input and warmer seawater, making visibility even more difficult for divers but conditions more advantageous for fanworm, which have reproduced in the resulting more favourable marine conditions. 
Mr Howse – who is also the council's Deputy CEO – says some hull surveillance was able to be done over summer, but with clearer water recently, divers were back on the job at Opua in earnest on Tuesday, 09 April. 
Again weather-permitting, a team of three divers and two support crew expect to spend another three weeks or so painstakingly searching the seabed, structures and vessels both in and around the marina and associated commercial wharf, and removing any fanworm encountered. 
Mr Howse reiterated earlier council statements that the operation is a staged eradication approach, with a review at the end of each round of diver search and removal efforts to consider progress and whether continued eradication work is justifiable both economically and practically.
Mr Howse says the council is writing to local mooring owners to update them on the latest developments, and while the NRC carries out regular hull inspections Northland-wide, it's also urging people in and around Opua in particular to ensure they do what they can to avoid spreading fanworm. 
It is vital boaties ensure their vessel and any associated equipment – moorings and their rope/chain and fishing nets – is clean and free from fouling which may contain marine pests like fanworm. 
A large, tube-dwelling worm, Mediterranean fanworm is the largest fanworm in New Zealand, with a body up to 20mm wide and 800mm long.  It has a prominent crown of fan-like feeding tentacles (up to 150mm wide) extending out of the tube. The crown is often banded orange, purple or white. Tubes are leathery, flexible and muddy-looking and they are generally found on hard, sub-tidal structures, but can also be buried up to 10cm deep in soft substrates. 
Fanworm is unwanted because it can quickly form dense colonies, forcing out native species and interfering with their ability to feed and breed.  (Sabella have also been found growing on scallops in Whangarei Harbour and have the potential to spread onto other shellfish, including farmed species.) 
"Under regional council rules, it's an offence to transport marine pests in Northland.  Vessels entering Northland and moving between harbours must have no more than 'light fouling' on their vessel." 
('Light fouling' is classified as a slime layer and/or barnacles, and up to five percent 'macrofouling'.  'Macrofouling' is large, distinct multicellular organisms visible to the human eye like barnacles, tubeworms, or fronds of algae, but importantly permissible macrofouling excludes pest species, including Mediterranean fanworm, clubbed tunicate and the Asian kelp 'undaria'; these may not make up any of the 5% allowable macrofouling.)
Mr Howse urges people encountering marine pests to notify the regional council as soon as possible by phoning (0800) 002 004 or emailing [email protected] or by calling Biosecurity New Zealand's Pests and Diseases hotline on (0800) 809 966. 
"It's important that you don't try and remove any fanworm you may discover yourself as this must be done by authorised personnel," he says.  "This is because fanworm need to be removed intact and can spawn under stress." 
"If you see a Mediterranean fanworm or suspect it on your hull, structure or substrate, please take a photo and call or email us with the location." 
Information on a range of marine pests can be found at www.nrc.govt.nz/pestcontrolhub or www.marinebiosecurity.org.nz
The council's rules and marina requirements can also be found at www.marinepests.nz 
Mr Howse says the NRC is grateful for financial and other support from Biosecurity New Zealand. 
"Our councillors feel strongly that the Bay's importance across multiple fronts – including environmentally, economically and culturally – means they can't pass up what may be our only real opportunity to eradicate fanworm there." 
He says even if ultimately eradication is not possible, in the circumstances an attempt had to be made.

A close up of one of the recovered Opua fanworm showing the fanlike crown of feeding tentacles that extend out of its tube, giving it its name.