Tech time savers allow tripling of summer hull inspections
14 Apr 2016, 10:23 AM
A clever IT initiative to help battle a marine pest has saved Northland Regional Council staff and contractors hours of work a day – trebling the number of boat hulls able to be inspected over summer – and has now been recognised nationally.
The council pitted its Mediterranean fanworm initiative against entries from around the country in the 'Project of the Year' award at the Association of Local Government Information Management (ALGIM) GIS Symposium in Auckland recently.
Northland Regional Council (NRC) Chairman Bill Shepherd says the project was one of five finalists and was eventually named runner-up behind Environment Canterbury's winning entry 'Matrix of Good Management Farm Portal'. (Another NRC entry centred on a survey of the Whangarei Harbour catchment was also among the five finalists.)
Councillor Shepherd says he's thrilled to see Northlanders' innovative work being recognised nationally by their peers in the GIS (Geographic Information System) community.
He says the fanworm project used a range of technology and programmes specifically integrated by council IT staff for use with iPads in the field to drastically speed up the way information on fanworm infestations is captured, recorded and reported back to officers to deal with.
"It's an easy-to-use two-part solution that streamlines and automates both the business process for capturing survey data in the field and the reporting process when an infected vessel is found."
He says this saved about two hours of work every day for dive contractors physically examining vessel hulls for the pest as they no longer had to manually input data into a spreadsheet and send it to council via a Dropbox upload.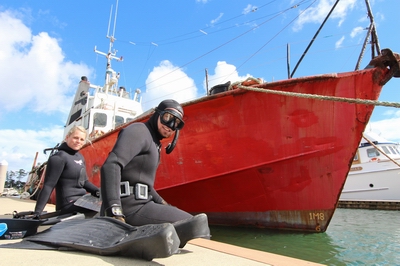 Regional council divers prepare to inspect a vessel hull for Mediterranean fanworm in summer last year. Time freed up by a new IT system has allowed more than three times as many hull inspections to be made this summer.
Council office staff also saved about two hours a day as the system meant they did not have to collate data and re-enter it into council's specialised work management system (known as 'IRIS').
"The time freed up as a result of this system meant that we were able to inspect more than 1000 vessels for fanworm over the most recent summer, compared to about 200-300 the previous summer."
Councillor Shepherd says in essence, the location of moorings to be inspected is extracted from IRIS then displayed via council's GIS system to contract divers in the field on a map via iPad.
Contractors bring up their work area on the map, locate and inspect moorings/boats then enter findings straight into a form on the iPad. Information is synced into council's internal GIS application continuously and council biosecurity staff can monitor progress as it's submitted.
"If a vessel or structure is found to have fanworm on it, the contractor creates an incident report via our eServices portal on the iPad. Fields are pre-populated where possible and other required information, for instance species' scientific names, is entered into fields from 'pick' lists."
Councillor Shepherd says the system makes data entry easy and ensures accurate and consistent information is collected from multiple contractors.
The incident reports they generate automatically create a work request directly into IRIS, which is work-flowed directly to biosecurity staff for further action.