Ninety-plus students for annual 'Project Possum' training
19 May 2015, 7:13 AM
More than 90 students from around Northland are expected to gather near Kaikohe over the next week to gain hands-on knowledge of possum trapping, fur and pelt recovery as 'Project Possum' enters its fifth year.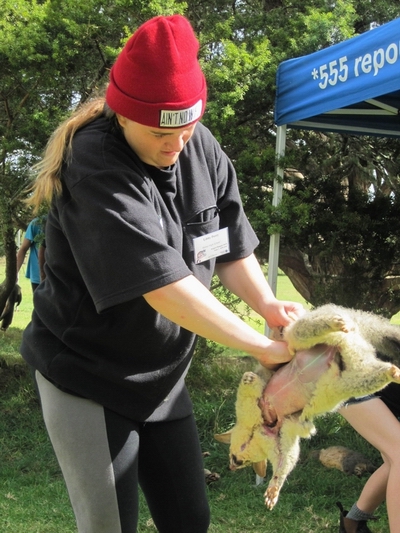 The chair of the Northland Regional Council's Environmental Management Committee, Joe Carr, says Project Possum training is run under the umbrella of the Enviroschools Programme, which is funded in Northland by the council.
Councillor Carr, who represents the council's Hokianga-Kaikohe constituency, says about 350, mainly young Northlanders have undertaken Project Possum training since 2011.
The popular training is designed to give participants the chance to earn NCEA Level 2 and 3 credits as well as create potential jobs and reduce a harmful pest.
Over the next week more than 90 students from a dozen Northland schools from Kaitaia to Dargaville will attend one of three overnight training camps at Trefoil Park, 10km south of Kaikohe.
Councillor Carr says the students – mainly in Years 11 to 13 – will be taught about the traps used to control possums (including laying trap lines), as well as the 'ins and outs' of plucking and skinning possums, including preparing fur and skins for sale.
"They'll also learn about possum biology and its impacts as a pest species."
He says the first of three overnight camps to be offered this year will begin at Trefoil Park today.
"As well as helping young people involved learn a useful new skills set, it's also a great opportunity to help control the possum, a pest which has a significant impact on Northland's environment," he says.
"The 90-plus students will attend one of three overnight camps at Trefoil Park and will return in about two months for a day-long assessment workshop."
The follow-up workshop allows participants to judge how they have been putting what they had learned into practice and also check written assignments they will be given.
"It also builds up a great knowledge base and is a useful lead-in for those who want to go further and undertake separate Controlled Substance Licence (CSL) training in September."
Councillor Carr says CSL training – also offered under the Project Possum programme – enables those who are 17 or older (provided they meet certain criteria) to lay possum-killing toxins like cyanide.
"Without a formal CSL qualification, it's illegal to possess, use, store or manufacture these poisons."
Councillor Carr says the $260 training and accreditation costs for this week's training are met by students' schools.
Meanwhile, he says information about Project Possum and the Enviroschools programme generally is available from the regional council's website via: www.nrc.govt.nz/enviroschools