Don't burn treated or painted timber this winter; NRC
20 May 2015, 6:41 AM
As winter approaches, Northlanders are being warned of the risks associated with burning treated or painted timber in household fires.
Treated timber is one of a number of materials which are nationally banned from being burned because of their effects on people and the environment.
"Burning timber treated with copper, chromium and arsenic (CCA) or tanalised timber releases arsenic into the air and into homes," says Joe Carr, chairman of the Northland Regional Council's Environmental Management Committee.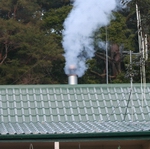 Timber products to be avoided include:
Wood that has been treated for outdoor use – fencing, cladding, decking or outdoor furniture
Any painted, stained or varnished wood
Wood with coatings (melamine or formica)
MDF, chipboard or plywood (which contain glues and binding agents).
Councillor Carr added that the ashes resulting from burning treated timber could also contain toxins and for that reason, it was inadvisable to apply these to gardens.
Those wanting to report nuisance or other burning can contact the regional council's 24/7 environmental hotline (0800) 504 639.