NRC outlines regional infrastructure priorities
19 Mar 2015, 11:58 AM
Northland Regional Council members have re-emphasised the pivotal future roles they believe rail and vital road links should collectively play in Northland's key infrastructure.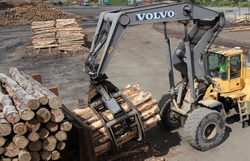 Logs being readied for processing.
Council Chairman Bill Shepherd says the recently released Tai Tokerau Northland Regional Growth Study has highlighted Northland's economic potential; but also identifies infrastructure – or the lack of it – as a 'significant handbrake' on the regional economy.
"The Northland by-election has also thrown our infrastructure into the spotlight, but securing the right, fit-for-purpose infrastructure for Northland across a range of areas, and in particular transport, has long been a priority for the current council and indeed the councils before it."
Councillor Shepherd says various arms of local government in Northland have been promoting a range of local infrastructural needs for some time through a number of avenues, including appropriate government agencies, with varying degrees of success.
However, growing numbers of people were beginning to understand and appreciate the pivotal role infrastructure played in regional economies nationwide and how many of these could be intertwined, especially between neighbouring regions.
"For example, the current controversy over Auckland's port expansion could see Northport assuming a more important role for the upper North Island in future. If that were to happen, our rail link between Northport and Auckland will be critical."
Councillor Shepherd says the Northland Regional Council has long felt Northland's rail link is absolutely integral and has "put its money where its mouth is" – investing significantly over a number of years to secure the land needed for a future rail corridor from Marsden Pt.
He says rail will be critical to future discussions around freight movements and linkages to Northland.
"In the meantime, Northland badly needs a significantly improved road connection with Auckland as well, including the 'four-laning' of the State Highway network all the way from Whangarei to Auckland."
"Current plans for the proposed Puhoi to Wellsford highway will effectively see the four-laning stop at our southern boundary with Auckland; they don't go far enough north."
He says four-laning the entire distance between Whangarei and Auckland is needed to ensure the easy passage of freight, including export goods, but also help ensure a more resilient route to and from Northland.
There are a number of single-lane bridges that desperately need replacing for safety reasons and councillors are also keen to see Mangakahia Rd from Portland to Kaikohe accorded State Highway status by central government.
"Again, this route is a key part of our regional transportation infrastructure and a critical component of the flow of export freight, including a huge number of logs, in our region."
Councillor Shepherd says the Mangakahia Rd's importance was graphically illustrated last year when a major winter slip closed State Highway One south of Kawakawa and saw heavy freight diverted via Mangakahia Rd instead.
While the lengthy Mangakahia Rd detour had added considerably to the distance that needed to be travelled to reach points further north, it had effectively been the regional roading lifeline to and from the Far North until the damaged State Highway One route had reopened some days later.
"If central government took over full responsibility for funding Mangakahia Road, it would free up local funds to deal with some other significant local roading issues, for instance dust on logging routes."
"Council can't stress enough how essential the rail network, Mangakahia Rd and the proposed four-laning are to maintaining, and even more importantly, growing our future regional prosperity."