New NRC 10-year plan launched
30 Mar 2015, 12:40 PM
Funding for emergency services, new flood protection infrastructure for Kerikeri and pest management at Whangarei Heads are among several key issues in the Northland Regional Council's new 10-year plan.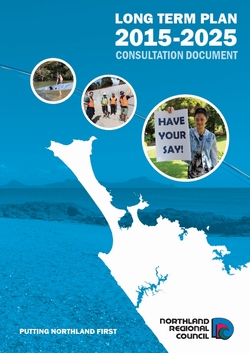 Chairman Bill Shepherd says councillors formally signed off the proposals for its Long Term Plan (LTP) 2015-2025 recently and will be seeking public feedback on it until 24 April.
Councillor Shepherd says changes to the LTP process mean the council can now produce a simpler, clearer 'Consultation Document' as the basis for that feedback.
"Rather than focusing on the work we already do – and which many Northlanders are already familiar with – the Consultation Document just highlights the main changes and new initiatives we're considering and how we might fund these."
Region-wide key issues for feedback include:
- Funding for emergency services; Create $800K contestable fund (replacing helicopter rate and all district council funding as council has agreed with district councils to assume full responsibility for funding life-saving) – rate of $10.68 a year (current helicopter rate is $8.03);
- Rates; To enhance services and deliver new environmental initiatives – a 5% ($8.70 on average) increase in targeted region-wide rates;
- Buying land for environmental benefit; seeking approval so opportunities are not lost.
Additionally, local key issues include:
Awanui: Flood scheme improvements ($700K); Increase spillway capacity to reduce flood risk – river rate increases by 45% (eg 'Urban A' rises to $203.76 a year).
Mid-North: Bus service trial; Assess local support for a trial service, which would need to be part-funded by ratepayers on/near the route (estimated at $29 a year for residential and $58 for commercial).
Kaeo: Monitor new flood infrastructure; Postpone decision on Stage 2 until performance of Stage 1 has been assessed.
Kerikeri: River spillway ($2.13M); To reduce flood risk downstream. Existing river rate rises to $80.04 a year (currently $49.96).
Urban Whangarei: Dam construction cost increases in part linked to unexpected subsoil conditions; Increase river rate by 40% (eg. non-CBD residential rate rises to $51.56) so Kotuku dam can be completed. The dam will help reduce flood risk in the CBD.
Whangarei Heads area: New pest control rate; To target kiwi predators and selected weeds – rate of $50 a year on local properties.
Councillor Shepherd says striking the right balance between affordability, value for money and ongoing improvement has remained a top priority for council in developing the proposals in the Consultation Document.
"We've got some big decisions to make and we really need feedback from our communities to do it. You can have your say on all the key issues we're seeking feedback on, or just the ones that interest you, but you're not limited to just what's in the Consultation Document.
He says the Consultation Document itself will be widely available at regional council offices and public libraries, or online at www.nrc.govt.nz/ltpfeedback
Information sessions will be held this week at the Te Ahu Centre, Kaitaia, from 6.30pm today, at Orchard Estate, Kerikeri from 6.30pm Tuesday 31 March and at the NRC's Water St, Whangarei offices from 7pm, Wednesday 01 April.
Feedback can be given online using the council's new online portal at www.nrc.govt.nz/ltpfeedback or via Facebook www.facebook.com/NorthlandRegionalCouncil or Twitter www.twitter.com/NRCexpress 
"You can still send in your feedback via post, email or fax. You'll find a feedback form at the back of our Consultation Document."
Finally, Cr Shepherd says the council will hold feedback meetings in early May in Kaitaia, Kerikeri, Kaikohe, Whangarei and Dargaville for those who'd like to present their views to councillors in person.
"While you don't need to have given written feedback to speak at those meetings, you do need to register to do so, again by 3pm on Friday 24 April."