Island as 'living classroom' for teacher workshop attendees
12 Mar 2015, 8:30 AM
Whangarei Harbour's Matakohe/Limestone Island is to become a 'living classroom' for 33 teachers from around Northland taking part in the Northland Regional Council's upcoming annual teacher workshop.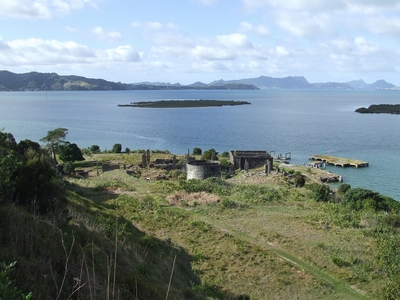 View from Matakohe/Limestone Island.
Teachers from Far North, Whangarei and Kaipara schools will gather on Thursday 26 March at Onerahi, before heading to the nearby 37-hectare island, which has been the focus of a community-led environmental restoration project for the past 26 years.
Council Chairman Bill Shepherd says the results of this project, which began in 1989, will be showcased to teachers to highlight what can be achieved when communities take long-term action to restore their wider harbour catchments.
"Matakohe/Limestone Island is a great example of the actions of a growing number of people in Whangarei Harbour's catchment which will increasingly contribute towards improving harbour health," he says.
With that in mind, the council had decided to take teachers to the island to see the results of community restoration action first-hand.
The island visit will be underpinned by an initial session at Onerahi Yacht Club exploring new teaching opportunities offered by Community Based Social Marketing – a process helping participants to more effectively achieve sustainable management action.
"We want to help participants with new tools for getting even better results from their efforts."
Councillor Shepherd says the workshop complements the regional council's 'Waiora Northland Water' project, which focusses on boosting Northland catchment health.
Teachers from 17 schools, from Matauri Bay in the north to Maungaturoto in the south, will be attending.
Among the day's activities will be a briefing from the island's ranger on work there, visits to see some of the 160,000 community-planted trees that have helped restore habitat, as well as the island's seabird restoration project.