Twenty-three schools share NRC environmental awards
5 Jun 2015, 6:57 AM
Projects including farm fertiliser runoff monitoring and a stoat and rat trapping programme to boost kiwi numbers are among 24 school initiatives to share $20,000 in this year's Northland Regional Council Environmental Curriculum Awards (ECAs).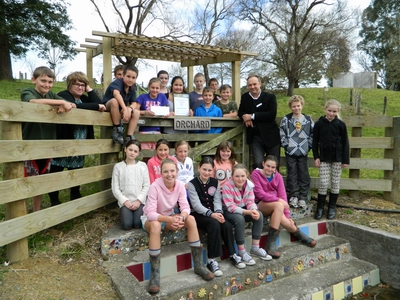 Tangiteroria School was one of last year's ECA winners.
The annual awards aim to foster excellence in environmental education, with schools eligible for up to $2000 each for their efforts to educate children 'in, about and for' the region's environment.
This year 23 recipients will receive between $230 and $1550 each for their 24 projects.
Regional council chairman Bill Shepherd and Councillor Craig Brown – who selected this year's winners – were once again impressed by the scope and quality of projects which will see the enthusiastic involvement of hundreds of people across entire school communities.
Councillor Shepherd says the ECAs recognise and support the environmental education efforts put in by about 2000 students in 112 classes and/or school student environmental groups.
Councillor Brown says he's pleased to see a good geographic spread among the winners, with seven winning schools based in the Far North, 12 in the Whangarei district and four in Kaipara.
Projects include $720 to Northland College for specialised chemistry equipment to measure waterway fertiliser run-off and $950 to Whangarei Heads School towards a stoat and rat trapping programme to boost local kiwi numbers).
A full list of the winning schools and the funding for their (GST exclusive) projects is:
Glenbervie School
Project: School Orchard
Funding: $500
Funding towards: creating a schoolground orchard. Students will be involved in planning, creating and maintaining it, with enterprise encouraged in the use of orchard harvests. This project involves 60 students aged seven to 11.
Kaikohe East School
Project: Sustainable Orchard
Funding: $1440
Funding towards: developing a schoolground orchard, the benefits of which include alignment with the school's kaitiakitanga value teaching and learning plus principles of sustainability such as growing and eating locally produced food. This whole school project involves 241 students aged five to 11.
Kamo Intermediate
Project: Islands of Life (2015)
Funding: $400
Funding towards: helping replenish/boost its long term Islands of Life (IOL) project. IOL (2015) receives funding towards renovating and further developing the school's worm farm headquarters and further schoolground plantings. One class of 34 Year Seven and Eight students and the school's 30-strong student envirogroup will take part.
Kerikeri High School
Project: Food for Thought - Edible Garden
Funding: $1400
Funding towards: creating an edible garden to provide food which is in turn cooked/prepared by the school's culinary and hospitality departments. Gardening, sustainable living and entrepreneurial skills will be among project benefits along with principles of kaitiakitanga, hauora and whanaungatanga. Sixty students in two classes are involved.
Maungatapere School
Project: You Can Grow It
Funding: $1200
Funding towards: expanding its gardening enterprise with a shadehouse to grow seedlings and propagate, and garden tools for garden maintenance. The school's garden group (15 students aged eight to 12) is involved.
Ngunguru School
Project: Restoring Food Chains
Funding: $900
Funding towards: pest trapping and other restoration work to further improve the health of a large schoolground bush block. Students will be rat trapping and monitoring accompanying simple pest tracking tunnels, their efforts working to restore native animal and bird food chains. The whole 240-student school's involved.
Northland College
Project: Northland College Waiora
Funding: $720
Funding towards: specialised chemistry equipment for measuring waterway fertiliser run-off. The senior secondary project will measure run-off resulting from using different fertiliser types and application rates on the school's 400 hectare farm to make fertiliser recommendations to the school farm committee and community. This programme, at the head of the Hokianga Harbour catchment, is part of a nationally groundbreaking, innovative programme where highly integrated multi-level NCEA studies work to restore waterway health local waterways' wairua. All the school's 306 students will be involved in the Northland College Waiora project at some point in their time at Northland College.
Okaihau College
Project: Ara Rongo
Funding: $1200
Funding towards: a 300 metre multi-sensory path for school special needs students. The pathway features perspex icons of native creatures including fish such as kokopu, mini pohutukawa, native flaxes and grasses, mirror pieces, a Maori pou and wind chimes to assist the visually impaired to travel around the school. Fifteen students aged 11 - 18 are involved.
One Tree Point School
Project: Butterfly Habitat Stage One
Funding: $1200
Funding towards: creating a butterfly garden to assist with the insect's food source and migration. This project for monarch and other types of butterflies is part of the school's mission statement which includes fostering values of environmental care, ecological awareness and sustainability. It grew out of student concern about butterfly habitat loss. The project involves 38 six and seven-year-old students.
Oruaiti School
Project: Oruaiti School Zero Waste
Funding: $230
Funding towards: worm farms as part of its established gardening programme and contributing to the school's goal of being zero waste. The whole 63 pupil school's involved.
Otaika Valley School
Project: Shadehouse Equipment
Funding: $750
Funding towards: shadehouse equipment for growing riparian plants for planting out in the local Otaika River. The whole-school project involves 147 students aged five to 11.
Otamatea High School
Project: Paper Brick Making
Funding: $310
Funding towards: paper brick making equipment. Recycled used school paper will be made into paper bricks for sale to the community as fuel for fires. This is seen as a way of cutting school paper waste. One hundred students aged 11 and 12 will be involved.
Oturu School
Project: No Turf Unturned!
Funding: $500
Funding towards: horticultural equipment for large-scale produce garden extension and redevelopment as part of a whole-school rebuild. This will enable the school to further extend its many-pronged education for sustainability approach. This includes a commercial kitchen, producing honey and eggs and much more. This whole school project involves 162 students aged five to 13.
Parua Bay School
Project: Parua Bay School Wildlife pathway (2015)
Funding: $450
Funding towards: finishing the school's seven year old wildlife pathway with plants and a species identification sign. More than 4500 plants have been planted along the pathway since the project began. The pathway links the seaside school with its Whangarei Harbour foreshore. The whole-school project will involve 280 students aged five to 13.
Peria School
Project: Food Forest Gazebo
Funding: $450
Funding towards: building a gazebo in the school's food forest for students to use when the weather's wet. The whole school's involved with 51 students aged five to 12l.
Poroti School
Project: Reigning in our Chickens
Funding: $500
Funding towards: reigning in the currently free-range school chickens with an expanded school chicken enclosure. The whole 20-student school's involved.
Ruakaka School
Project: The Birds and the Bees
Funding: $550
Funding towards: extending its chook run and boosting schoolground wildflower plantings for bees. The school's envirogroup will lead the project with 20 students aged seven to 10.
Ruawai Primary School
Project: Bees VIP (Very Important Pollinators)
Funding: $700
Funding towards: boosting the school's beekeeping enterprise. The whole school's involved with 101 students aged five to 11.
Tangiteroria School
Project: Sustainable Orchard and Garden
Funding: $1100
Funding towards: boosting an established multi-faceted outdoor learning environment including boosting the school orchard, harvesting honey for sale, growing plants in the school polyhouse and having chickens to complete the garden-to-table philosophy. The whole school's involved with 52 students aged five to 13.
Te Kura o Otangarei
Project: Enviro Blitz
Funding: $1500
Funding towards: boosting the school's fruit forest and planting a plant shelter belt around it. The whole school's involved with 92 students aged five to 13.
Tinopai School
Project: Manaakitia te Kaipara (Native tree project) and Mara Kai mo to Whanau (Community Garden)
Funding: $1550
Funding towards: two schoolground projects run in conjunction with the local community. Manaakitia te Kaipara gets $1200 towards developing a native tree project and Mara Kai mo te Whanau gets $350 towards a community garden. All students in the small rural Kaipara Harbour school are involved – 21 students aged five to 13.
Waiotira School
Project: Agricultural Sustainability
Funding: $1500
Funding towards: a chicken-based enterprise producing eggs for the school's technology class and sale as well as materials for having a goat to 'mow' expansive school grounds at the small rural school. The whole school will be involved with 22 students aged five to 11.
Whangarei Heads School
Project: Room Two Trappers
Funding: $950
Funding towards: traps to use as part of a stoat and rat trapping programme involving students in a schoolground bush block. The programme's being run by the school and is aimed at encouraging more kiwi as part of the Bream Head community's Backyard Kiwi programme. One class of 29 students aged nine to 11 years old (Y5/Y6) will run the programme .