New 10-year plan adopted
17 Jun 2015, 8:58 AM
A new 10-year plan outlining Northland Regional Council's work for the next decade – and how it will be paid for – has been formally adopted by councillors.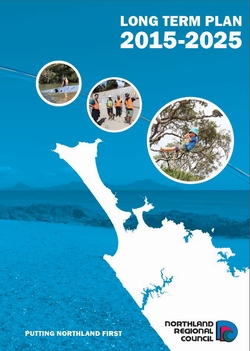 Chairman Bill Shepherd says the council received 1278 submissions on its Long Term Plan (LTP) 2015-2025 and also heard from 54 submitters at feedback meetings in Kaitaia, Kerikeri, Kaikohe and Whangarei.
Councillor Shepherd says the LTP was formally adopted by councillors at their full monthly meeting, held yesterday at Parua Bay.
He says the finalised document represents vast amounts of work by councillors, staff and submitters and he and his fellow councillors are grateful to everyone for their input.
"Obviously with a document of this size and impact we're not able to please everyone, but as always, the final result represents an honest and genuine attempt by councillors to collectively strike the right balance between affordability, value for money and ongoing improvement for all Northlanders."
Councillor Shepherd says key decisions in the final LTP are:
General rates; a five percent increase in targeted region-wide rates (average of $8.68 per rateable unit) over the next 12 months.
Contestable Emergency Services Fund; new, fully contestable $900,000 annual fund. Will cost $11.84 per household and replace existing emergency services helicopter rate and all other funding from Northland's four councils. Council will invite and assess applications to this fund through a separate process.
Whangarei Heads pest management; new targeted annual rate of $50 per rating unit on properties in Whangarei Heads area to fund ongoing community pest control activities.
Kerikeri-Waipapa flood mitigation scheme; proceed with $2.13M Kerikeri-Waipapa spillway designed to reduce flooding downstream of State Highway 10. This will initially be funded through targeted annual rate of $80.04 (including GST) per property over a 10-year period.
Awanui flood mitigation scheme; $700,000 project to increase capacity of Awanui scheme's Whangatane spillway to proceed. Spillway improvements will increase the existing local river rate by about 45%.
Kotuku Dam flood mitigation scheme; Increase current targeted rate by about 40% and continuing the rate for 25 years.
Mid-North bus trial; Trial bus service for the mid-North area expected to commence in mid-2016. The trial will link the communities of Kaikohe, Ohaeawai, Moerewa, Kawakawa, Paihia, Haruru, Kerikeri and Waipapa. It will be funded by a new targeted rate (to start from 2016/17) on properties near the route.
Buying land for environmental benefit; retain existing policy requirement for public consultation on proposed non-commercial land purchases over $700,000.
Councillor Shepherd says the finalised LTP is expected to be available on council's website next week via: www.nrc.govt.nz