Awanui works completed ahead of winter
2 Jun 2015, 7:41 AM
Hundreds of metres of Awanui River riverbank, including stopbanks, near Gill and West Rds have been improved to offer better flood protection over winter.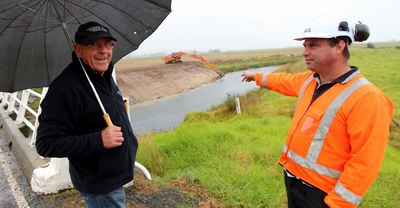 Regional council Te Hiku constituency representative Cr Monty Knight, left, and contractor Tim Garton check progress on Awanui River scheme works near Gill and West Rds.
Monty Knight, the Northland Regional Council's Te Hiku constituency representative, says the latest works were carried out over several months in the lead up to winter as part of $350,000 worth of annual Awanui River scheme maintenance works.
"Stopbanks have been improved, banks reshaped and corners straightened to prevent erosion, scouring and flooding," he says.
"These measures will enable more floodwater to pass more quickly through the Awanui River system and in doing so, help reduce the flood risk."
Councillor Knight says the work is great news for Awanui township, as it will improve its flood resilience, but also this forms part of the long term flood prevention plan for the whole Awanui catchment, including Kaitaia.
He says the area is lucky to have the Awanui River Liaison Committee, which has a strong leader and advocate in fellow regional councillor Joe Carr, as well as very committed and passionate members.
"This liaison group is arguably one of the most successful in Northland because despite a very diverse and reasonably large membership, its members work collectively very well to address local flood management issues."
Councillor Knight says more work is planned once the weather improves during spring and summer, including a $700,000 project to modify the Whangatane Spillway entrance.
"Again, this will further cut the flood risk for parts of Kaitaia and help floodwaters drain more quickly from Lake Tangonge."
He says this important because the longer paddocks sit under water, the more risk the pasture on them will die, which aside from the obvious cost to famers, also adversely affects water quality as it rots.
Meanwhile, he says work has also been done on the Tarawhataroa River in central Kaitaia from the Switzer Home to Pukepoto Rd bridge, including 'grade control works' to stablise the river bed.