Have your say at transport meetings
5 Jan 2015, 8:00 AM
Northlanders are being urged to attend upcoming public meetings to make their views known to those planning the blueprints addressing some of the region's most pressing transport issues.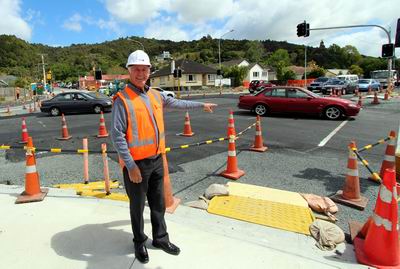 Regional Transport Committee chairman John Bain: Everyone has a vested interest in securing the best 'fit for purpose' transport system Northland can afford.
The Northland Regional Council is this month holding a series of meetings on the Draft Regional Land Transport Plan (RLTP) and the Draft Regional Public Transport Plan (RPTP) as part of a public consultation process which began late last year.
Regional council member John Bain, who chairs the Regional Transport Committee, says the upcoming public meeting schedule is as follows:
Dargaville; Monday 12 January, Dargaville Town Hall, Hokianga Rd (5-7pm)
Kaitaia; Tuesday 13 January, Te Ahu Centre, South Rd (2-4pm)
Kaikohe; Wednesday 14 January, Far North District Council chambers, Memorial Ave (2-4pm)
Opononi; Thursday 15 January, Opononi Town Hall, (5-7pm)
Whangarei, Monday 19 January, Northland Regional Council chambers, Water St (5-7pm).
Councillor Bain says all Northlanders – regardless of where they live – have a vested interest in securing the best 'fit for purpose' transport system the region can afford.
"I'd really like to urge as many people as possible to attend one of the public meetings to come along and share their thoughts."
He says the RLTP will serve as a 'blueprint' for tens of millions of dollars spending on the region's roading infrastructure over the next three years.
"It attempts to address a raft of issues including things like regional route resilience and security."
Councillor Bain says a lack of funding is the biggest issue facing Northland's land transport and the draft plan represents a lot of hard work by people from a number of local authority, government and other agencies to get the best outcome from the money that was available.
Meanwhile, he says the second plan – the RPTP – sets out how public passenger transport services and the assistance for the transport disadvantaged will be provided for over the next decade.
"Again, cost is an issue and a big challenge is how to continue to grow patronage while maintaining the affordability and quality of these services."
The plan proposes investigating ways of improving user experience, including public transport information and ticketing options.
Public consultation on both plans is running for a longer-than-usual six weeks given the recent Christmas/New Year break.
"We wanted to ensure there's enough time for people to have a say while still enabling us to meet government funding deadlines."
Details on the public consultation – including the two draft plans – is available from the regional council's website at www.nrc.govt.nz/haveyoursay