Subsidised poplars, willows up for grabs
29 Apr 2015, 10:43 AM
Landowners keen to take advantage of a local authority scheme offering subsidised poplars and willows to help better control erosion and protect water quality need to get in quickly, the Northland Regional Council says.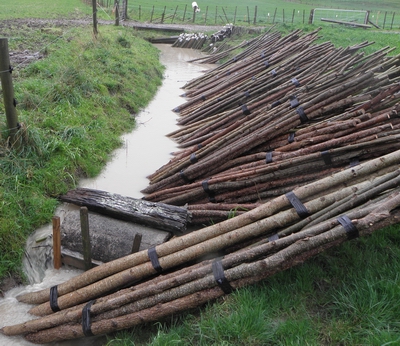 Poplar poles soaking in stream prior to planting.
Councillor Joe Carr, who chairs the council's Environmental Management Committee, says about 4000 three-metre poplar 'poles' will be available shortly to qualifying landowners for the looming winter planting season.
Councillor Carr says the council sells the poles – which usually retail for more than $8 each – for just $5 (incl GST) provided landowners agree to a planting plan to ensure the trees are planted appropriately and future maintainance is allowed for.
Hokianga-based Cr Carr, a farmer who uses his own poplar stocks extensively across his land, says they have been used extensively in Northland for many years to help prevent and control erosions, nutrient losses and decrease waterway pollution.
"Both species have extensive root systems which help bind soil and prevent erosion and council promotes their use both as part of its soil conservation and water quality work."
He says interested landowners have until Friday 29 May to register an interest in securing some of the subsidised trees, which they can do by contacting the council's Land Management Team directly on 0800 002 004.
"Alternatively, you can visit us online at www.nrc.govt.nz/poplars which will tell you everything you need to know about establishing poplars and willows and now also includes a new online ordering form."
Councillor Carr says while people question the use of non-native species like poplar and willow for erosion control, they are specifically chosen because their fast growth rates means they can begin to do they job they're intended for much more quickly.
"Stabilising land and associated reductions in both erosion and and sedimentation is absolutely essential for us here in Northland and sediment is one of our biggest water contaminants."
Councillor Carr says the best time to plant the trees in Northland is typically from June to mid-August.
The bulk of this year's pole supply is once again being sourced from a Cambridge supplier, but from next year the council hopes to be able to start sourcing increasing numbers of poles from its own poplar and willow nursery near Whangarei.
The regional council set up the five hectare nursery in Flyger Rd, Mata, two years ago after becoming frustrated at the limited supply of suitable poles in Northland and being unable to find anyone able to grow large numbers on its behalf.
"Pole nurseries typically take three years to establish from scratch so all going well we will be able to harvest our first crop of several thousand poles for local use next year."
Meanwhile, Cr Carr says anyone buying the poles needs to transport them carefully to avoid damaging the bark (creating the risk of disease or the pole drying out) and ideally they should be soaked in fresh flowing water for 8-10 days prior to planting.
"There are also a number of other considerations that need to be taken into account, including where trees are sited and the ongoing care and maintenance they'll require, hence this year's requirement for an agreed planting/maintenance plan."