Tribute to Dennis Bowman
7 Oct 2014, 9:31 AM
The weekend death of Northland local body stalwart Dennis Bowman is a loss to both the Far North and the region as a whole, Northland Regional Council Chairman Bill Shepherd says.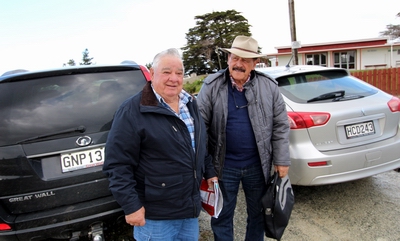 The late Dennis Bowman, left, represented the region's most northerly constituency Te Hiku, but his work as a regional councillor took him all over Northland. In this recent photograph, he's pictured with fellow regional councillor the Honourable Dover Samuels about to head into a meeting of the Te Taitokerau Maori Advisory Committee at Oruawharo Marae near Wellsford.
Councillor Bowman, 82, who represented the regional council's most northern constituency, Te Hiku, passed away at the weekend. He had previously served on both the Far North District Council and Te Hiku Community Board before successfully contesting the regional council's Te Hiku constituency at last year's local body elections.
Councillor Shepherd says that election 12 months ago saw the regional council expand its constituencies from three to seven, including Te Hiku, in a bid to better engage with local communities. (The regional council's Te Hiku constituency covers the northern-most part of Northland and includes the area from Mangonui to the northern side of Whangape Harbour, Kaitaia and up to Cape Reinga.)
"Dennis was very much an iconic member of the community he represented and his long-standing understanding of it – and the wealth of local knowledge he had accumulated over many years – was greatly appreciated and a great asset to council both locally and at a region-wide level over the past year."
Councillor Bowman's regional council roles had included membership of the Environmental Management Committee and Te Taitokerau Maori Advisory Committee, as well as important local river liaison committee work.
"Our sympathies and thoughts are with his family, including his wife Elaine and their children and grandchildren, at this time."
Councillor Shepherd says regional council political and staff representatives will be among those at Mr Bowman's funeral, which will be held in Kaitaia tomorrow.
Meanwhile, he says a full regional council meeting to be held in the Te Hiku constituency – and which Cr Bowman had been keenly anticipating – would go ahead as planned at Taipa on Tuesday 21 October.
"Dennis was looking forward to that meeting and had been liaising with staff to include a familiarisation tour of an important Far North local industry prior to that meeting. That tour will go ahead too."
Councillor Shepherd says a by-election to fill the Te Hiku constituency vacancy left by Cr Bowman's death is expected to be held early next year.