Sex drive may be moth's downfall, trial backers hope
10 Oct 2014, 7:49 AM
A scented bread-tie like device which spurs male moths to hunt a non-existent female mate until they literally die from exhaustion is being trialled in Whangarei in a joint bid to better protect backyard fruit and nuts from guava moth infestation.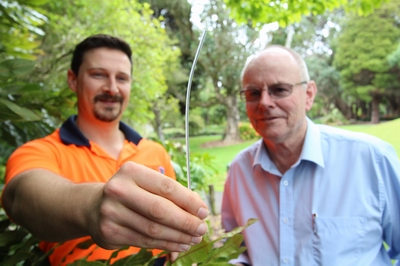 Aaron Heap, a second-year NorthTec biodiversity degree student, shows Northland Regional Council chairman Bill Shepherd a guava moth pheromone twist tie. The tie is laced with a natural pheromone from female moths and is being trialled in Whangarei in a bid to help protect fruit and nuts from infestation.
About 80 Riverside residents have joined forces with NorthTec and the Northland Regional Council and agreed to take part in a 14-month long free trial based on use of a naturally-occurring female moth pheromone as a biological control weapon.
Northland Regional Council Chairman Bill Shepherd says guava moth (Coscinoptycha improbana) is thought to have blown across the Tasman in its adult form in the late 1990s.
"Unfortunately, it's now a very much established and unwelcome pest, whose larvae infests and ruins a range of soft fruit and nuts, both domestic and commercial, in Northland year-round."
In a bid to better protect fruit and nut crops, those behind the trial – which officially began yesterday – are attempting to use the male moths' sex drive as the instrument of their own destruction.
"The technique uses a naturally-occurring pheromone produced by female moths to attract males. This scent confuses the males who use up their limited energy reserves in a vain search for these 'phantom' females until they die.'
Councillor Shepherd says this then disrupts the guava moth breeding cycle as when female moths are actually present in large numbers at peak breeding times they struggle to find a male mate and their eggs remain unfertilised.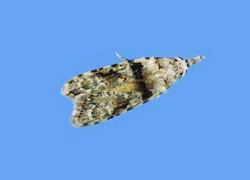 He says there are already some commercially-made pheromone traps available in Whangarei, but they are typically larger and rely on a combination of a different scent and sticky pads to physically trap and kill moths.
"Our Northland-based insect consultant Jenny Dymock has conducted small-scale trials over the past year in the Far North and found that the scented twisty ties we've been developing appear to reduce guava month damage in crops at very low cost."
He says the imported ties are based on those used to lure a similar overseas moth and cost just a few cents per unit
More than 80 residents in the Riverside area were written to and had agreed to take part in the trial, which will see 10 of the twist ties attached to trees on their properties, where they will remain for the next 14 months.
"This will be our first large-scale trial of the new system and will allow us to see how the ties perform in large numbers over a defined several hectare area.
Over summer and autumn fruit like feijoa will be collected from the trial properties to see if they have been infested by guava moth.
Councillor Shepherd says the ties are not expected to be a 'silver bullet' to the guava moth problem.
"But given the low cost of this new tool, if it can provide even a small amount of relief for residents trying to grow their own fruit then it will be worthwhile. This is a really great example of a community working together to tackle a common enemy and it's also fantastic that we are able to work with some of NorthTec's best students who are taking a lead role in the trial."
Councillor Shepherd says residents will be kept up to date with trial results over the next year.
Meanwhile, he says people keen to find out more about biological control generally can do so by visiting the regional council's website via www.nrc.govt.nz/nasties