32 students attend 2014 NRC Youth Summit
24 Oct 2014, 12:09 PM
Thirty-two students from throughout Northland have gathered for the 2014 Northland Regional Council Youth Summit in Whangarei.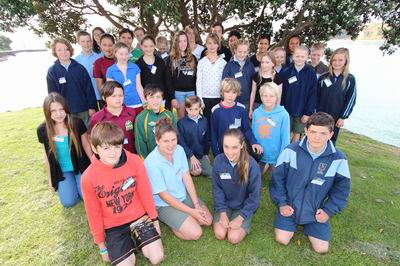 Students from around the region who gathered for the 19th annual Northland Regional Council Youth Summit in Whangarei yesterday.
The 19th annual summit, held at Whangarei's Onerahi Yacht Club yesterday, saw students discuss coastal environmental issues and what they could do to make a difference.
The day-long workshop brought together Year Seven and Eight students from 11 Northland schools, from Kaingaroa near Kaitaia, to Ruawai in the south.
The summit explored ways in which young people can play an active role in the future sustainable management of Northland's coast and the catchments feeding it.
The students developed action plans to help sort local sustainable management issues. These included beach access in Opononi, controlling Kaipara Harbour fish pests to improve water quality, fish dumping on Tokerau Beach, rubbish cleanups on the Tutukaka coast and managing wastewater, stormwater and runoff issues in Whangarei Harbour.
Northland Regional Council chairman Bill Shepherd says it's encouraging to see Northland students taking an active interest in protecting and preserving their local marine environment.
"The work of these students makes a real contribution to the health of Northland's estuaries, harbours and coastlines. That's important for all Northlanders," he says.
The students' efforts will contribute to the health of a number of Northland harbours including Bay of Islands, Hokianga, Whangarei and Kaipara along with Ngunguru Estuary and the Doubtless Bay and Tutukaka coast catchments.