Estuary environmental education opportunities explored
28 Mar 2014, 1:11 PM
The health of several Northland estuaries could soon be boosted by the combined efforts of hundreds of students thanks to a recent Northland Regional Council teacher workshop at Ngunguru.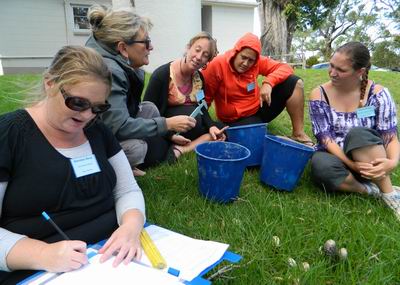 Learning to set up an estuary cockle monitoring programme at NRC's Ngunguru estuary catchment-care-themed teacher workshop are, from left, Sheridan Wood and Pauline Stephinson (Oromahoe School), Loren Hope and Ringi Snowden (Ngunguru School) and Tamara Phillips (Pompallier Catholic College).
Twenty-one teachers from across the North attended the Wednesday 26 March workshop aimed at boosting estuary catchment care education in Northland schools.
The workshop aimed to empower teachers to boost their estuary catchment-care-themed environmental education.
Council Environmental Education Officer Susan Botting says teachers who attended the workshop are expecting to work with more than 1000 students back at their schools to put what they've learned into action.
"We're looking forward to seeing how teachers integrate their new estuary catchment-care skills into their school life and how students in turn start to take action in local estuaries."
She says setting up estuary sedimentation monitoring, measuring water quality and investigating estuary catchments will be among the student actions resulting from the workshop.
Participating schools at the workshop were based in six Northland estuary and harbour catchments; Bay of Islands, Kaipara, Mangawhai, Ngunguru, Ruakaka and Whangarei.
The workshop saw council technical specialists run hands-on sessions to help teachers learn how to set up estuary health monitoring through measuring cockle populations and sedimentation rates.
Estuary catchments were also investigated with teachers exploring challenges facing their local estuary, the differing values people held for it and how people could contribute to its health. Ngunguru School's estuary-themed environmental education was also showcased.
"Estuaries are a key feature of Northland's coast," Ms Botting says.
"Rivers, streams and creeks flow from the land behind our estuaries. What happens on that land has a huge influence on the estuaries where we like to gather kaimoana, swim, play and more."
Teachers from schools spanning Oromahoe in the mid-North to Mangawhai in the south attended the workshop, representing primary, area and secondary schools.
"Estuaries and their catchments offer an incredible range of environmental education opportunities for teachers in all sorts of fields from the sciences to the arts," Ms Botting says.