Maori advisory committee holds 'positive' first meeting
30 Jun 2014, 1:39 PM
The Northland Regional Council's Te Taitokerau Maori Advisory Committee has met for the first time at Ngati Hine's Otiria Marae.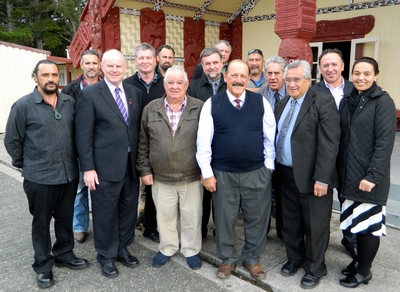 Starting a journey…Some of the initial membership of the Te Taitokerau Maori Advisory Committee at the group's inaugural meeting at Moerewa's Otiria Marae on Friday. The committee chairman, Honourable Dover Samuels, is pictured front row fourth from left.
Committee chairman Honourable Dover Samuels says he is thrilled with the turnout of an estimated 100 people to the 'positive' inaugural meeting on Friday.
Councillor Samuels says the committee's formation is part of the regional council's wish to promote Maori (whanau, hapu and iwi) participation and engagement in its processes and decision-making.
"It will also ensure it better fulfils its statutory obligations under the Local Government and Resource Management Acts and takes appropriate account of the principles of the Treaty of Waitangi."
Councillor Samuels says the first meeting was a positive first step along a new journey and would be followed up in July by another meeting to be held at the council's Whangarei offices.
"The committee has agreed to meet monthly initially and one of its first items of business will be to continue to finalise its terms of reference."
"There were a range of other issues raised at the inaugural meeting which the committee will also consider further over the coming weeks."
Councillor Samuels says initially it had been proposed the committee's membership would comprise two representatives from each of the invited iwi/hapu, himself and three of his regional council colleagues; council chairman Bill Shepherd, Dennis Bowman and Paul Dimery.
"It's still very much early days, but I'm personally really pleased to see the level of interest expressed already."
"Maoridom is poised to become an increasingly major contributor to the Northland economy as a result of treaty settlement processes and council wishes to work with Maori to advance the economic aspirations of whanau and hapu."
He says the energy spent early on collaboratively developing the purpose, mandate, functions and work programme of the committee will pay dividends longer term, enabling lasting and meaningful relationships and a commitment to its success.