Enhanced Taskforce Green crews start storm recovery work
28 Jul 2014, 11:27 AM
Fifteen Enhanced Taskforce Green (ETFG) members hired to help clean up storm-affected Northland farms, horticultural operations and orchards began work in earnest today.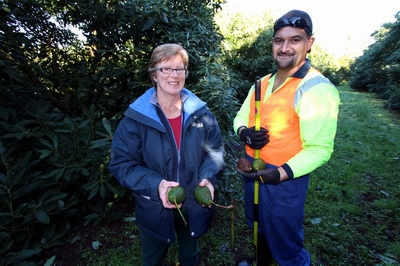 Maungakaramea avocado grower Kathy Woods and Enhanced Taskforce Green supervisor Manuka Bilich with some of the thousands of fallen avocado needing to be cleared after the recent storm which lashed Northland.
ETFG is a temporary employment programme funded by the Ministry of Social Development to help regions recover from adverse events like the recent storm.
The Northland Regional Council has employed the crews and is co-ordinating their local deployment over the next three months under the Civil Defence umbrella.
Graeme MacDonald, the council's Civil Defence Emergency Management Senior Programme Manager, says one crew will work in the Far North out of Kaikohe and the other two from Whangarei.
The crews are expected to be on duty for the next three months, with their work being prioritised via the Rural Support Trust.
Among the first to be helped when the crews began work in the field today was Maungakaramea avocado grower Kathy Woods, one of a number of affected Northland growers estimated to have suffered a collective industry loss of up to $13 million in lost production, trees and tree damage.
Ms Woods was delighted with the arrival of several much-needed extra pairs of hands as she races against the clock to clear many thousands of avocadoes lying beneath storm-battered trees on her 22ha orchard.
While fortunate to have only lost about a dozen trees to the recent storm, she has still lost an estimated (and uninsured) 100,000 avocadoes; roughly five to 10 percent of what had looked like being a bumper crop.
She says her staff have been working solidly for a week solid trying to drag fruit from their resting places under the trees and into clear spots in the orchard rows where the avocadoes can be mulched before they ripen and turn "squishy".
If not removed, a worse fate awaits as they would rot where they lay and vast numbers of young trees would eventually begin sprouting everywhere effectively clogging the orchard.
Ms Woods estimates it will take another fortnight to three weeks to clear the fallen avocado, and although large numbers have already been given away, they can't be sold and for practical reasons most of those cleared will have to be mulched by tractor into a "very large guacamole".
She says while the ETFG crews have to move about the region and she expects to only have their services for a day, she's very grateful for any help and says their arrival so early in the clean-up is "really, really great".
Meanwhile, Mr MacDonald says the Rural Support Trust is working with farmers, horticulturists and orchardists to co-ordinate the ETFG crews' schedules. People interested in taking advantage of the ETFG scheme should contact the trust on (0800) 787 254.