Drop in day, hui on regional moorings rethink
4 Feb 2014, 1:48 PM
Time is running out for people to comment on a local authority rethink on the way mooring and marina space should be allocated around Northland over the next 50 years.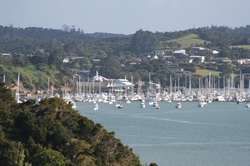 Growing pressure on limited mooring and marina space around Northland's coast – especially in the Bay of Islands – prompted the Northland Regional Council to release a Draft Mooring and Marinas Strategy for public feedback in November last year.
An extended three-month period for public feedback ends on Friday 28 February and to date the council has already received about 50 submissions on the draft, which aims to address management issues around how and where boats can be moored in Northland.
The draft also includes a tailor-made section specifically designed to address the Bay of Islands, the place where demand/pressures are greatest and consequently the area the proposed strategy would affect most.
Ben Lee, the regional council's Policy Specialist – Coastal, says the council had last year mailed information on the draft direct to mooring owners and other interested parties and had held public meetings on it in Kerikeri and Opua.
A follow up 'drop in day' for interested people to meet with council staff, ask questions and further discuss the draft is scheduled for the Opua Cruising Club from 2.30-6.30pm on Monday 10 February.
He says Maori (and others with an interest in the strategy) with links to the Bay of Islands are also invited to a hui the council has organised for the Moerewa's Otiria Marae at 10am on Wednesday 12 February
"The hui will both allow us to provide information and hear tangata whenua's views first-hand on the proposed strategy."
The strategy was developed over 18 months after consultation with a variety of key stakeholders including local residents, boating clubs, tangata whenua, commercial and environmental interests, other local authorities, contractors and marina developers.
Information about the proposed strategy is available online via www.nrc.govt.nz/haveyoursay or by contacting council policy analyst Michael Payne on 0800 002 004.