Mangere Stream North's most improved in NZ River Awards
16 Dec 2014, 10:01 AM
The improving health of Northland's Mangere Stream – and the benefits of improved farm dairy effluent treatment – has been highlighted at the annual New Zealand River Awards in Wellington.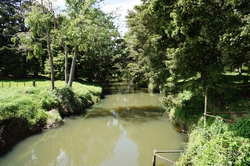 Mangere Stream Knights Rd sampling point.
The awards are sponsored by the Morgan Foundation and aim to encourage communities and regional councils to improve the health of their local rivers.
The Mangere Stream – one of the five priority catchments in the Northland Regional Council's Waiora Northland Water programme – was recently named as Northland's most improved and the fourth equal most improved river nationally.
The stream, west of Whangarei, received a 'Regional Award', given to the most improved river in each region as measured by a selected scientific indicator of river health.
This year, the awards focused on the reduction in phosphorus levels, and Northland's award was collected by regional council chairman Bill Shepherd at a ceremony in Wellington in late November.
Councillor Joe Carr, who chairs the regional council's Environmental Management Committee, says according to the awards' judges, phosphorus levels in the Mangere Stream have reduced by 14.5 percent annually over the past 10 years.
Councillor Carr says Mangere Stream's overall water quality has been affected by a variety of factors such as increased levels of bacteria, nutrients and sedimentation and there is still a great deal of work that can be done to further improve it.
"However, with the right people working together collaboratively and taking the right actions, it's within our ability to make a measurable difference, and that's what these awards celebrate."
Councillor Carr says a Mangere Catchment Group is one of five in the regional council's Waiora Northland Water programme and the award gives extra impetus to the group, co-chaired by dairy farmer Royce Kokich and iwi representative Tania Pene.
"These catchment groups focus on the region's priority catchments by bringing together interests such as iwi and hapu, farmers, industry (such as energy or quarrying), residents, environmental groups, recreational groups and local authorities."
Councillor Carr says high phosphorus levels can lead to the growth of algae and slimes, which in turn can smother the habitat of other freshwater life and cause other water quality issues.
"The reduction in phosphorus levels in the Mangere Stream is largely due to measures put in place by farmers on surrounding dairy farms over the past decade or so, including substantial and costly upgrades to farm effluent systems and fencing and planting of riparian edges."
Councillor Carr says the improvement also illustrates the benefits of the regional council's persistence in promoting better standards of effluent treatment and management, not only in the Mangere catchment, but region-wide.
Industry group Dairy NZ had also made a significant financial and technical contribution to this work in recent years.
For further information on Waiora Northland Water:
For further information on the Mangere catchment:
https://www.nrc.govt.nz/Your-Council/Council-Projects/Waiora-Northland-Water/Priority-areas/Mangere/
For data on freshwater quality in the Northland region: