Kerikeri River project to reduce flooding risk
8 Apr 2014, 2:05 PM
Northland Regional Council contractors are about to begin work on a project which will improve flows through the Kerikeri River in the event of a flood, further reducing the risk to the historic Stone Store and Kemp House.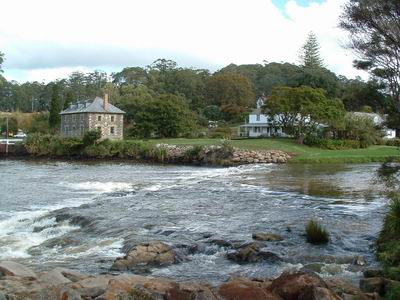 The project will reduce flood risks to the historic Stone Store and Kemp House.
Joseph Camuso, Rivers Programme Manager for the regional council, says the work addresses two restrictions to the flow of the river. It involves reducing the height of an abutment left behind when the former road bridge near the Stone Store was removed in 2008, and also taking out a boulder bank which has formed in the river bed further upstream.
An estimated 180 cubic metres of material will be removed from the abutment, and a further 600 cubic metres from the boulder bank. Some will be re-used on the site for scour protection and the remainder trucked away to a nearby property.
The project has been planned in consultation with local stakeholders and the Historic Places Trust, and an archaeological assessment has been carried out. It has also been timed to link in with work on the adjacent carpark commissioned by the Department of Conservation and uses the same contractors.
A temporary "haul road" – to allow trucks and machinery to access the boulder bank – is being created using a combination of geotechnical cloth and a layer of aggregate to protect the remains of a historic fence believed to lie beneath the surface of the soil. This haul road will be removed at the completion of the project.
The work is scheduled to begin on Thursday April 10 and is expected to take about seven working days, depending on weather conditions.
The project cost of approximately $25,000 is being paid for via a targeted rate (the Kerikeri-Waipapa River Maintenance Rate) and has been approved by the regional council's Kerikeri River Liaison Committee.