Wilding conifer programme
In the right place, conifers (including pine trees) have many uses – but in the wrong place, they can create serious problems.
What are wilding conifers and wilding pines?
'Wilding conifer' is the New Zealand term for introduced conifers that have self-seeded and are unwanted. This includes pines (such as pinus radiata), cedars, firs, cypress, larches and spruces.
Why are wildings a problem?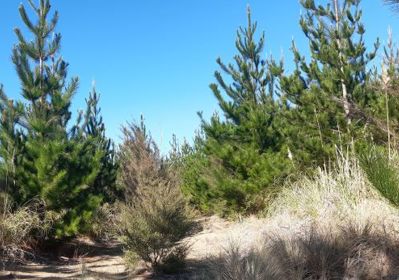 Wildings are invasive. Scientific advice tells us that at the current rate of spread, 25% of New Zealand will be invaded by wilding conifers within 30 years.
They compete for space with native trees without providing a food source for native birds or insects. The needles smother native species on the forest floor, discouraging regeneration.
In Northland wilding pines are rapidly becoming a major problem outside of plantation forests and some of our most unique habitats are now vulnerable to invasion.
Seeds can be blown many kilometres by wind and have spread into some of our most unique and fragile ecosystems, areas such as coastal margins, dunes, wetlands, gum lands and geothermal sites.
Wildings are also a prominent weed species found in regenerating bush and on roadsides and waste land.
Government funding for Northland wilding conifer control
Ministry for Primary Industries has been funding wilding conifer control in other parts of the country for a number of years.
In 2020, the Government announced a $100M boost to the National Wilding Conifer Control Programme over four years. For the first time, Northland Regional Council received funding from this community partnership fund to carry out projects in our region.
Wilding pine removal is now underway in Northland, protecting our natural environments and creating employment for our people.
Wilding conifer control projects
We're working together with landowners, iwi/hapū, district councils, Department of Conservation and a range of others to get wilding conifer control projects underway across Northland.
Some of the wilding conifer control projects have taken place at:
Lake Ngatu, linking into a long-running community-driven project to restore this rare and culturally significant Far North dune lake.
Awanui River, removing unwanted trees from a stretch of erosion-prone river bank and providing a valuable extra line of defence against flooding.
Kai Iwi Lakes, in a project to protect Northland's rare dune lakes from destructive wilding pines while providing career opportunities for youth.
Aupouri Peninsula, extracting nearly 2000 young pines before they smother the fragile dunes at Kokota (The Sandspit), Great Exhibition Bay.
Whangārei Heads, protecting locations from the coast (Kauri Mountain Beach, Pataua South ) to hills and maunga (Pukenamu, Te Whara/Bream Head).
Specialist trainer Andrew Macalister provides training to forestry workers on wilding pine control in the Kai Iwi Lakes area.
How can I get involved?
If you're aware of wilding pines in a vulnerable habitat (dunes, wetlands, gum lands), here's what you can do:
Contact Northland Regional Council or your local weed action group.
Your property will be assessed based on prioritisation criteria.
If funding is available, control measures will be considered and agreed on, and a control plan put in place.
Find out more:
Prevent the spread - Northland Wilding Conifer Control Programme fact sheet (PDF, 1MB)
Watch the videos
MPI has created a series of short videos about wilding conifers – watch them here: