What is groundwater?
Groundwater is rainwater that has travelled through the soil to underground aquifers - areas of fractured rock or porous sediments such as sand or gravel.
Wells pump groundwater from aquifers. We use it for drinking and in agriculture, horticulture and industry.
Groundwater in Northland
Groundwater in Northland is highly variable in both quantity and quality - depending on the geology of the aquifer system.
Our main aquifer systems exist in the:
Kaikohe basalts;
Whangārei basalts; and
Aupōuri sands and shellbeds.
There are also many small sand and gravel coastal aquifers such as Russell, Matapōuri and Taipā, and less productive greywacke aquifers throughout the region.
Rainfall is the main source of recharge for our aquifers. Groundwater tends to recharge during winter due to heavier and more consistent rainfall.
Groundwater in the main basalt aquifers discharges as base flow into springs and streams. Provided there is sufficient recharge occurs during the winter months, the groundwater baseflow can sustain the surrounding streams flows during dry summers.
In the coastal aquifers the main discharge is to the coast. In these aquifers salt-water can move inland when there is over-use or the low recharge. This can cause bores close to the coast to be salty.
The management of Northland's groundwater quality and quantity is accomplished through Regional Soil and Water Plan for Northland and the Proposed Regional Plan for Northland.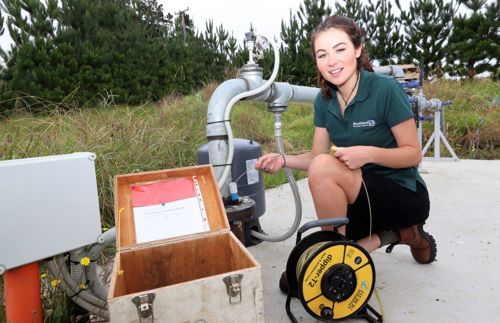 Monitoring the Aupouri aquifer bore.