Kaeo flood risk reduction project
Kaeo is one of 26 catchments around Northland identified as priorities for flood risk reduction planning. This ongoing project aims to reduce the impacts of flooding on Kaeo township and its people.
The township is built on a flood plain and has regularly flooded for as long as recorded history.
The strategy for Kaeo is to help ensure the floods that do occur are less damaging and dangerous, as much as reasonably practical.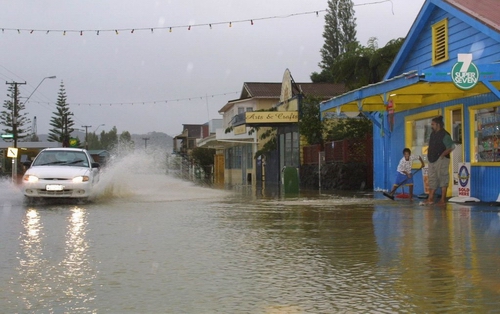 Kaeo township in flood.
Work already completed
Development of a community response plan to help the community plan for and respond to hazards
Implementing a flood warning system for the town
Using stop-banks to better protect local schools
Deflecting high-speed flood water away from town with stop-banks, converting it into less damaging 'back water' flooding
Assisting with relocation or other works to reduce flood risk of the most at-risk homes.
Ongoing work
Minor river management works to prevent channel blockages
Better land use planning, to prevent new development that creates future risk (ongoing)
Ongoing maintenance.
Who's involved in the project?
The Kaeo flood risk reduction project is managed by Northland Regional Council in consultation with the Kaeo-Whangaroa River Management Liaison Committee.