Awanui River Flood Management Scheme
It's been more than a century since flood protection work began around the Awanui River. 
Initial works in the early 1900s focused on bringing land near the harbour into production by preventing tidal flooding. Stopbanks and floodgates gradually extended upstream to provide flood management for more productive floodplain land.
The flood of 1958, which flowed through urban Kaitāia, prompted a comprehensive upgrade to the scheme. Stopbanks were constructed around Kaitāia and the Whangatane Spillway was enlarged.
Flood protection infrastructure date back more than a century, with improvements and upgrades still happening.
In 2005 the responsibility for the scheme shift from Far North District Council to Northland Regional Council. Several upgrades have been made in this time, including increasing the capacity of the Whangatane spillway.
Following public consultation on our Long Term Plan 2018-2028, a major programme of repairs and upgrades for the Awanui flood scheme has commenced.
This $15.5 million, eight-year project is designed to boost flood protection significantly in and around Kaitāia. Along with significant repairs, the scheme will be upgraded to handle bigger floods, enabling it to protect urban Kaitāia in a 'once in a century' type flood and its surrounding areas in a 'one in 20-year flood'.
Planned works include:
Extensive modifications and improvements to stabilise existing stopbanks and allow the river to carry up to 15 percent more floodwater.
Reducing Awanui flood overflow to the Tarawhatoroa Stream, and upgrading Awanui River and Whangatane spillway capacity to accommodate the additional flow.
An emergency spillway to be built on a former concrete plant site beneath the slow-moving Bell's Hill slip, greatly reducing the risk to life and property arising from its potential to slip into and block the nearby Awanui River.
Annual maintenance works – including scheduled repairs along the coastal stopbank, maintenance of scheme floodgates and continued channel maintenance and stopbank works along the lower Awanui River – to protect public safety.
Awanui Flood Scheme - Preliminary Report
Preliminary design report for the Awanui Flood Scheme Upgrade (large file size - PDF, 5MB)
Awanui Flood Scheme - Map
Full version - Awanui Flood Scheme - Map (PDF, 2.38MB)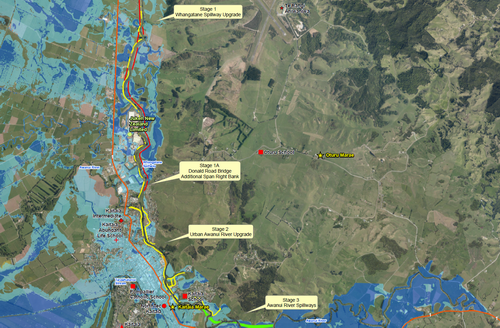 Kaitāia Flood Map
Full version - Kaitāia Flood Map (PDF, 2.2MB)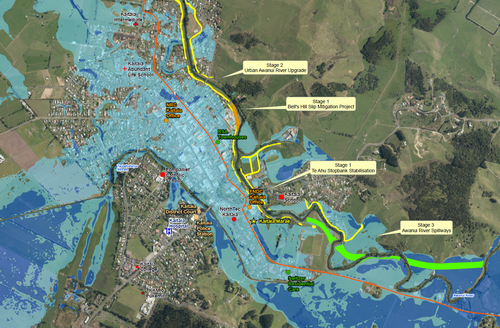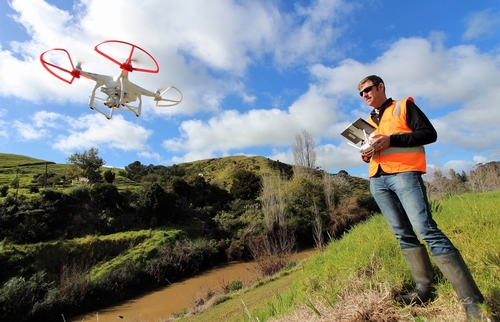 Regional council River Management Engineer Barney Brotherhood uses a drone to survey the Awanui flood scheme.
How's it being funded?
One of the biggest challenges in developing flood schemes is getting the balance right between the level of protection required and the cost of developing and constructing the scheme.
In July 2018 we introduced a new regional Flood Infrastructure Rate, following public consultation on our Long Term Plan.
It will ease the burden for local ratepayers, who'll only pay 30% towards the cost of the new upgrades, with the remaining 70% funded by ratepayers Northland-wide through the Flood Infrastructure Rate.
The 70/30 split means that schemes like Awanui become much more affordable at a local level for communities that must pay for flood infrastructure work, because we all chip in to help them.
In 2020, Covid-19 recovery response funding from the Government accelerated the Awanui catchment works. It means the project can be completed in two years instead of the remaining six years, lessening the burden on ratepayers.