Partnerships and projects
Right across Northland, we're working with others to care for the land and the waterways it impacts on.
These are some of the partnerships and projects we're involved with.
Waimā Waitai Waiora
We're one of seven partners in Waimā Waitai Waiora, a project aimed at improving water quality in the Northern Wairoa River and its tributaries. This unique partnership is working with landowners and tangata whenua on sustainable land management practices informed by māturanga Māori.
Read more about Waimā Waitai Waiora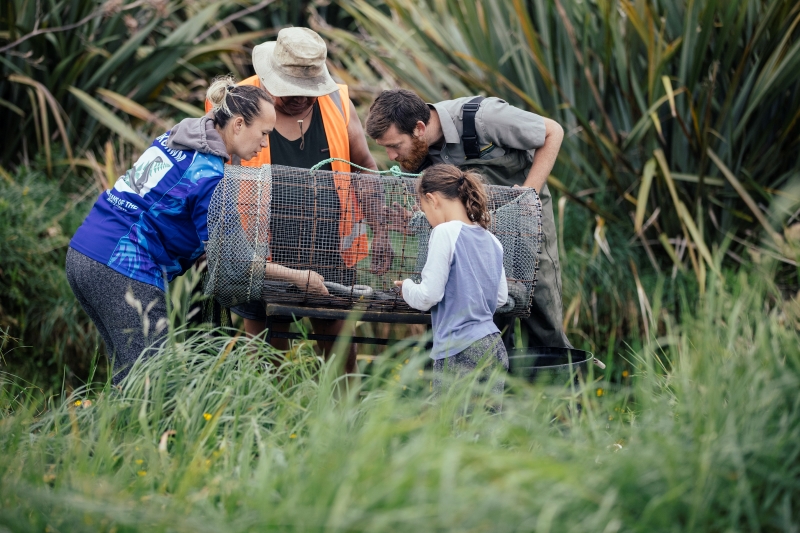 A planting campaign by the Waimā Waitai Waiora partnership will help improve habitat for tuna (eels) in local streams and rivers.
Extension 350
'Extension 350' was launched in 2016 to help farmers in Northland to share knowledge between farmers and gain access to specialist advice. E350 is part of the Tai Tokerau Northland Economic Action plan and is supported by Northland Inc, Ministry for Primary Industries, Northland Regional Council, DairyNZ and Beef + Lamb NZ.
The project involves 'target farmers' gaining advice on three key areas of their farming business: profitability, environmental sustainability and farmer wellbeing. The target farmers are mentored and share learning with other farmers in their relevant industry cluster.

Our regional council land management team provides much of the environmental sustainability advice via a Farm Environment Plan for each target farm.
Get more information about Extension 350 from www.northlandnz.com
Enviroschools
We run the Enviroschools programme for Northland, which supports schools all over the region on their journey toward creating sustainable communities. These schools are involved in a whole range of land and water related initiatives, including growing and supplying plants for riparian restoration, riparian planting and fencing.
Read more about the Enviroschools programme
Catchment groups
We've worked with communities in several 'priority' catchments in Northland to develop catchment plans to better manage freshwater (and the land that impacts on it). The groups are made up of representatives from tangata whenua, community, industry, district councils and other organisations.
Read more about catchment management 
The Integrated Kaipara Harbour Management Group
We're part of the Integrated Kaipara Harbour Management Group, which was established in 2005 to promote integrated management and inter-agency coordination and kaitiakitanga of the Kaipara Harbour and its catchment.