November 2020 climate report
11 Dec 2020, 11:18 AM
Summary
November 2020 was a wet month for most of the region
River flows for November have been above normal on the east, and below normal on the west and around Kaitaia
Groundwater conditions have improved in most groundwater systems with November rain, but remain low in Taipa, Poroti, Whangārei and Mangawhai
Although November was wet, it has been a dry Spring with dry months of September and October. This as well as high temperatures has led to some very dry soil conditions during spring
Some recovery in soil moisture occurred during November, but remains low, particularly in Kaitaia, Kaikohe and Dargaville
Wetter than normal summer conditions continue to be forecast with La Nina conditions leading to more frequent sub-tropical rain systems and an elevated cyclone risk. Summer temperatures are likely to be warmer than normal
Low soil moisture conditions and the hot summer forecast indicate that an eye needs to be kept on river flow and groundwater levels during summer, but if the wet La Nina driven forecast proves correct, we should not get a repeat of last summer.
Outlook
December- February:
The long-range forecast for December 2020 to February 2021 is for near normal or above normal rainfall for Northland. La Nina conditions will continue to cause more North-Easterly winds and wet conditions for Northland.
Temperatures are forecast to be much higher than normal over the next three months. Rainfall may be above normal, but the water lost to evapotranspiration may be higher with hot temperatures, leading to normal rather than elevated soil moisture and river flows.
NIWA Temperature, Rainfall, Soil Moisture and River Flows probabilities for December to February 2020
 
Temperature
Rainfall
Soil moisture
River flows
Above average
80

•

40

•

30
35
Near average
15
35
45

•

40

•

Below average
05
25
25
25
Rainfall
November 2020 rainfall provided some much needed relief following an dry September and October. November was wetter than normal, receiving around 126% of the region wide 'typical' rainfall for the month. The highest monthly rainfall total was recorded on the west coast at Waimamaku at Weka Weka Road with 239.5mm and the least, Waipao at Draffin Road inland from Whangārei with 57.5mm. Weka Weka Road also received the heaviest one hour fall of 48mm on the evening of 7 November.
Spring 2020 is characterised as dry, with most areas receiving around 70% of typical spring rainfall.
The NRC SPI drought index indicates that over the past 6 months the region has been in a "near normal" condition, owing largely to the high rainfall received during July 2020. However, over the last 12 months the west coast of the region is leaning towards "moderately dry" to "severely dry". These SPI indices as well as Rainfall Deficit figures tell us that we are not such a drought vulnerable position as the region was this time last year (12-month rain deficits in Kaitaia, Opononi, Dargaville and Ruawai are between -19% to -24%, while this time last year when the east coast had 12-month deficits of up to -43%).
Rainfall % median maps for August 2020 to October 2020
SPI Index map for 6 and 12 months to the end of November 2020
One year and six-month rainfall deficit percentage values
River flow
For November 2020, river flows were categorised as a mixture of "Low" to "Above Normal", but the general flavour was above normal flows on the east coast and below normal flows on the west coast and Kaitaia.
Flow Map November 2020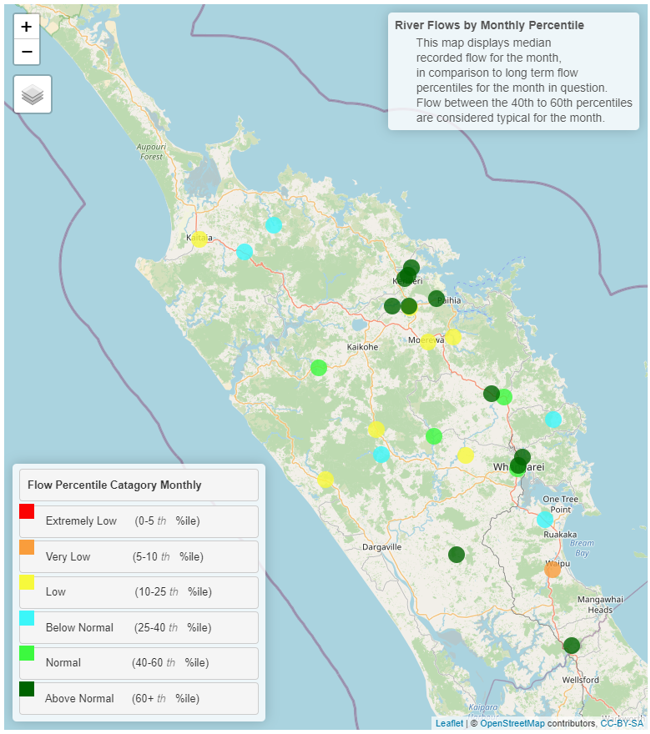 Groundwater
Groundwater levels are below normal in the Taipa, Poroti, Whangārei and Mangawhai groundwater systems, and near normal in the Aupouri, Russell, Kaikohe, Marsden-Ruakaka and Ruawai groundwater systems.
| | |
| --- | --- |
| Groundwater systems | Status for November 2020 |
| Aupouri | OK |
| Taipa | BELOW NORMAL |
| Russell | SLIGHTLY BELOW NORMAL |
| Kaikohe | SLIGHTLY BELOW NORMAL |
| Poroti | BELOW NORMAL |
| Whangārei | BELOW NORMAL |
| Marsden-Ruakaka | OK |
| Mangawhai | BELOW NORMAL |
| Ruawai | OK |
Soil moisture deficits
NIWA water balance modelling indicates soil moisture deficit is below average at all NIWA climate stations except Whangārei. This is influenced by low rainfall over September and October, as well as warmer than normal temperatures. "SMD is calculated based on incoming daily rainfall (mm), outgoing daily potential evapotranspiration (PET, mm), and a fixed available water capacity (the amount of water in the soil 'reservoir' that plants can use) of 150 mm" (NIWA).
Soil moisture deficit at NIWA climate station
| | | | |
| --- | --- | --- | --- |
| NIWA Climate Stations | Observed Soil moisture deficit (mm) as of 07/12/2020 | Average Nov soil moisture deficit | Difference between Expected and Average |
| Kaitaia | -120mm | -75mm | -45 |
| Kerikeri | -100mm | -75mm | -25 |
| Whangārei | -100mm | -90mm | -10 |
| Kaikohe | -125mm | -60mm | -65 |
| Dargaville | -120mm | -80mm | -40 |
| Warkworth | -110mm | -80mm | -30 |
NIWA Soil Moisture Deficit Plots