Our coast
Our region extends from the Kaipara and Mangawhai harbours in the south, to Cape Rēinga in the north, with special features, including:
our peninsula of land is lined, on either side, by 3,200km of stunning coastline and harbours;
no part of Northland is more than 40km from the coast; and 
our region has two marine reserves and 10 harbours.
West coast
The west coast of Northland is a place of wild beaches, spectacular coastline and peaceful forests.  It's exposed to almost continuous onshore oceanic swells, allowing only a few hardy species of shellfish, such as tuatua and toheroa, to survive.
Beach and dunefield habitats are home to several endangered plant species, while beaches are important as roosting, nesting and feeding areas for coastal birds such as the threatened New Zealand dotterel and the rare variable oystercatcher.
The west coast has two harbours:
These harbours, as well as numerous lakes and swamps, are valuable feeding grounds for migratory waders such as plovers, godwits, turnstones and tattlers.

Hokianga Harbour.
East coast
The east coast features rocky points with golden sandy beaches fringed by pohutukawa trees, secluded coves and tranquil harbours.
Much of the Northland coastline, including the east coast islands, is influenced by a warm subtropical current which brings with it the larvae of many species which are not found elsewhere in New Zealand.
The east coast has eight harbours:
Pārengarenga
Rangaunu (which includes Houhora)
Mangonui
Whangaroa
Bay of Islands
Whangaruru
Whananaki  
Whangārei (which includes Tutukākā, Ngunguru, Pataua and Mangawha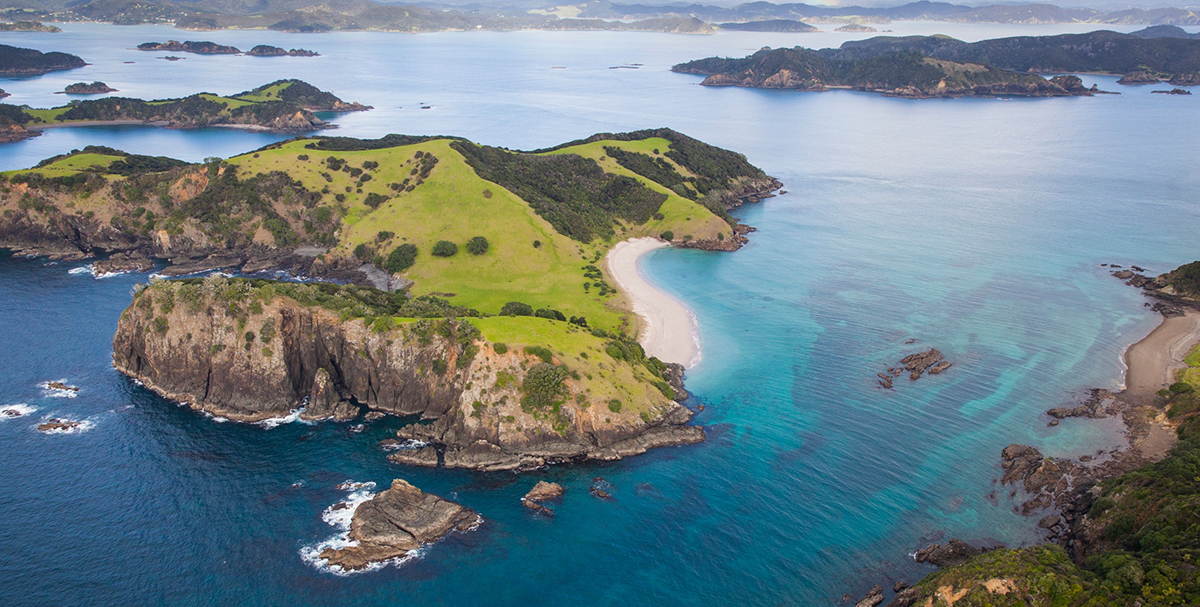 Bay of Islands.
Marine reserves
We are fortunate enough to have two marine reserves in our region.  Marine reserves are areas of our coastal environment where all marine life is protected and fishing is not allowed.  These reserves are managed by the Department of Conservation.
Poor Knights Islands
In 1981, the ocean surrounding the Poor Knights Islands, off the east coast of Northland, was established as New Zealand's second marine reserve. The marine reserve extends for 800m offshore around the Poor Knights Islands.
Whangārei Harbour - Waikaraka and Motukaroro
The Whangārei Harbour Marine Reserve is our newest reserve, coming into being on 18 October 2006.  It is made up of two sites - Waikaraka and around Motukaroro/Passage Island at Reotahi. The combined area of both sites is approximately 253.7 hectares or 2.54% of the Whangārei Harbour.
Find out more - visit the Department of Conservation website:
www.doc.govt.nz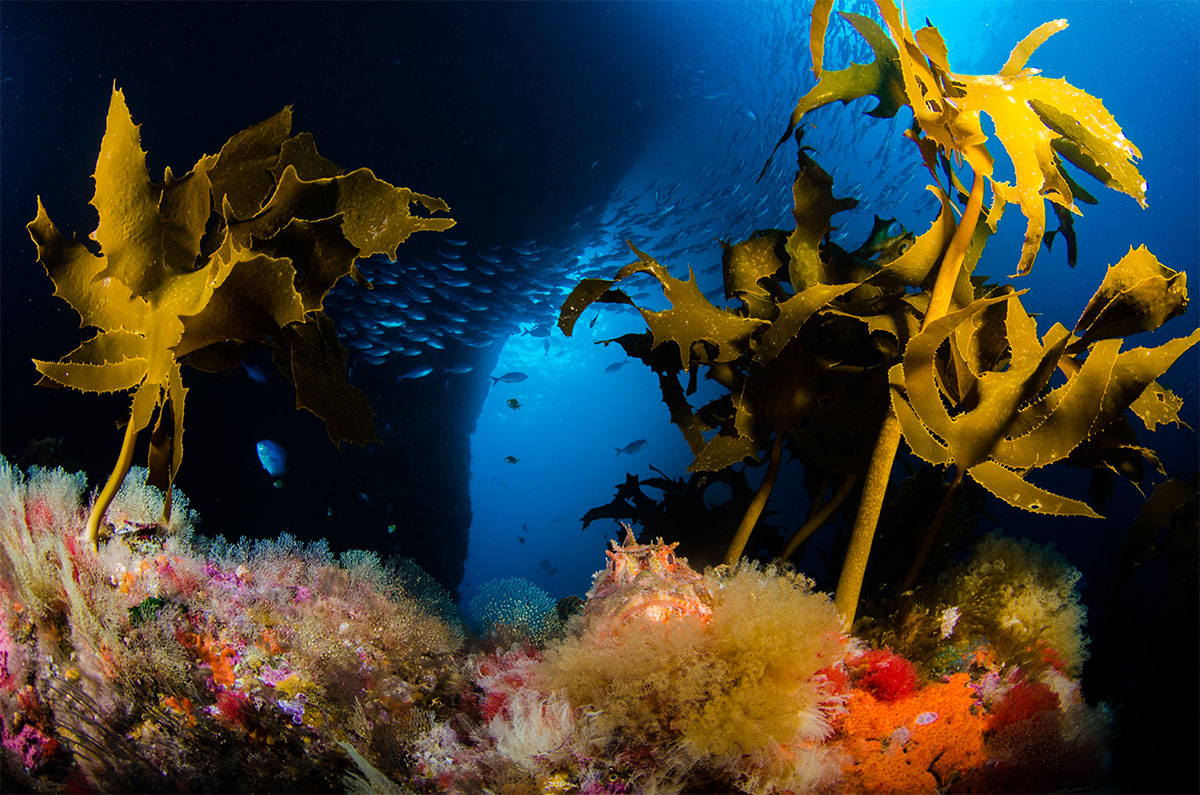 Poor Knights marine life (Photo: SeacologyNZ).
Mangroves
In New Zealand, our mangrove trees only grow in the top half of the North Island. On the east coast they extend naturally as far south as Ōhiwa Harbour in the Bay of Plenty, and on the west coast, Raglan Harbour is generally regarded as their southern limit. Sometimes they are found in Aotea and Kāwhia harbours a little further south.
In Northland, extensive areas of mangrove forest and salt-marsh in harbours on both coasts are invaluable as a rearing ground for juvenile fish species, including many commercial species, and are important feeding and roosting areas for birds.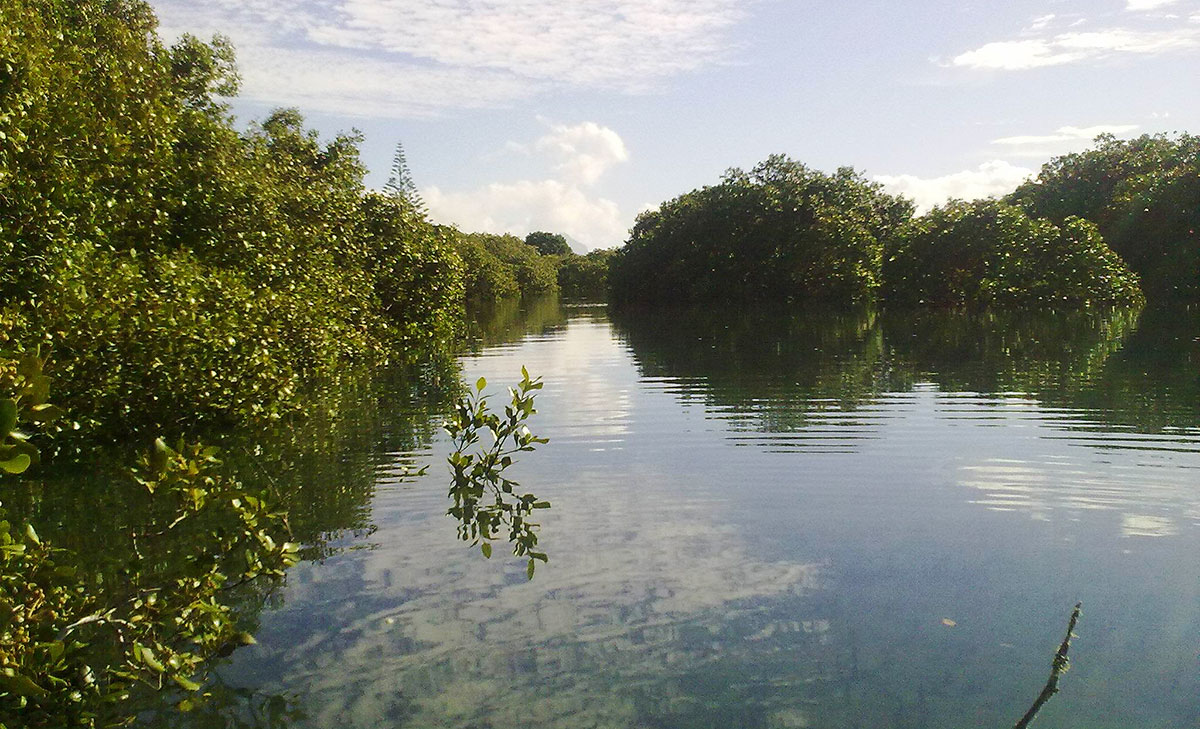 Mangroves viewed from a kayak.
Native coastal vegetation
Native coastal vegetation in Northland has been largely removed or otherwise modified by human influences. Unmodified coastal forest is now found only very rarely at the Herekino Harbour mouth, Ninety Mile Beach and a few offshore islands. Native sand dune vegetation is similarly rare and restricted to areas such as North Cape, the North Heads of the Kaipara and Hokianga harbours and isolated areas on the east coast.