In-water (and beach) hull cleaning
Hauling out is the preferred option for hull cleaning. In-water hull cleaning may be carried out subject to strict restrictions. You must ensure that no contaminants (marine pests or anti-fouling paint) are discharged into the coastal environment during the cleaning process.
Vessel hull antifouling cleaning and maintenance on the foreshore
Any vessel anti-fouling cleaning or maintenance on the foreshore requires a resource consent.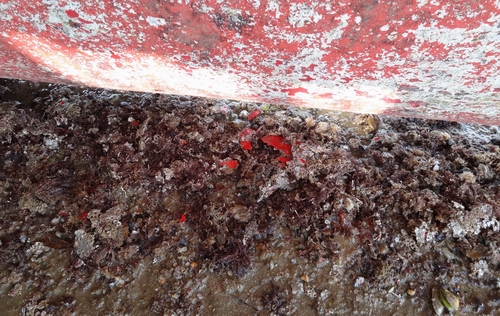 Hull cleaning on the foreshore can release contaminants from antifouling paint into the coastal environment.
Marine pollution
Boat sewage is a serious risk to human and animal health and to the environment. To continue to enjoy Northland's coast and safely gather and eat kaimoana (seafood), our waters must be kept free of sewage. There are strict rules covering sewage discharges from boats in Northland waters – these apply to every type of boat or craft.
Failure to comply with the rules is likely to result in formal enforcement action.
Northland's marine pollution rules
It's illegal to discharge untreated sewage into any coastal waters:
Within all Northland harbours and in the Bay of Islands
Less than 500 metres from the high tide mark
Less than 500 metres from a marine farme
Less than 200 metres from a marine reserve
Find out about boat sewage and how you can comply with regulations
If you suspect a boat is illegally discharging sewage, phone the Northland Regional Council's 24/7 Environmental Hotline 0800 504 639.

Stock in the Coastal Marine Area
To help protect our important coastal marine areas, Northland rules require farmers to keep their stock out of the tide.
When stock get into tidal areas they can pollute the water and cause real damage to important ecological environments.