General guidelines
The following is an outline of essential basic safety advice. For your own safety seek advice from instructors and experienced paddleboarders, and ideally take a lesson from a qualified instructor before buying your board or heading out on the water.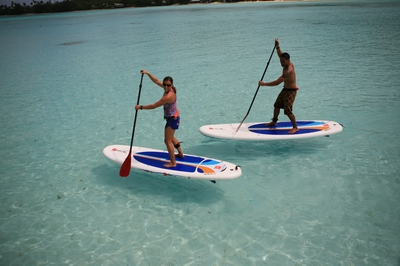 Stand-up paddleboarding is fast becoming the new on the water sport for all ages. It is good exercise and also fun.
Like any water sport, you need to have an understanding of water and weather conditions and what you can do to maximise your safety so you get the most out of your time paddleboarding.
Stand-up paddleboarding comes in many forms, so we've separated out the guidelines into three sections to help you focus on the safety aspects for your requirements.
Check the weather. It's vital to know what the weather – particularly the wind – is forecast to do during your paddleboarding session. 
Check the tides. If paddling in a coastal environment check the tides so you know what to expect during your session. Remember that the strongest currents are at mid-tide, and an easy launching/landing spot at high tide could mean wading across hundreds of metres of mud at low tide.
Avoid offshore winds. Even light to moderate offshore wind – those that blow you away from the shore – will take you away from the safety of shore quickly. Be a step ahead and choose your paddling site with this in mind.
Don't paddle alone. Like most water sports it's more fun and safe with a friend or in a group (paddle in a pod).
Be visible. Make the most of your height and wear colours that contrast with the environment. Sticking reflective day glow or high visibility tape to your paddle blades is also a good idea.
Learning. Get the basics in calm, flat water. This will help you be a better paddler in the long run. Take a lesson from a professional paddleboard instructor to learn good techniques early.
Safety. Avoid areas where there are lots of other boats, strong currents and dangerous rocks. Keep away from swimmers and ideally, be leashed to your board. Wear a lifejacket or wetsuit to help you if you end up in the water – instructors recommend a belt type lifejacket which gets in the way less when paddling. Don't be afraid to adopt the "safe position" – paddling from a kneeling position – to get back to the shore if you're finding it too hard or unstable, or there is too much wind, to paddle standing up.