2.1 Our region
Climate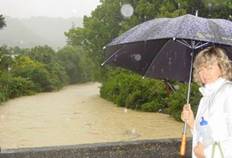 Northland, with its proximity to the sea, almost subtropical location and low elevation, is characterised by a mild, humid and rather windy climate. Summers tend to be warm and humid. Winters are characteristically mild with many parts of the region having only a few light frosts each year. The prevailing wind for most parts of the region is from the south west. However, in summer tropical cyclones give rise to north-easterly winds and heavy rainfall.
The mean annual rainfall ranges from about 1000-1300mm in low-lying coastal areas to over 2500mm on some of the higher country. Approximately one-third of the yearly rainfall total falls in the winter months of June, July and August. The region experiences high-intensity rains which can cause severe flooding.
Droughts are common in Northland during the summer months. High pressure weather conditions are prevalent during this period, often resulting in several weeks or months of dry and hot or windy weather. Records indicate that parts of the region on average have a drought of economic significance every three years.
Mean annual temperatures range from 15.5°C to 16°C in the far north and eastern areas, to between 14°C and 15.5°C in the south west and coastal districts, giving it the highest mean annual temperatures in New Zealand. Daily and annual temperature variations are low. Whangarei, the major settlement of the region, has around 1900 sunshine hours per year, and receives an annual rainfall of approximately 1300mm, about average for New Zealand.
Climate change
In August 2006, the National Institute of Water and Atmospheric Research Ltd (NIWA) carried out a comprehensive assessment on the impact of climate change and climate variability on Northland's water resources based on all available literature. The assessment considered natural climate variability in the Northland region and the potential effects of predicted climate changes over the next 50 to 80 years.
The main findings of the assessment were:
· All predictions suggest an increase in temperature, particularly during the winter;
· Overall annual rainfall may not change but rainfall trends for the next 30 to 80 years are for increased dry periods (drought and low flows) and increased high intensity rainfall events (floods); and
· The change in rainfall trends and temperature is likely to result in decreased recharge to groundwater resources, and increased potential for saltwater intrusion in coastal aquifers,
· And more frequent and extended periods of low flows and more high-intensity flood events in rivers and streams.
· Potential effects on the agricultural industry through harsher conditions for pasture, increased likelihood of erosion and a climate more suitable for subtropical grass species.
Other than this assessment there is currently very little information to assess the extent and potential effects of climate change in Northland. However, there has been work done both nationally and internationally, looking at the potential impacts of climate change and ways of preventing it from happening.
For more information refer to the following page on Ministry for the Environments' website at the following link:
http://www.mfe.govt.nz/climate-change
Landforms and soils
Northland is only 80km across at its widest point, bounded by the Tasman Sea and Pacific Ocean. As a peninsula, Northland's coastline is its most distinctive physical feature. The coastline of 3025 kilometres with its many sheltered harbours and offshore islands, sets the Northland coast apart from other areas of New Zealand.
The region is also unlike most of New Zealand in that there are few mountain ranges and the highest point, Te Raupua in the Waima Range, is only 781 metres above sea level.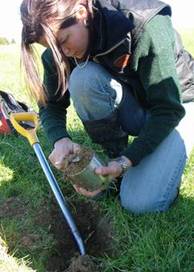 Typically, inland areas are dominated by rolling hill country with landforms ranging from the ancient uplifted east coast greywacke rocks to relatively young volcanic lava and active coastal dunes. Many rivers, streams, tidal inlets and harbours dissect and break the pattern of hills. Modest areas of flat low-lying land are restricted to areas adjacent to the Awanui and Northern Wairoa rivers.
More than 100 different soil types have been identified in the Northland region (NZMS 290 map series). This variety is due to differences in underlying rock, the low relief and the influence that the warm, moist climate and original vegetation has had on soil formation.
Northland has significant areas of strongly leached, heavy clays overlying unearthed rock with thin topsoil and low subsoil fertility.
More information on the state of our land resources is available in the land and soils chapter of this report.
Water resources
Rivers and streams
Many Northland rivers are relatively short with small catchments. The Wairoa River is Northland's largest, draining a catchment area of 3650 square kilometres (29% of Northland's land area).
Most of the major rivers flow into harbours, rather than discharging directly to the open coast. This has significant implications for coastal water quality. Flows in rivers vary considerably with rainfall, high intensity storm events causing flash floods and prolonged dry spells leading to very little flow in many smaller catchments. Overall, Northland's rivers are generally characterised as being slow flowing and muddy.
Lakes
The Northland region has a large number of small and generally shallow lakes. They were formed either by dune activity, volcanic activity or are artificially made.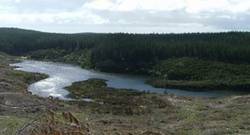 The dune lakes are in four main groups situated on the Aupouri, Karikari and Pouto peninsulas and the Kai Iwi lakes. They generally range in size between five and 35 hectares and are usually less than 15 metres deep. Lake Taharoa of the Kai Iwi group is one of the largest and deepest dune lakes in the country, covering an area of 237 hectares and being 37 metres deep.
Lakes Omapere and Owhareiti near Kaikohe were formed by lava flows damming valleys. Further to the north are two large artificially made lakes associated with the Kerikeri irrigation scheme, which are a major water resource for the area.
Groundwater
Groundwater is water beneath the surface of the earth which saturates the pores and fractures of sand, gravel, and rock formations. It is a valuable water resource to Northland, being utilised for numerous town and rural water supplies, irrigation and stock water. Whangarei, Kaitaia, Mangonui, Kaikohe, Okaihau, Maungakaramea and Ruawai all take groundwater for municipal water supplies. Groundwater is also an important water source for many coastal communities, such as Russell, Taipa and Matapouri.
In general there are three main types of groundwater aquifers: Sands and gravels, volcanic cones and related lava flows and sedimentary rocks. Geothermal fields represent an unusual variation in which water is subject to heat and pressure as a result of geothermal activity. Northland has one geothermal field centred on Ngawha Springs to the east of Kaikohe.
More information on Northland's groundwater and geothermal resources is available in the groundwater and geothermal chapters of this report.
Coastal waters
Northland's most distinctive physical feature is its long and varied coastline, with 3025 kilometres of rugged cliffs, sandy beaches and sheltered harbours.
The east coast, bounded by the Pacific Ocean, is characterised by enclosed mangrove-lined harbours and estuaries, rocky headlands and sheltered bays. Offshore islands, including those in the Bay of Islands, the Cavalli Islands and the world-renowned Poor Knights Islands, are a distinctive feature. The east coast is sheltered from the prevailing westerly winds, but is occasionally lashed by north-easterly gales and the remnants of tropical cyclones.
By contrast, the west coast has a relatively smooth outline, broken only by the mouths of several extensive shallow harbours. It is more exposed to the elements than the east coast, with long sandy beaches swept by oceanic swells from the Tasman Sea.
More information on Northland's coastal environment is available in the natural character of the coast and coastal water quality chapters of this report.
Ecosystems and Biodiversity
Rivers, lakes and wetlands
The rivers with the highest conservation value are those whose catchments are the least modified, including the Waipapa River in Puketi forest and Waipoua River.
Dune lakes and associated freshwater wetlands are numerous on the coastal sands of the region. Northland also has many inland wetlands, the most significant being Ngawha Springs wetlands, Motatau wetlands, Waitangi wetland complex, Maitahi fen, Punakitere wetlands and Mangonui River wetlands.
The original area of wetlands has been greatly reduced due to drainage and conversion for agricultural purposes. The remaining wetlands show evidence of these practices in that they are small, scattered and vulnerable to changes in hydrological regimes. The most significant areas of dune lakes and wetlands remaining are Aupouri Peninsula, Kaimaumau Swamp, Lake Ohia, Kai Iwi Lakes and on the Pouto Peninsula.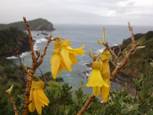 These lake and wetland ecosystems are important habitats for a wide variety of plant and animal species, which are regionally or nationally significant because of their rarity. These include birds such as the brown teal, banded rail, NZ dabchick, marsh crake, fern bird and bittern, the aquatic plants Hydatella inconspicua, Myriophyllum robustum and native freshwater fish such as black mudfish, banded kokopu, short jawed kokopu and dwarf inanga.
Forest and Shrublands
Nearly 14% of the land area of Northland remains in native forest and shrubland, and this includes over half of the nation's remaining kauri forest. The region's forest and associated shrublands are notable for their high proportion of native species, species diversity, structural complexity and tropical links.
Podocarp/hardwood/kauri forests are the most extensive forest type in Northland. These comprise a wide variety of hardwoods including rewarewa, kohekohe, tawa, pukatea and taraire. Podocarp species such as rimu, totara, miro and matai are scattered throughout the region, along with kauri which often grow in small clumps on steep sites. Other distinctive forest types are evident on the coast, such as manuka/kanuka shrublands found at Te Paki in the Far North. The coastal forest generally comprises pohutukawa, houpara and kowhai together with karaka, puriri and kohekohe. Volcanic broadleaf and alluvial flood forests have both been severely diminished by land development and are now represented by small remnants.
Northland's forest and shrubland areas support a rich diversity of wildlife. They are home to large populations of nationally rare or declining species such as the North Island Brown Kiwi, North Island Kokako, native pigeon or kukupa and Hochstetter's frog, as well as small residual populations of more threatened species such as the red and yellow crowned parakeets, kaka and long and short-tailed bats. Some forests in the region also support the only naturally breeding populations of species including flax snail, kauri snail and the Northland green gecko. Survival of these and other species is threatened by adverse effects of human activity such as forest clearance, the activities of animal pests (e.g. possums, wild cats and poorly controlled domestic dogs) and plant pests.
Coastal
The west coast of Northland is exposed to almost continuous onshore oceanic swells that cause turbulence, turbidity and sediment movement in shallow marine and intertidal habitats. Marine species occupying this type of environment are consequently few and hardy.
The west and east coast harbours as well as numerous lakes and swamps are valuable feeding grounds for migratory waders such as plovers, godwits, turnstones and tattlers. Harbours and estuaries within drowned river valleys are common along the east coast of Northland. Most are ecologically similar to those on the west coast, but Parengarenga, Houhora and Rangaunu Harbours differ in having large intertidal sand flats and shell banks.
Extensive areas of mangrove forest and salt marsh are present in harbours on the east and west coasts of Northland. These habitats are invaluable as a rearing ground for juvenile fish species including many commercially exploited species, and important feeding and roosting areas for birds.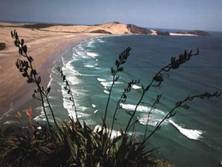 The east coast of Northland is predominantly rocky with intervening sandy beaches. Coastal dunes are home to several endangered plant species, with beaches important as roosting, nesting and feeding areas for coastal birds such as the threatened New Zealand dotterel, the rare and endemic variable oystercatcher and the endangered fairy tern.
Marine habitats containing locally endemic species and New Zealand endemics that are very rare elsewhere are present at the Three Kings Islands and in the Cape Reinga area. These areas and also the Moturoa Islands, Cape Karikari, Cavalli Islands, Cape Brett and the Poor Knights Islands are influenced by the East Auckland current. This warm, subtropical current brings with it the larvae of Indo-Pacific species including several species of molluscs, echinoids (sea-eggs) and a variety of fish. The larvae mature within the areas washed by the current, and along with many endemics, make these areas ecologically unique.
Indigenous, terrestrial coastal vegetation in Northland has been largely removed or otherwise modified by human influences. Unmodified coastal forest is now very rare, being present on some islands, and at only a few localities on the mainland: Herekino Harbour mouth and Ninety Mile Beach. Indigenous dune field vegetation is similarly rare and restricted to areas such as North Cape, the North Heads of the Kaipara and Hokianga harbours and isolated areas on the east coast.
For more information on the state of Northlands biodiversity refer to the indigenous biodiversity chapter of this report.