Enhanced Taskforce Green crews end storm recovery work
17 Oct 2014, 7:31 AM
Fifteen Enhanced Taskforce Green (ETFG) members hired to help clean up storm-affected Northland farms, horticultural operations and orchards officially ended their three month stint today.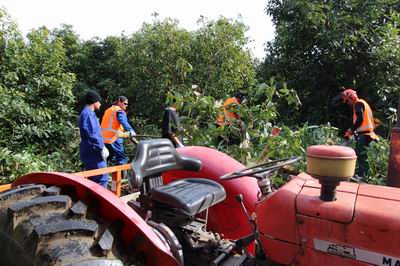 An Enhanced Taskforce Green crew at work in a storm-affected avocado orchard near Whangarei soon after the July storms.
Bill Shepherd, chairman of the Northland Regional Council (which employed the crews and co-ordinated their employment under the Civil Defence umbrella), says the ETFG crew had collectively spent almost 5000 hours helping get the rural sector back on its feet post-storm.
He says ETFG is a temporary employment programme funded by the Ministry of Social Development to help regions recover from adverse events like the storm and the initiative had been a great local success in that regard.
"The crews – two based out of Whangarei and one out of Kaikohe – have been absolutely fantastic. We've been really impressed by their commitment, willingness to help and the positive work ethic and good attitude they've demonstrated."
Eighty-seven properties all over the mid and Far North had been visited and a range of work carried out.
"The crews concentrated on removing and clearing storm-damaged trees and crops for the first several weeks, before shifting into removing debris from paddocks and clearing/repairing fence lines."
Councillor Shepherd says the work the teams had carried out had been well-received by both those directly benefiting in the rural sector, but also from other agencies elsewhere in New Zealand which were keen to follow Northland's example.
"They're looking to Northland guidance and/or advice in the event those regions ever need to set up a similar response of their own."
An afternoon tea put on by the various parties behind the scheme – including the regional council, Ministry of Social Development and the Rural Support Trust – had been held in Whangarei yesterday to thank crew members for all their hard work.
Councillor Shepherd says while authorities in Northland are hopeful the crews will not need to be called on again anytime soon, it was very comforting to know that the system in place over the past three months could be used so successfully.