Don't bring unwanted marine pests north – boaties urged
22 Dec 2014, 11:34 AM
Come and enjoy the spectacular places Northland has to offer – but please, make sure you leave any unwanted marine pests at home this summer.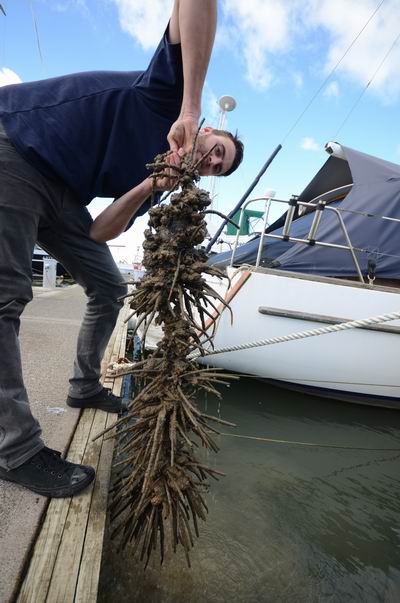 A Northland Regional Council staff member with Mediterranean fanworm in an Auckland marina.
That's the plea from Joe Carr – chairman of the Northland Regional Council's Environmental Management Committee – to visiting boaties, especially those from Auckland, which has well-established populations of Mediterranean fanworm in its marinas.
Councillor Carr says domestic and foreign visitors are a significant contributor to Northland's economy with many thousands enjoying the region's fantastic environment annually – in particular its 3000km-plus of iconic coastal areas.
However, he urges everyone to do their bit to ensure those special spots are enjoyed as sustainably as possible, including preventing the spread of pests with the potential to seriously damage the area's special marine environment.
"Fanworm and other pest species compete with native and farmed shellfish, fouling
marinas and other structures and Northland is one of only two New Zealand regions to recognise the value of its marine environment with specific rules to prevent the establishment and spread of marine pests."
Councillor Carr says a summer programme of checking boat hulls for Mediterranean fanworm and other marine pests, as well as making boat owners aware of Northland's marine pollution rules, is already underway.
"Last summer, we carried out checks on about 250 boat hulls, with fanworm found in three cases. So far this summer, our initial checks indicate boaties are continuing to become more aware of the need to avoid spreading marine pests."
Importantly, he says boat owners are more aware of the steps they can take to prevent pests spreading including antifouling their boat regularly, familiarising themselves with the marine pests found in their home regions, and checking their hulls shortly before moving to a new location.
Councillor Carr says special attention must be given to 'niche areas' of hulls where marine pests can be concealed and which can easily be missed during antifouling.
"These include places like intakes and outlets, propellers, around rudders, keel bases, behind anodes, inside bow thrusters, and the places where cradle arms or props sit."
He says about 2000 domestic and international recreational vessels visit Northland annually.
"Hull fouling is the most common way marine pests are transported. With Mediterranean fanworm well-established in Auckland marinas, boats travelling
from Auckland are a recognised risk, but this year we're also checking locally-based boats on moorings and in marinas for fouling species that we might be exporting to other regions."
Councillor Carr says the hull checks are carried out for divers and are free.
"But if boats are found to be carrying fanworm or other marine pests, owners will be directed to have the hull cleaned at their own cost as soon as possible. This usually requires a haul out."
He says there are restrictions on cleaning boat hulls while in the water in Northland, which means it makes far more sense to ensure hulls are clean before coming to North.
Meanwhile, Cr Carr says further information on marine pests generally – including fanworm – can be found at: www.nrc.govt.nz/marinebiosecurity