Representation review 2021 - Arotake Whakaahuatanga
Appeals on our representation review closed at 4pm Friday, 26 November 2021.
The final proposal – Te Whakatakoto Whakamutunga
We're doing a representation review to look at how Northland communities are represented at the council table.
Following a one-month public consultation on our Initial Proposal, we received 33 submissions on our proposed representation arrangements.
We have carefully considered the feedback received and decided not to make any further changes.
This document sets out our Final Proposal, which remains the same as our Initial Proposal
There was a one-month appeal period on our Final Proposal, where previous submitters could lodge an appeal. We received three appeals - head to our online consultation portal to view the appeals.
Below is an overview of the proposed constituencies – you can see more detail on our council GIS viewer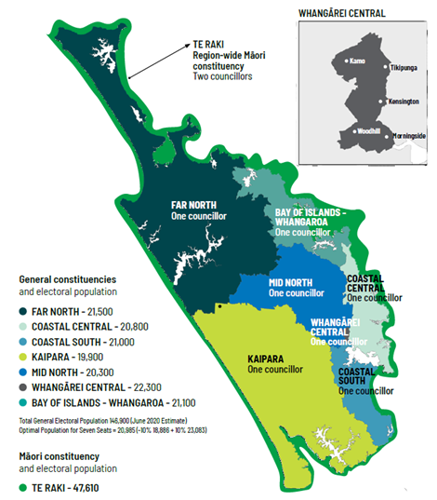 Key dates – Ngā rā matua
Submissions period – 10 October to 10 September

Hearings – 28 September

Council deliberations – 5 October

Final proposal adopted by council – 19 October

Appeals period – 22 October to 26 November

Determination by Local Government Commission – April 2022

Local government elections – 8 October 2022