Marine biodiversity and biosecurity

What do we want for our marine ecosystems?
The operative Regional Policy Statement for Northland states the following objectives relating to marine biodiversity and biosecurity:
• Maintenance of the biodiversity of the Northland region.
• Protection of the life-supporting capacity of ecosystems through avoiding, remedying or mitigating (in that order of priority) the adverse effects of activities, substances and introduced species on the functioning of natural ecosystems.
• Protection of areas of significant indigenous vegetation and the significant habitats of indigenous fauna.
The policy statement also includes the following anticipated environmental results that are expected as a result of the implementation of the policies and methods, to achieve the marine biodiversity and biosecurity objectives:
• An increase in the areas of significant indigenous vegetation and the significant habitats of indigenous fauna which are formally protected.
• No significant increase in the number of threatened species in the region.
What is the state of our marine biodiversity?
Northland has 3025 kilometres of coastline, including 14 major harbours, many smaller estuaries, rocky shoreline and long stretches of open, sandy coastline. Coastal habitats include mangrove forests, saltmarsh, seagrass beds, intertidal sand and mud flats, rocky reef, kelp forests and sub-tidal soft bottom sediment.
Northland's coastal waters contain the highest diversity of fish and invertebrates of any region in mainland New Zealand, and contain marine ecosystems of national and regional importance. Northland also has two marine reserves around the Poor Knights Islands and in Whāngārei Harbour and a marine protected area at Mimiwhangata. The marine reserve surrounding the Poor Knights Islands extends for 800m offshore and covers an area of approximately 1980ha. The Whāngārei Harbour Marine Reserve is approximately 254ha and has two sites at Waikaraka and around Motukaroro/Passage Island at Reotahi. The Mimiwhangata Marine Park covers 2000 hectares and includes the Rimariki islands.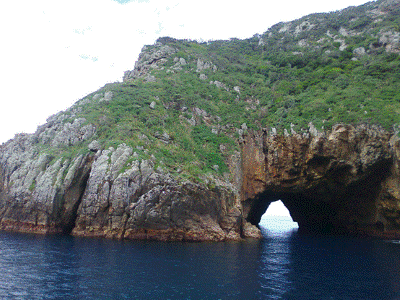 Poor Knights Islands, one of Northland's marine reserves featuring world-renowned marine habitat.

We still have much to learn about the diversity of Northland's marine flora and fauna because of the size, complexity and inaccessibility of the coastal environment. However, the following projects have helped to increase our knowledge and understanding:
• The Department of Conservation has compiled a marine habitat map for the Northland section of the Northeast Marine Bioregion, which covers an area of 1.34 million hectares of coastal habitat from Ahipara to Mangawhai. This document can be viewed online at www.nrc.govt.nz/resource-library-summary/research-and-reports/coastal/marine-habitat-assessments/northland-marine-habitats/
• The council has complemented mapping key indigenous marine vegetation, including saltmarsh and mangroves in the Kaipara Harbour, the Bay of Islands and Whāngārei Harbour, using high resolution aerial images. 
• The council secured Envirolink funding to undertake a survey of the present and historic extent of seagrass in the Bay of Islands and to identify factors that may have contributed to the decline in seagrass. The project also included a recommendation to protect the remaining seagrass and rehabilitate denuded areas. The project report can be viewed online at www.nrc.govt.nz/BOIseagrass
• The council has implemented an estuary monitoring programme in five Northland estuaries, which involves sampling benthic invertebrates at representative intertidal sites. Between 2008 and 2011 the council identified over 30,000 organisms belonging to more than 120 different taxa including animals like cockles, pipis, crabs and worms from thirteen estuary monitoring sites. More details about this programme are provided in the previous section and technical reports are available on our website: www.nrc.govt.nz/coastalresearch
• The council also participated in the Bay of Islands Oceans 20/20 coastal survey. The project collected data on seabed habitats and biodiversity in the Bay of Islands and extensive areas outside the Bay, extending south to Mimiwhangata and north to Spirits Bay. The datasets collected include:
- bacterial biomass and activity
- benthic and attached algae
- meiofauna, macro-fauna and epifauna
- benthic and demersal fish rocky reef assemblages
- sediment accumulation rates (coring, forensics, sources and analysis)
- physical oceanography data (tidal and wind driven changes in sea level, salinity measures to determine the timing of freshwater inputs, variability of Bay of Island currents)
- water quality data (for example, chlorophyll a, salinity, oxygen, metals, pollutants, suspended sediment, etc.)
- observational data (wildlife such as seabirds, cetaceans, cartilaginous (for example, white sharks), breeding colonies, marine mammal sightings or aggregation areas, biogenic reefs etc.).
Data collected as part of the project is available via the Ocean Survey 20/20 web portal.
What are the issues affecting marine biodiversity in Northland?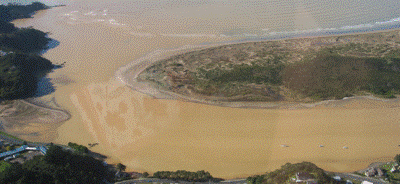 Sediment affecting the Ngunguru Inlet after a storm.

Northland's marine environment is used by a range of activities, including fisheries, tourism, recreation and commercial shipping and aquaculture, all of which may have effects on marine biodiversity. A major pressure is runoff and discharges of contaminants from land, particularly sediments and nutrients. Sources include agriculture and forestry activities, and the direct discharge of contaminants from municipal wastewater plants, stormwater systems and industrial sites.
Increased sediment inputs can have a number of impacts on biodiversity. Sediment can restrict light transmission in the water column, which consequently affects primary production. Sediment also smoothers marine plants and animals, and clogs the feeding structures of suspension-feeding animals and the gills of fish.
Increased inputs of nutrients may initially stimulate marine ecosystems because there is an increase in food via additional plant material and organic detritus. However, as primary production increases, the water column and seabed can become starved of oxygen and animals may die or migrate from the affected area. The ecosystem may then become less diverse as it is recolonised by a smaller number of opportunist species tolerant of low oxygen conditions.
Other contaminants such as metals and polycyclic aromatic hydrocarbons can have lethal and sub-lethal effects on marine organisms. In contaminated environments the diversity and species richness may decrease as the community becomes dominated by a smaller number of more tolerant species, which are able to survive and reproduce in these conditions.
The drainage of saltmarsh and reclamation of the coastal environment is another issue for marine biodiversity. Large areas of Northland's saltmarsh, mangrove and intertidal mud flat habitat have historically been reclaimed for agriculture, urban and infrastructure developments.
The proliferation of coastal structures, and in particular hard coastal protection such as rock revetments and seawalls, is a further threat for the remaining intertidal habitat such as saltmarsh. Much of the remaining saltmarsh habitat is now trapped by a fixed landward boundary such as a seawall and rising sea level and expansion of mangrove habitat.
Another issue affecting marine diversity is stock access to the coast. Stock with access to the coast can trample and browse estuarine plants, crush shellfish, and drop their excrement and urine in areas where fish breed and people collect seafood. From 1 July 2009, under the rules of the Regional Coastal Plan for Northland, access to and use of the coastal marine area by stock became a prohibited activity and landowners are now required to place some form of fencing or barrier to prevent their stock from accessing this area.

Stock with access to the coastal marine area.

Northland Regional Council, through its environment fund, has provided financial assistance to landowners to fence their property, to protect the coastal marine area from stock. In the 2011-2012 year, $32,800 of funding was allocated to landowners and was used to assist with the cost of fencing 14km of coast. These projects may be funded at between 33% and 50% of the total cost of fencing, depending on the ecological values present.
Marine pest plants and animals
Northland's marine environment is under increasing risk from a variety of non-indigenous marine species that have either established in the region, are present elsewhere in New Zealand, or which may be introduced to Northland, and New Zealand by international shipping.
Many marine species that arrive in New Zealand waters don't survive. Of those that do survive, many do not cause damage. However, the species that survive and become pests generally share common traits, and can cause significant damage. They are usually fast growing, breed prolifically and have a mobile life stage. Most are robust, can survive a range of environmental conditions, and have no natural predators or environmental control agents. These pests are often competitive, and can displace native plants and animals. Others can alter underwater habitats and change the way that ecosystems function. The impact of marine pests is wide-ranging and arguably greater than land-based pests. These invaders can affect our regional economy, recreational and cultural activities and our natural environment.
Marine pests are much harder to detect than pests on land, and they often arrive in larval form.
There are currently limited tools available for control, which makes these pests difficult to eliminate.
What marine pests are present in Northland?
Over the past 200 years, more than 300 non-indigenous marine species have established populations in New Zealand, and of these approximately 130 have been recorded in Northland (Woods: 2011). The majority of these species, although non-indigenous, are not considered pests and have minimal impacts. However, there are a number of marine pests already present in Northland that have the potential to cause significant impacts: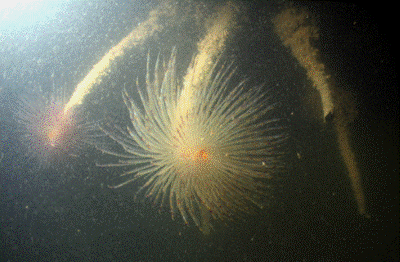 Mediterranean fanworm (Sabella spallanzanii).
The Mediterranean fanworm is a suspension feeding marine bristle worm that is typically found in estuaries or sheltered sites, at depths of anywhere between one to 30m. It consists of a tube, up to 40cm tall, which is always anchored to a hard surface, topped with a single spiral fan. These fanworms can form dense groups that can affect native species by competing for food and space and limit the recruitment of other species. Its ability to produce more than 50,000 eggs per spawning period enables it to form high densities (Currie et al: 2000). Mediterranean fanworm are likely to impact commercially important species, such as mussels and oysters. In February 2012, Mediterranean fanworm were detected and subsequently removed from several commercial vessels moored in Whāngārei Harbour.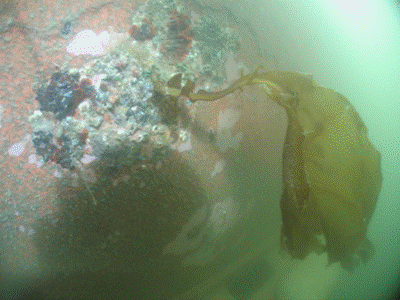 Undaria seaweed (Undaria pinnatifida) (©: Northland Underwater Technical Services).
Undaria seaweed is a highly invasive and opportunistic seaweed which spreads mainly by fouling on boat hulls. Undaria is not known to be established in Northland, but is present in many harbours and ports around New Zealand. Undaria can form dense stands under water which may lead to the exclusion or displacement of native plant and animal species, and can change the structure of ecosystems, especially in areas where native seaweeds are absent. In February 2012, small numbers of undaria plants were detected on several commercial vessels moored in Whāngārei Harbour.
Sea squirts (Ascidians)
Sea squirts are among the most common fouling animals in ports and harbours. They settle and grow in great abundance on a range of man-made substrates such as wharf piles, seawalls, ship hulls and aquaculture structures. Their ability to reproduce, grow and settle quickly can be disastrous for the aquaculture industry.
There are already several invasive sea squirts present in parts of Northland.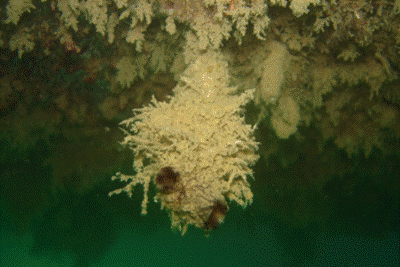 Styela sea squirt (Styela clava) (©: MAF Biosecurity NZ).
Styela is a large stalked solitary club shaped sea squirt which sticks to hard substrates. Styela are frequently transported as biofouling on vessels and other mobile marine structures. Styela poses a threat to biodiversity values through its smothering behaviour and can disrupt native ecosystems. Styela is established in Northland at Marsden Cove Marina in Whāngārei, and Ōpua and Russell in the Bay of Islands.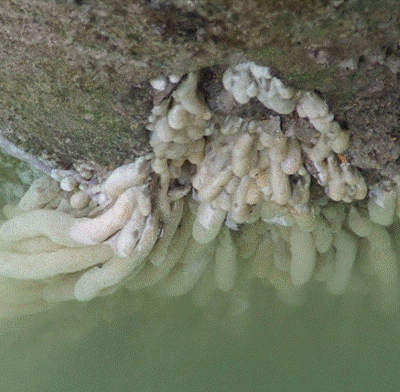 Eudistoma sea squirt (Eudistoma elongatum).
Eudistoma is a colonial sea squirt which forms clusters of white tubes containing many small individuals. It prefers muddy bottomed tidal areas and attaches to man-made structures such as wharf piles and aquaculture equipment. Eudistoma is more prolific in the summer months where it appears in large volumes. Rainfall during the winter months, resulting in freshwater in the tidal zone, tends to knock the population back, but it regrows quickly in the summer. Eudistoma is found in the Bay of Islands, Houhora, Pārengarenga and Whāngārei harbours.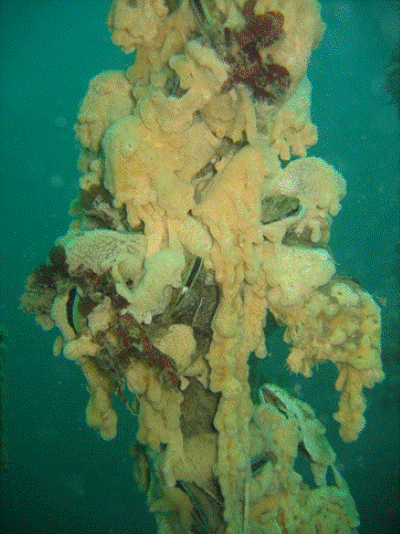 Didemnum sea squirt (Didemnum vexillum) (©: MAF Biosecurity NZ).
Didemnum is a colonial sea squirt which looks like dripping candle wax over mussel lines or channel markers. The species is able to populate via a free swimming tailed larvae stage or asexually through a process of budding. Typically the species occupies hard surfaces such as wharf structures, ship hulls, floats, pilings, moorings, ropes, rock outcrops and gravel seabeds. The organism chokes off bottom dwellers and can cover ground required by fish to lay eggs. This species is present in Whāngārei Harbour.
Pyura sea squirt (Pyura praeputialis)
Pyura is a sessile sea squirt which settles on rocky shores between the mid to low tide mark. Individual pyura form dense colonies which create a mat over rocks and green lipped mussels. Pyura have also been observed in muddy estuaries in and around oysters. Populations have been found in the Far North including an oyster farm in Pārengarenga Harbour. They are not known to be established anywhere else in New Zealand.
Little is currently known about the long-term risks posed by this species to Northland however localised impacts on green lipped mussel beds have been observed and if left to spread, it is possible this species could affect traditional kaimoana harvesting over large areas.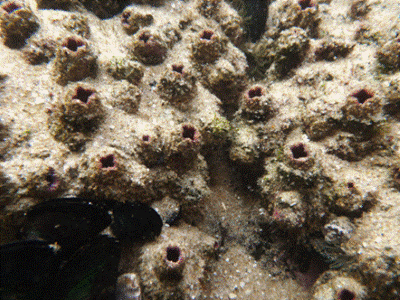 Pyura sea squirt.
Spartina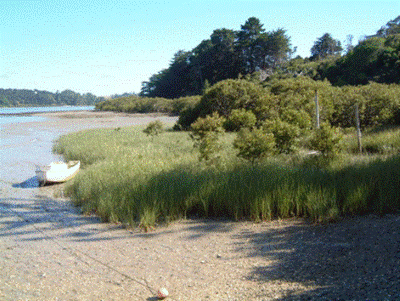 Spartina on the edge of an estuary.

Spartina is a salt-tolerant marine grass growing up to 1.5m high, and is one of the only plants that can grow in the intertidal areas of estuaries. It spreads mainly by underground rhizomes, bits of which break off when exposed by erosion on tidal stream banks. The main species in Northland, Spartina alterniflora, does not flower or produce viable seed. Spartina forms dense mats, taking over coastal marine areas and leading to a loss of habitat for birds, recreational fisheries and seafood. The mats trap sediments and can severely modify the marine mud flat ecosystem, and restrict access to estuarine areas.
Spartina was introduced to the North Island and Northland in the early 1950s and was actively promoted to protect stopbanks, as stock forage, and in combination with drainage, aid in the conversion of tidal mud flats to farmland. As a consequence the plant was established in most of Northland's harbours and some estuaries.
What are the issues with marine biosecurity?
Marine pest species arrive in New Zealand primarily through international shipping, as hull fouling or in ballast water. Ballast water is seawater used in ships to assist with stability, steerage, safety and fuel efficiency. The ship usually takes water on in one port, carries it to another, and discharges it when cargo is loaded. Ballast water may contain plants and animals found in the water around the ship. Some of these species are able to survive in the ballast water until it is discharged in the new port and may become established there. The seaweed undaria was probably brought to New Zealand in the ballast water of ships from Asia.
New Zealand now has rules controlling the discharge of international ballast water. Ballast water loaded in another country's waters must not be discharged inside New Zealand territorial waters without permission (Biosecurity NZ: 2005). Permission is generally only granted when the ship has exchanged its ballast water with mid-ocean water, as this water is much less likely to introduce pest species that can survive in shallow, coastal waters. However, there are currently no rules controlling domestic ballast water or bilge water discharge, which could contribute to the spread of pests between New Zealand ports.
Hull fouling is now recognised as the primary mechanism for the introduction of marine pests. In a recent survey of 500 international vessels arriving in New Zealand, non-indigenous species were recorded on almost 60% of vessels, with over 30% having some non-indigenous species that were not known to be established in New Zealand (Inglis et al.: 2010). The Ministry for Primary Industries is currently working toward implementing an Import Health Standard to address the biosecurity risks to New Zealand's marine environments associated with international vessel biofouling.
In Northland, the majority of international shipping visits, both commercial and recreational, occur in the Bay of Islands and Whāngārei Harbour. Northland is a popular destination for international recreational vessels with over 5000 vessels arriving in Ōpua since 1998. Approximately 73% of all international recreational vessels visiting New Zealand use the Bay of Islands or Whāngārei Harbour as the port of entry to the country. Domestic vessel traffic provides a secondary pathway for marine pests to arrive in Northland from other New Zealand locations, and for range extensions to occur for pests already present in Northland (Woods et al: 2011).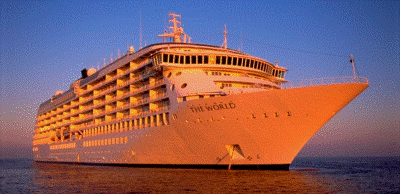 International and local shipping are potential pathways for marine pest incursions – approximately 73% of all international recreational vessels visiting New Zealand use the Bay of Islands or Whāngārei Harbour as the port of entry to the country.

Marine aquaculture can also be an important vector for the domestic spread of non-indigenous species. Regular movements of aquaculture equipment and stock represent an incursion risk – pest species could easily be moved into and around Northland, or from Northland to other regions. Although there are some guidelines in use by parts of the aquaculture industry these are currently voluntary.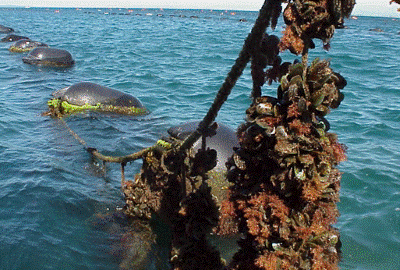 Marine aquaculture is a potential vector for the spread of marine invasive species in our waters.
What is being done?
Regional responsibilities
The Pest Management National Plan of Action aims to make it easier for everyone involved in pest management in New Zealand to act collectively in New Zealand's best interests (MAF Biosecurity: 2011). The plan provides much needed clarity about roles and responsibilities in marine pest management. The Ministry for Primary Industries is responsible for pre-border and border management, and takes the lead in any national incursion responses. The ministry works to prevent the establishment of new pests in New Zealand.
Once a marine pest has established in New Zealand, regional councils are responsible for marine pest management within regions. Some other agencies also have pest management functions and responsibilities. The National Plan of Action emphasises that effective action requires co-operation and partnerships. Given the limited range of control tools currently available for marine pests, most action focusses on preventing the spread of established pests.
Pest management strategies
The primary mechanisms available to the council for the control of pests are the Regional Pest Management Strategies which are developed under the Biosecurity Act 1993. Prior to 2010, the only marine pest included in Northland's pest management strategies was spartina. The current Regional Pest Management Strategies 2010-2015 includes the region's first marine pest strategy, which includes 27 marine organisms of concern to Northland. Spartina is also still included but as part of the Plant Pest Strategy.
The marine pests fall under different classifications in the pest management strategies, depending on whether they are currently present in the region and how widespread they are. The classification of the pests helps guide the strategy's objectives, operational plans and management programmes for each pest. The main pest management methods to address marine pests include education, surveillance, response and working with partners.
The council aims to raise public awareness of marine pests by providing information about the pests, their impacts, and management options through publicity campaigns, publications, events, workshops and providing an advice and identification service. The council also works with partners whenever possible, and during 2011 staff presented a series of free public workshops on marine pests with support from the Ministry for Primary Industries. The free workshops will run again during 2012-13, and are aimed at raising awareness of marine pests, their impacts, how they spread, and how to report them. The council has also initiated a marine industry network group aimed at raising awareness and surveillance within this sector.
The Northland Regional Pest Management Strategies 2010-2015 are available online at: www.nrc.govt.nz/pestmanagement
Marine pest surveillance
There is a national targeted surveillance programme for non-indigenous marine species which is delivered by NIWA under contract to the Ministry for Primary Industries. Both Whāngārei and Ōpua harbours are included in the six-monthly programme, which focusses on early detection of marine pests that are new to New Zealand, and also captures range extensions of existing pests.
A Northland regional surveillance plan for marine pests was developed for the council by NIWA during 2010-11 through an Envirolink grant (Woods et al: 2011). The purpose of the plan is to assist the council to develop and implement a regional surveillance framework which builds upon existing programmes of work. The plan includes information on the species that pose the greatest risks to Northland, the most likely pathways for their arrival, high value areas where pests would have the greatest impacts, and recommendations for increasing both passive and active surveillance in Northland. The workshops and increased public awareness activities are a result of the initial implementation of the surveillance plan.
A targeted marine pest survey was also carried out in Tutukākā Harbour during 2010, and no significant marine pests were detected (Seaward et al: 2011). This harbour is considered a high priority for surveillance as it is the "gateway" to the Poor Knights Islands Marine Reserve, and is visited by a considerable number of domestic and international vessels. Further surveillance is planned in Tutukākā during 2012-13.
Mangōnui and Whāngārei marinas will also be surveyed as part of the Mediterranean fanworm delimitation survey, and will include surveillance for other pests. Settlement arrays have also been placed at Marsden Cove and Nikau Point as part of the Mediterranean fanworm response.
One of the benefits of surveillance and increased public awareness is that it increases the likelihood of early detection of pests. However, in order to respond rapidly and appropriately, established incursion response plans are necessary. These plans are currently being developed as part of the Marine Pest Operational Plan.
Tools in the toolbox
Control methods for marine pests are currently limited, and these pests are difficult to eliminate once established. Where a marine pest is detected early, it can be possible to remove small infestations by hand. Other options currently include the use of wrapping techniques to smother stationary pests, and in some circumstances heat treatment or the use of chemicals.
The pest management strategies also include rules which can be enforced under the Biosecurity Act 1993. For many marine pests included in the pest management strategies, it is an offence for them to be knowingly transported. This rule enables the council to issue a Notice of Direction requiring that a boat infested with a pest be cleaned before it travels within, into or leaves Northland. This has been a critical part of the council's response to the marine pests Mediterranean fanworm and undaria, which were found on commercial vessels moored in Northland. All infested vessels were removed from the water and cleaned at the owner's expense, enabling the council to focus resources on removing small numbers of the pests from nearby structures. On-going surveillance of the affected areas will be required.
The marine policies and rules governing marine pests in other regions is also an important factor when considering how the spread of pests between regions can be reduced. Marine pest partnerships with other regional councils and central government are essential when preventing the movement of marine pests across regional boundaries into the future.
Spartina response
Northland-wide water based spartina surveys were carried out in 1992 and revisited in 2002. It was found that some patches of spartina in open mudflats had spread and increased in size up to 200 times their original cover during this 10-year period. The council started a large scale eradication programme in the Kaipara in 2003. A 15-year joint agency programme to eradicate spartina Northland-wide was approved by council in 2004. The Department of Conservation had already successfully eradicated spartina from Whāngārei Harbour, and as part of the new programme the department undertook spartina eradication in Rangaunu and Pārengarenga harbours, with the council undertaking control throughout the rest of Northland.
Extensive surveying located spartina sites totalling approximately 200ha in Northland. Major infestations were in the Kaipara, Hokianga and Pārengarenga harbours. Smaller infestations were present in the Houhora, Rangaunu, Mangōnui, Whāngārei and Whangaroa harbours, the Bay of Islands, and the Taipā River. Individual sites ranged in size from patches of a few square metres to a meadow of approximately 15ha.
Eradication of discrete spartina sites can be achieved with a five-year programme of annual herbicide application however extensive surveying is needed to locate all outlying sites and individual plants that may have spread from the initial source. Aerial spraying is the only practical method for initial control of most large sites due to location, accessibility and cost efficiency. This is required for three years and then followed up with ground based spraying methods.
Approximately 95% of the 200ha of spartina has minor or no regrowth with minimal follow up spraying now required (Figure 93).
Occasional live stems are typically being found among dense mangroves or saltmarsh rush meadows that require labour intensive careful surveying to ensure none are missed. Programme costs will continue to decrease as more sites are classed as eradicated (Figure 95).
Figure 93: Spartina eradication results 2004-2011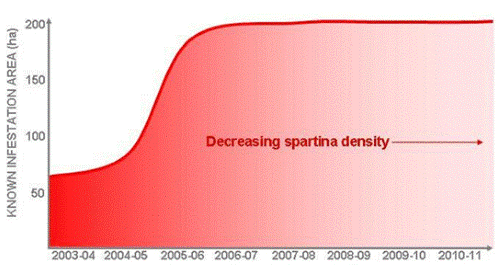 Figure 94: Spartina eradication project operational costs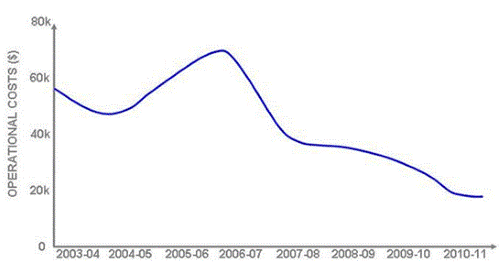 How are we measuring up against our objectives?
An increase in the areas of significant indigenous vegetation and the significant habitats of indigenous fauna which are formally protected
• Although no new marine reserves have been designated there has been an increase in areas of significant indigenous vegetation and the significant habitats of indigenous fauna, which were formally protected between 2007 and 2011. Plan change 2 to the Regional Coastal Plan for Northland, which was made operative in February 2010, increased the extent of areas designated as Marine Management 1 (Protection) in the Whāngārei Harbour. Designation as a Marine 1 (Protection) Management Area is only applied to areas within Northland's coastal marine area, which have been identified as being areas of important conservation value and the priority in these areas is the protection of the significant values identified as occurring within that particular area.
• In October 2008, the Ministry of Fisheries also introduced measures to manage the effects of fishing on the Hector's and Maui's dolphins including prohibitions and restrictions to set netting and trawling by commercial and recreation fisheries on Northland's west coast. These restrictions extend from Maunganui Bluff to Pariokariwa Point north of New Plymouth (beyond Northland's administrative boundary).
No significant increase in the number of threatened species in the region
• The threat status of New Zealand's marine invertebrates was undertaken in 2009 (Freeman et al: 2010). Although no taxa had improved in threat status the threat status of no taxa had increased. The evaluation was based on known changes in their distribution, abundance of/rate of population decline of 295 taxa, for which there was sufficient information.
• The threat status of New Zealand marine mammals was also reassessed in 2009 (Baker et al: 2010). Within Northland the threat status for the bottlenose dolphin (Tursiops truncates) increased to nationally endangered. Population models of the coastal subpopulation found off the northeast coast of Northland indicated that there was a decline in the apparent abundance across the period 1996-1999 to 2003-05. This decline has been attributed to a change in habitat use, high calf mortality, adult mortality among former 'frequent users' of the Bay, or a combination of the three (Trezanos-Pinto: 2009).
References
Biosecurity New Zealand (2005). Import health standard for ships ballast water from all countries.
Currie, D. R., McArthur, M. A., Cohen, B. F. (2000). Reproduction and distribution of the invasive European fanworm Sabella spallanzanii (Polychaeta: Sabellidae) in Port Phillip Bay, Victoria, Australia: Marine Biology: 645-656 Vol.136 Issue: 4.
Inglis, G.; Floerl, O.; Ahyong, S.T.; Cox, S.L.; Unwin, M.; Ponder-Sutton, A.; Seaward, K.; Kospartov, M.; Read, G.; Gordon, D.; Hosie, A.; Nelson, W.; D'Archino, R.; Bell, A.; Kluza, D. (2010). The biosecurity risks associated with biofouling on international vessels arriving in New Zealand: summary of the patterns and predictors of fouling. Prepared for Biosecurity New Zealand Policy and Risk Directorate for Project RFP0811321. Biosecurity New Zealand Technical Paper.
MAF Biosecurity New Zealand (2011). Pest Management National Plan of Action.
Seaward, K., Middleton, C. and Morrisey, D. (2010). Targeted surveillance for non-indigenous marine species in Tutukaka Harbour, New Zealand. NIWA Client Report NEL2010-016.
Woods, C and Inglis G. (2011). Scoping and development of a regional surveillance plan for marine pests in Northland. NIWA Client Report No: CHC2011-036.
Baker C. S., Chlivers B. L., Constantine R., DuFresne S., Mattlin R. H., van Helden A. and Hitchmough R, (2010). Conservation status of New Zealand marine mammals (suborders Cetacea and Pinnipedia), 2009 New Zealand Journal of Marine and Freshwater Research 44:2, 101-115.
Freeman D. J., Marshall S. T., Ahyong S. T., Wing S. R. and Hitchmough (2010). Conservation status of New Zealand marine invertebrates, 2009. New Zealand Journal of Marine and freshwater Research 44:3, 129-148.
Trezanos-Pinto G. (2009) (submitted). Population structure, abundance and reproductive parameters of bottlenose dolphins (Tursiops truncates) in the Bay of Islands (Northland, New Zealand). Unpublished Ph.D. thesis, School of Biological Sciences, University of Auckland, Auckland.