Refunds for 2600 after rates mapping error
26 Jan 2018, 10:38 AM
About 2600 Far North ratepayers are to receive a total of roughly $136,000 in rates refunds after an early version of a map excluding them from a transport rate zone was incorrectly published in regional council Annual Plans.
An investigation showed the error – which came to light after an inquiry from a Kerikeri ratepayer group last year – occurred after an earlier version of a map outlining a Mid-North transport rate was used in the council's 2016/17 and 2017/18 Annual Plan documents and associated rate setting resolutions.
Council CEO Malcolm Nicolson has apologised for the mistake – essentially one of 'human error' – and says the processes and procedures leading up to it have been reviewed to prevent a repeat.
"A more rigorous regime is being developed and will be in place for the council's new Long Term Plan (LTP) and subsequent document production."
The transport trial is ongoing and an unbudgeted subsidy from the New Zealand Transport Agency – confirmed after the rate was set – means there will be no additional cost to ratepayers, despite the pending refund.
Mr Nicolson says during its current (2015–25) LTP process, the regional council had consulted on – and established – a trial Mid-North Bus Service and a targeted Mid-North transport rate to fund that trial.
The targeted rate and an accompanying map shown in the published LTP document were correct, but unfortunately when the two subsequent Annual Plans had been published, they had inadvertently incorporated an older, incorrect map that covered some 2600 fewer properties.
After legal advice, and collectively agreeing it was the right thing to do, councillors had voted to refund the targeted transport rates paid by the owners of those 2600 properties; roughly $24 per year (incl GST) for non-commercial ratepayers and about $49 annually (incl GST) for commercial.
Mr Nicolson says a total of roughly $136,000 rates (about $68,000 in each of the two years involved) would be refunded before the end of the current financial year on June 30 and letters advising of this will go to affected ratepayers via the Far North District Council (which collects rates on behalf of the NRC) over the next few weeks.
He says the regional council is considering introducing a new, district-wide transport rate in the Far North to ensure trial services can be effectively implemented and operationally amended as necessary in future.
The original (correct) 2015 LTP map and the incorrect map included in the Annual Plans can be found below:
Original (correct) 2015 LTP map
Open a larger version of the 'Original (correct) 2015 LTP map' in PDF format (1.1MB)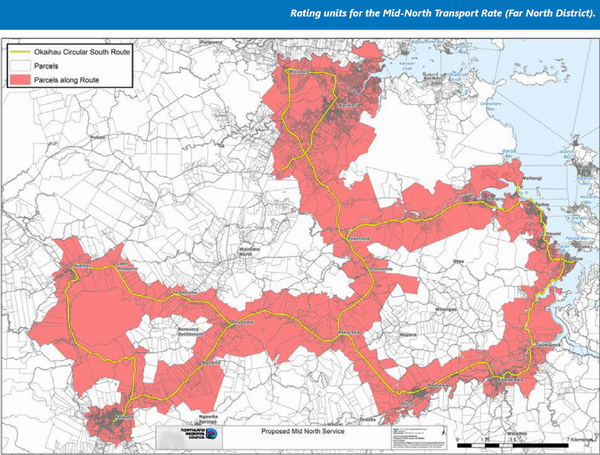 Incorrect map included in the Annual Plans
Open a larger version of 'Incorrect map included in the Annual Plans' in PDF format (378KB)