Take care to prevent spread of aquatic nasty; NRC
4 May 2017, 9:12 AM
Duck hunters in particular are being urged to take special care to prevent the spread of the invasive aquatic weed gypsywort from the Te Paki area amid fears it could threaten other high value waterbodies and wetlands in the Far North.
The threat from gypsywort Lycopus europaeus) is being taken so seriously the Department of Conservation (DOC) has closed public access to Te Paki's Te Werahi Lagoon; the only place the weed is currently thought to be in Northland.
Mike Finlayson, who represents the Northland Regional Council's most northerly Te Hiku constituency, says while DOC manages the lagoon, access to it is across Te Paki Farm Park and the park's owners, Ngati Kuri, support the closure.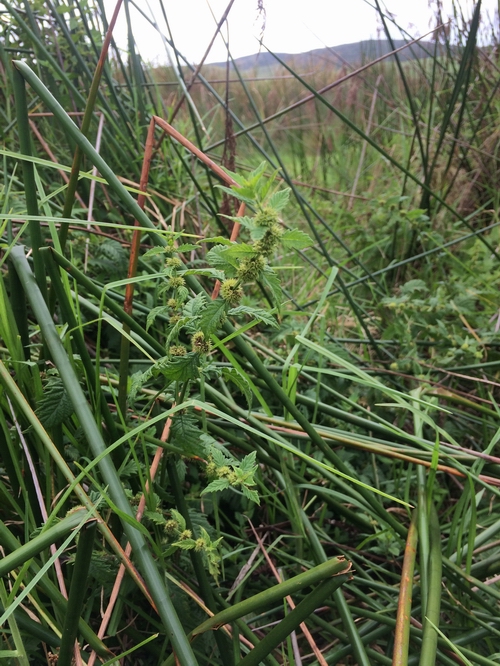 Some of the gypsywort discovered in Te Paki's Te Werahi Lagoon.
Councillor Finlayson says gypsywort is a mint-like plant, up to a metre tall, with square stems, toothed paired leaves and tiny white or pale mauve flowers produced in groups above each pair of leaves in the upper stem.
Originally from Europe and Asia, it has underground runners, which enable it to spread, but despite its mint-like appearance, does not have a minty smell when crushed.
Lisa Forester, the regional council's Biodiversity Manager, says the plant is an issue because it forms dense patches on the edges of lakes, streams and wetlands smothering and displacing native plants.
"It has the potential to dominate the margins of still water bodies and invade vegetation like raupo, reeds, sedges and rushes and because it poses such a serious risk to our wetlands, has been flagged as an 'eradication plant' under the council's Proposed Regional Pest Management Plan."
Councillor Finlayson says the weed – which flowers late summer and produces considerable amounts of seed – is abundant in the Waikato and Rotorua Lakes, with a few records of it in Auckland and near Haast on the South Island's west coast.
However, at this stage, its only known Northland home is Te Werahi Lagoon, where experts believe it was probably accidentally introduced from the Waikato by duck shooters.
"It's a vigorous, shade-tolerant plant and like many weeds, it's very resilient and well-adapted to spread and do well in our Northland climate."
Lisa Forester says experiments show that remarkably, 90% of gypsywort seed will remain floating after six months on still water and even longer – more than 8.5 months – on flowing water.
Seed can be spread by water, footwear or contaminated machinery and is known to be dispersed by ducks after it passes through their digestive system.
Councillor Finlayson says a combination of waterfowl and human influence could potentially see gypsywort spread through most wetlands, "which really highlights the need to follow the 'Check, Clean, Dry' message".
"This means making sure all equipment used between waterways is thoroughly cleaned and dried for at least 48 hours before using it in the next waterbody or wetland."
With the duckshooting season due to start on Saturday 06 May, hunters are being asked to take special care to ensure they don't inadvertently spread gypsywort and other aquatic weeds. They – and other members of the public – are also being asked to report any sightings of gypsywort to the council on (0800) 002 004.
Lisa Forester says there are a number of high value waterbodies and wetlands in the Far North, especially in the Te Paki area, that gypsywort could affect.
"Under five percent of Northland's original wetland area remains, which is less than the national average of 10%, meaning those areas that do survive here are special."
Fortunately, many Northland wetlands remain relatively unimpacted by weeds that are widespread and abundant in other parts of the country as they haven't yet gained a hold here.
She says the regional council already has active programmes to eradicate other serious aquatic weeds like royal fern and yellow flag iris. (Gypsywort can be controlled manually, mechanically or with herbicides depending on the situation.)
A large area of gypsywort was found at Te Warahi lagoon during a recent annual multi-agency survey, ringing alarm bells and prompting DOC to close access.
Regional council staff will this month conduct a full survey of the 17km of the lagoon's wetland margins to map the plant, with results used to draw up a plan to eradicate it before it can spread further. Nearby wetlands will also be checked.
Councillor Finlayson says because gypsywort's seed is known to be long lived, any control programme will probably need to run for at least several years.