Special pest rate paying off for Whangarei Heads environment
21 Jun 2017
Two years after its introduction, a groundbreaking rate designed to target pests threatening kiwi and help eradicate selected weeds on private land at Whangarei Heads is adding to the successes of existing community-led work there.
Believed to be one of the first of its kind in New Zealand, the $50 annual 'Whangarei Heads Pest Management Rate'  is levied on about 2000 ratepayers in an approximately 10,000 hectare area stretching roughly from Bream Head to Parua Bay.
The rate was formally adopted in July 2015 as part of the council's Long Term Plan and designed to complement a number of long-standing community efforts on the pest front.
Paul Dimery, who represents the regional council's Coastal Central constituency, says a Whangarei Heads Pest Management Working Group ensures the money is spent locally in areas identified by the community itself.  (Group members include representatives from the regional and Whangarei District Councils, local community groups and iwi.)
"At the moment, roughly two-thirds of the rate supports 'Backyard Kiwi' (which has been undertaking kiwi recovery in the area since 2002) and the remainder goes to 'Weed Action Whangarei Heads'.
Councillor Dimery says although the amount of money collected annually is not huge compared to some other rates, both groups funded by it say it definitely makes a positive and noticeable contribution to their work – and builds on their successes.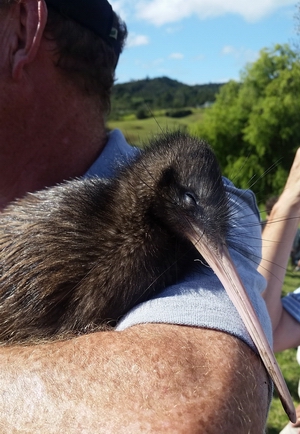 "Backyard Kiwi reports that Kiwi numbers have now risen from just 80 in 2002 to more than 800 last year.  A team of 30 kiwi listeners has been out at night listening to kiwi at 20 stations scattered throughout the Heads recently and initial indications are that numbers will have increased further."
"Most parts of New Zealand are seeing a steady decline in kiwi numbers; Whangarei Heads has been bucking that trend for a number for years and we're delighted to be able to help."
Councillor Dimery says Backyard Kiwi currently covers an area of about 6000 hectares, although this is expected to increase by another several hundred hectares over the next 12 months as the recovering kiwi population expands northwards into places cared for by other community-based landcare groups.
Meanwhile, he says the rate funding provided to Weed Action Whangarei Heads is used to help local landowners and weed action groups, both raising awareness of pest plants and urging action to control them.
"The group is able to provide expert advice and some resources like tools, equipment and herbicide to assist landowners and also has some strategic projects on the go to stop certain weeds like privet, mothplant and woolly nightshade from becoming major pests in the area."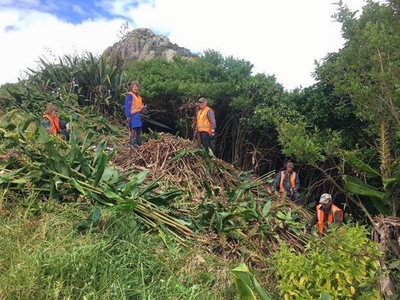 Volunteers dealing to wild ginger on private property at the boundary of DOC reserve.
He says the group has adopted a simple yet effective system using signage and coloured tape attached to various weeds along roadsides to highlight individual pest plants it is keen to target to people who may not be familiar with them.
"The group aims to make it easy for every Whangarei Heads resident to join in the fight against weeds and as a council we're hugely supportive of that."
Councillor Dimery says general information on pests – both plant and animal – is available from the council's new pest control hub via: www.nrc.govt.nz/pestcontrolhub