Take a free CityLink bus on World Carfree Day
9 Sep 2016, 1:46 PM
Whangarei residents are being urged to leave their cars at home and take a free bus instead as part of this month's World Carfree Day.
This year's Carfree Day falls on Thursday 22 September and will see people all over the world encouraged to do without their vehicles for 24 hours in favour of cycling, walking and public transport.
Northland Regional Council Transport Coordination Officer Anita Child says officials locally are planning a number of ways to recognise the day and encourage more people to use Whangarei's CityLink public bus fleet.
Mrs Child says that includes 'Free Ride Day', a joint initiative between the regional council (which administers the CityLink service) and bus operator Ritchies allowing people to travel for free on any of the fleet's nine, modern and environmentally-friendly buses on 22 September.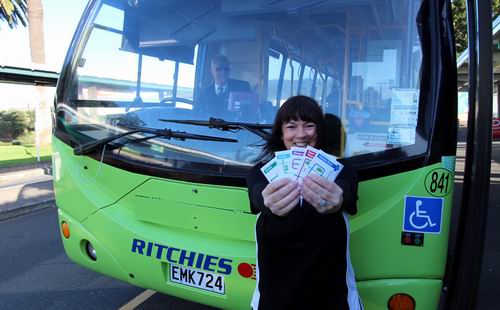 Take your pick...regional council Transport Coordination Officer Anita Child shows off some of the Whangarei bus routes people will be able to ride for free as part of 'World Carfree Day' on Thursday 22 September.
"Trips can be made anytime from 6am to 7pm and we're hoping Whangarei people will get into the spirit of the day and take advantage of the free travel offer."
Mrs Child says the CityLink service currently runs six days a week and carries an average of 1200 people daily.
She says the buses are easy to get on and off, with buses able to 'kneel' to the pavement for wheelchair access.  They're also air-conditioned making them warm in winter and cool in summer.
"The other great things about taking a bus are that you can send all the texts you like, make phone calls or read while you're travelling.  You don't have to worry about the hassle of trying to find a parking space and bus travel can also be quite social, allowing you to meet other people in your local community."
People are also being encouraged to share photos of the day which will be posted to the council's Facebook page - www.facebook.com/NorthlandRegionalCouncil - with the most-liked images in the running for 10 prize packages; each of which includes a $50 grocery voucher and 10-free bus trips.
Mrs Child says organisers will also be targeting workplaces in the city, encouraging staff to pre-register via www.citylinkwhangarei.co.nz/free-ride-day to travel together for free as a group with their colleagues.
Again, there's an incentive for that corporate challenge, including free coffee for those travelling between 6am-9.30am, and the chance to win a group morning tea shout.
She says people interested in learning more about Free Ride Day should visit the regional council's Facebook page www.facebook.com/NorthlandRegionalCouncil or the CityLink website www.citylinkwhangarei.co.nz