Whangarei, Kerikeri host 2016 Enviroschools expos
17 Nov 2016, 10:01 AM
More than 180 students, teachers, family and community members have gathered at Whangarei and Kerikeri to learn about making sustainable artworks from the environment at this year's Enviroschools regional expos.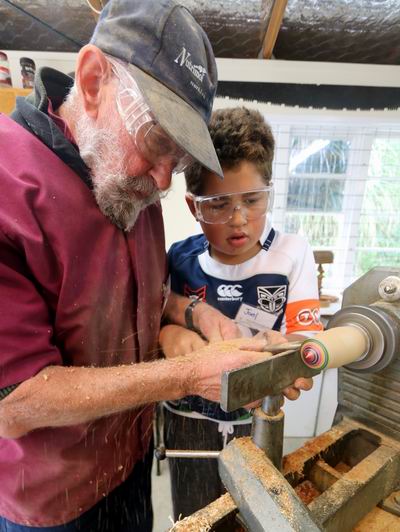 Nine-year-old Hora Hora School student Joel Berghan creates a spinning top under the watchful eye of woodturner Sid Ware at the recent Enviroschools' 'Art for Earth's sake' expo in Whangarei.
The two annual expos for primary and intermediate students – this year themed 'Art for Earth's sake' – were held at Whangarei's Quarry Arts Centre on Tuesday 01 November, with a second at Kerikeri's Old Packhouse Market two days later.
Joce Yeoman – one of two councillors who represent the Northland Regional Council's sprawling Coastal North constituency – officially opened the Kerikeri event and says once again the expos have provided exciting hands-on learning experiences.
Councillor Yeoman says each expo featured a variety of different 'art stations' designed to showcase how natural materials and processes could be used to create various forms of art from jewellery to toys and cyanotype photography (a simple, low cost process that produces a cyan-blue print).
The expos also called on the impressive skills of artists and experts who had enthusiastically passed on the knowledge they had accumulated – over a lifetime in some cases – across a wide range of fields.
As well as hands-on learning, the expos also enabled participants to make links between the arts, science and technology and encounter a platform for future learning.
"It was great being able to see the students' responses to the range and quality of art they were able to make, particularly in areas like the cyanotype photography where simple pieces of plant or shells were used to create photos I'd happily hang on my walls."
The regional council introduced the popular Enviroschools programme to Northland more than a decade ago and there are now more than 80 schools and kindergartens in the programme region-wide.
Meanwhile, Cr Yeoman says Enviroschools is a valuable programme for Northland as it raises the next generation with an awareness and ability to live sustainably within our environment.
More information about the Enviroschools programme generally is available from the regional council's website via: www.nrc.govt.nz/enviroschools