Warawara Forest survey after six decades delights
23 Nov 2016, 9:59 AM
The most comprehensive survey of plant and bird life in a remote and ecologically special Hokianga forest in more than 60 years has already revealed some new secrets to delighted scientists and locals.
Three teams – each comprising a botanist, bird expert and local tangata whenua – are currently coming to the end of a 10 day stint travelling deep into the sprawling 13,000 hectare Warawara Forest to learn more about the undiscovered ecological treasures there.
Local regional councillor Justin Blaikie says Warawara is very steep and difficult to access and the last time a comprehensive vegetation survey had been done there was in the 1950s as part of a national forest survey by the former New Zealand Forest Service.
Councillor Blaikie, who represents the council's Hokianga-Kaikohe constituency, says the teams had been hosted by Morehu Marae and are currently travelling around the forest to access survey lines behind Panguru, Mitimiti and Pawarenga.
A helicopter is being used to transport team members into Warawara's interior to access the most remote survey lines and vegetation and bird species are being recorded along 30 transects – each 1.6km long – spread throughout the forest.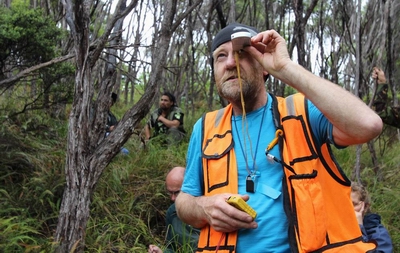 Botanist Rowan Buxton (Landcare Research) checks the forest canopy height.
The potentially valuable data gathered during the $90,000 study will be analysed by Landcare Research over the next few months and shared with other participants including local hapu, the regional council and the Department of Conservation.
"A map describing all the vegetation types will be one of the expected outcomes and should allow much more targeted management of the vulnerable plants most favoured by possums and rats, as well as help protect bird species."
Councillor Blaikie says the study was funded via a combination of Envirolink science grants awarded to the regional council, DOC and Te Rarawa with Landcare Research roughly matching those grants from its own budget.
"Warawara is acknowledged as having very high ecological and cultural values and is already known to be home to the most northern population of North Island rifleman (Titi pounamu)."
"No other Northland forest is known to have this tiny bird and the survey has already found evidence of further rifleman populations and evidence of kiwi well beyond their current known range of both species within the forest."
Participants had also encountered interesting and unusual combinations of forest species that could be linked to a combination of the area's terrain, the coastal influences there and its remoteness.
Councillor Blaikie says the survey follows extensive pest control efforts which began in earnest last year and is part of a wider project called 'Warawara Whakaora Ake' which aims to rid the forest of possums and other pests.
Warawara Whakaora Akeis backed by te Runanga O Te Rarawa and led by representatives of the nine marae which surround the forest; a combination of private, Maori and Crown land. Other players include the council, Reconnecting Northland (an ecological restoration collaboration between WWF-New Zealand and NZ Landcare Trust), DOC and Nga Whenua Rahui.
The forest is also one of 50-plus regional council Community Pest Control Areas collectively involving over 1000 people and covering more than 56,000ha established over the past decade in parts of Northland.
The initial Warawara pest control has been successful in reducing the impacts of possums, rats and stoats there and the survey now aims to establish a baseline of plant and birds so that predicted improvements in the forest's health can be measured in future.
Councillor Blaikie says the project also aims to build education and awareness and staff are working and sharing information with local schools.
"Importantly locals from Pawarenga and Panguru have also been involved as part of the survey teams and what they have learned will be taken back and shared with their wider communities too."
"We hope the project is another step along the way to ensuring there is ongoing pest control within Warawara and that local marae continue to direct and be involved in this very important work."
He says the council is extremely grateful to the "determined" scientists – some of whom had travelled from as far afield as Christchurch – and the others who had participated in the study, which had asked much of them physically and mentally.
"This survey involved a lot of very hard physical slog and was pretty tough going in challenging terrain and conditions at times, especially for those who had camped out in damp bush overnight."