Effluent reduction model could be dairying 'game changer'
11 Feb 2016, 11:25 AM
A Northland farmer's unwavering determination to secure the resource consent compliance that had been eluding him has seen him play a key role in a potentially 'game-changing' effluent reduction model for the dairy industry.
Maungaturoto's 'Mayflower Farms Ltd' is owned and run by father and son Ken and Richard Westlake and milks a minimum 400 cows, 365 days a year to supply a local milk marketing company.
However, despite the Westlakes' best efforts to bring the 369 hectare farm's effluent treatment system up to scratch, their more intensive milking and cleaning regime meant achieving full consent compliance had remained frustratingly out of reach.
Ken Westlake estimates they spent about $80,000 over several years trying to achieve compliance before a Northland Regional Council offer for them to take part in a water use and effluent reduction trial.
Ken Westlake says the trial – the brainchild of council Farm Monitoring Manager Dennis Wright – provided a potential solution and he had seized the opportunity with both hands.
"Before this programme started we failed (compliance) every year despite substantial changes to the systems we inherited. We probably spent close to $80,000 over that time; we fixed things and upgraded, but while there were improvements we still didn't comply because too much water was still going into our effluent ponds and that treated effluent was then discharging into the stream."
Two years after starting the trial, the turnaround has impressed the regional council, which is now confident the revamped system is able to deliver full compliance.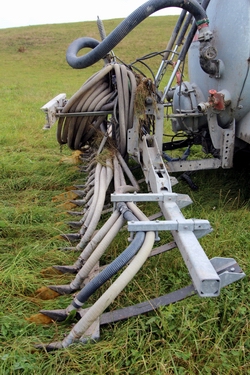 The farm, which currently runs a mixed breed herd of about 540 cows, has slashed its water use by an incredible 58 percent (or 22,000 litres) per day; equivalent to annual savings of more than eight million litres.
It has cut effluent volumes going to the farm treatment/storage ponds by 51% and environmentally, has improved water quality by significantly reducing the discharge of treated effluent to water.
The farm also purchased its own slurry wagon and now disposes of much of its effluent directly on to land via a 'soil injection' system. (Soil injection offers a number of advantages including better use of nutrients, reduced odour, improved pasture palatability and also allows for a much more targeted placement of waste.)
Mr Westlake says the driving force behind the changes has been sustainability, rather than finances.
"Our desire to achieve compliance in a split calving environment with increased herd numbers has also been value-based, rather than cost-based."
The farm has achieved its remarkable turnaround through six key initiatives;
Installing seven water meters to measure actual use at different points around the dairy
Changing from water to electric-driven yard backing gates
Using recycled effluent from a fourth treatment pond to clean the dairy yard
Installation of more water-efficient cleaning nozzles (which actually wash down faster)
Diverting as much clean stormwater as practicable away from the treatment ponds
Purchasing a spreader unit to apply effluent to land.
Mr Westlake says those first five steps had significantly reduced the volume of effluent produced on the farm, while the spreader purchase had reduced the volume of treated effluent that ultimately needed to be discharged to water via the farm's effluent ponds.
"As an example, of late January, we have not discharged any treated effluent to water at all since mid-October."
Son Richard Westlake says over that time, effluent had been used to fertilise maize crops (saving another $18,000 in fertiliser costs) and pasture.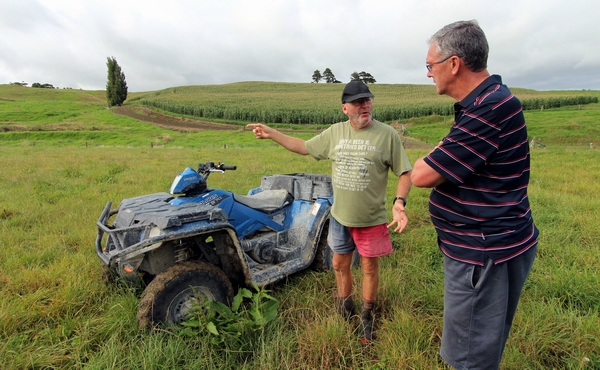 Ken Westlake, left, and Myles Stenner of water meter supply company Klasse and Hydrofan NZ Ltd, in front of a field of maize fertilised with effluent during the trial.
"We've probably also saved another $40,000 in operating costs because we haven't had to dispose of an additional 800 slurry wagon loads that would have been generated under the old regime."
Ken Westlake describes the effluent reduction programme as a potential 'game-changer' for the dairying industry and Dennis Wright agrees.
"The results of this project have proved that its key objectives of improving water use efficiency and reducing effluent volumes can be substantially met over a short period of time," Mr Wright says.
"On an industry-wide basis there's a potential to implement measures (especially if applied to new dairies during construction) which will not only enhance environmental performance, but also improve financial results by reducing capital, energy and labour costs."
Mr Wright says council staff work closely with dairy farmers and both parties are keen to improve the industry's compliance rates in the region and achieve better environmental and economic outcomes.
A long-time compliance officer and former dairy industry manager himself, he says the idea for the effluent reduction project stemmed from his own frustration that co-operative and willing farmers like Ken Westlake could still find consent compliance difficult.
"Ultimately, that's what everybody involved is aiming for and it's what the dairy industry needs to embrace to achieve its stated sustainability goals."
Mr Wright says the project owed a great debt to Myles Stenner of water meter supply company Klasse and Hydrofan NZ Ltd who had donated his own expertise and time, as well as the water meters and water-efficient wash down nozzles used during the trial.
Council chairman Bill Shepherd says the NRC is so impressed with the potential water savings and water quality improvements the trial has identified it has agreed to fund its extension to several more farms.
Details of the original Mayflower trial will be reported to the council's Environmental Management Committee shortly.
Councillor Shepherd says information on effluent volume reduction will also feature at the council's display at the upcoming Northland Field Days in Dargaville in early March.