CityLink to offer $1 'Christmas cheer' bus rides on Dec 22
2 Dec 2016, 2:44 PM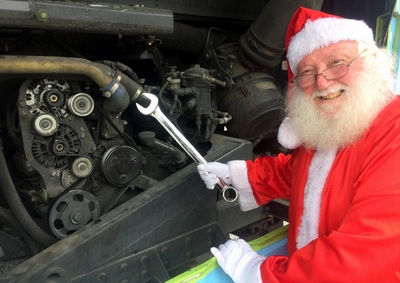 Santa tunes up a CityLink bus engine to maximise its 'reindeerpower' output ahead of the 22 December Christmas cheer promotion.
One dollar bus fares – and the chance to have a picture snapped with Santa – will be on offer as part of a day-long festive season promotion by Whangarei's CityLink bus service in the lead-up to Christmas.
The service is administered by the Northland Regional Council and John Bain – one of two councillors representing its Whangarei Urban constituency – is hoping plenty of people will take the opportunity to ride the buses for just $1 on Thursday 22 December.
Councillor Bain – who also chairs the council's Regional Transport Committee – says the event is a great way to further promote the bus service to both existing users and holiday season shoppers, as well as spread a little pre-Christmas cheer.
He says the joint initiative between the regional council and bus operator Ritchies will allow people to travel for just $1 on any of the fleet's nine, modern and environmentally-friendly buses on 22 December.
"Trips can be made anytime from 6am to 7pm on that day and we're hoping plenty of Whangarei people will get into the spirit of the day and take advantage of it."
Councillor Bain says CityLink team members will be dressed festively and spread a little extra Christmas spirit by handing out giveaways throughout the day.
"Children will also have the opportunity to get their photo taken with Santa at the Rose St bus terminus between 11am and 2pm and these will be posted on our Facebook page: www.facebook.com/NorthlandRegionalCouncil "
The CityLink service currently runs six days a week – excluding most public holidays – and typically carries an average of 1200 people daily over six routes.
A seventh route (the former Okara loop) is due to be reintroduced later this month largely to service the city's increasingly busy Okara shopping centre.
Councillor Bain says the buses are air-conditioned for comfort and are easy to get on and off. They're also able to 'kneel' to the pavement for wheelchair access.
More information about the Christmas cheer promotion is available from the regional council's Facebook page www.facebook.com/NorthlandRegionalCouncil or the CityLink website www.citylinkwhangarei.co.nz
The CityLink website also includes service operating hours up to and over the holiday season.