Early chance to comment on new Regional Plan
5 Aug 2016, 12:31 PM
Northlanders are being offered an early chance to comment on an initial draft of an important new plan that will eventually set out how the region's water, air, land and the coast are managed.
Policy Development Manager Ben Lee says the Draft Regional Plan is effectively a rule book designed to replace three existing regional plans which are now more than 10 years old.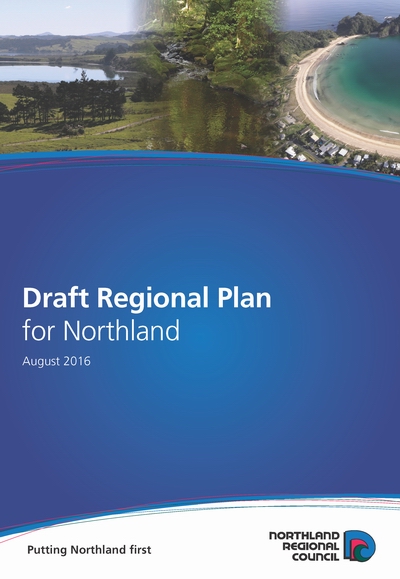 The new draft takes into account important changes over the past decade, such as new national direction and policies made by central government. It also reflects improved knowledge of Northland's environment.
"We've attempted to strike a balance between protecting the things that Northlanders value, like clean water and air, while providing for our important economic activities – farming, horticulture, forestry, tourism and marine enterprise."
Mr Lee says the council's Regional Policy Committee will release the Draft Regional Plan on Monday to enable it to effectively 'road-test' the plan with the community well before council moves into the formal process.
"Public feedback on the draft as it now stands will help us shape the final 'proposed plan', which we hope to notify next year."
Mr Lee says in a bid to reach as many people as possible, the council is delivering a special four-page edition of its 'Regional Report' newsletter to more than 60,000 properties Northland-wide this month.
"The Regional Policy Committee is really keen for you to find out more about this important document and to provide crucial early feedback."
Mr Lee says key proposed changes in the draft plan include new limits on taking water from rivers, lakes and aquifers, making it easier to get permission for mangrove removal and new stock exclusion rules for rivers, drains, wetlands and lakes.
Aquaculture will be prohibited in sensitive areas and the new plan should make it easier to get a mooring. It also identifies new protected anchorage zones, more no-discharge areas and stricter rules on hull-fouling to better manage risks from marine pests. "There'll also be more targeted protection for areas of natural or cultural significance."
However, Mr Lee says the draft won't cover subdivision or new buildings on land (these are handled by district councils), fishing quotas, Treaty of Waitangi claims or provision of new roads or upgrades to existing roads.
"Meanwhile, we're also tailoring the way fresh water is managed in the Doubtless Bay, Pouto, Waitangi, Whangarei and Mangere catchments to address issues of particular concern to these communities."
Mr Lee says over the past several years catchment groups have been formed from community, industry and tangata whenua representatives with an interest in those catchments.
"They've developed draft catchment management plans that address fresh water related issues and contain rules that apply in addition to/instead of those in the Draft Regional Plan. They also contain a variety of non-regulatory approaches, including more research and actions to improve the state of fresh water."
He says as well as the region wide newsletter drop, the council is also planning to host drop-in sessions in August and September, where staff will answer questions on both the Draft Regional Plan and Draft Catchment Plans.
Sessions covering both the Draft Regional Plan and catchment plans will be held as follows:
Kaitaia; Te Ahu Centre, 2pm-7pm, Wednesday 24 August
Kerikeri; Turner Centre, 2pm-7pm, Thursday 25 August
Whangarei; Northland Regional Council Offices, 36 Water Street, 2pm-7pm, Tuesday 30 August
Kaikohe; RSA, 2pm-7pm, Wednesday 31 August
Dargaville; Town Hall, 2pm-7pm, Tuesday 06 September
Kaiwaka; War Memorial Hall, 2pm-7pm, Wednesday 07 September.
Sessions covering catchment plans only will be held at:
Mangere Catchment; Kara Kokopu Hall, 1pm-4pm, Saturday 13 August
Doubtless Bay Catchment; Mangonui market at Christian Centre, 9am-1pm, Saturday 27 August
Waitangi Catchment; Pakaraka Hall, 1pm-4pm, Sunday 11 September and 6pm-9pm, Monday 12 September
Whangarei Harbour Catchment; Northland Regional Council offices, 36 Water Street, 8am-11am, Saturday 17 September
Pouto Lakes Catchment; Pouto Hall, 10am-2pm, Tuesday 20 September
Mr Lee says feedback on the Draft Regional Plan and catchment plans can be made until 5pm on Friday 23 September, including online.
He says more information about the Draft Regional Plan is available online via: www.nrc.govt.nz/newregionalplan and the catchment management plans via:
www.nrc.govt.nz/waiorafeedback